Because of sights like this….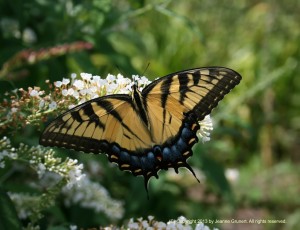 And clouds of butterflies rising into the warm July air, like this….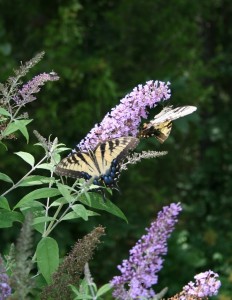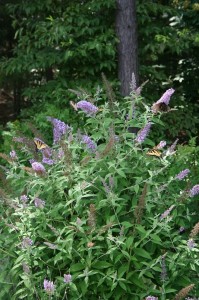 I couldn't even count the number of butteflies in the garden today. Most are Eastern Tiger Swallow Tails, but a few I didn't recognize.
This past weekend, we hiked in Holliday Lake State Park, and surprised a cloud of about 100 yellow Eastern Tiger Swallow Tails — males, the rangers told us — drinking at a mud puddle on the trail. This year is supposed to be one of the best for butterflies, thanks to the rain and abundant vegetation.
To learn more about butterfly gardening, I hope you enjoy my free presentation on How to Start a Butterfly Garden, available online.
Jeanne Grunert is a certified Virginia Master Gardener and the author of several gardening books. Her garden articles, photographs, and interviews have been featured in The Herb Companion, Virginia Gardener, and Cultivate, the magazine of the National Farm Bureau. She is the founder of The Christian Herbalists group and a popular local lecturer on culinary herbs and herbs for health, raised bed gardening, and horticulture therapy.