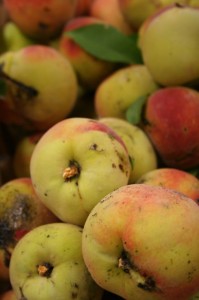 Peaches are one of the 'dirty dozen' list of fruits and vegetables that are heavily sprayed with pesticides. You know why? Because if you don't spray them, they look like this…
But they are beautiful, aren't they?
These are the first of what we hope are many organic peach harvests to come. These are all "Elberta" peaches. They are hard as rocks, but the scent is strongly of peach…and the June bugs and Japanese beetles were already feasting on the peaches, so we decided after last year's fiasco to harvest what we could and ripen them indoors.
Here, then, are what truly organic peaches look like. The only thing that has touched them is organic dormant oil during the winter. That's it.  Aren't they beautiful? Five years from tiny twig to this….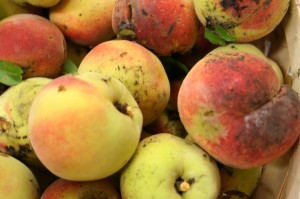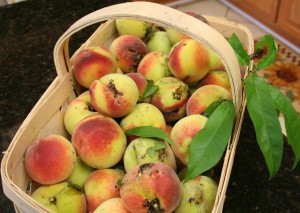 Jeanne Grunert is a certified Virginia Master Gardener and the author of several gardening books. Her garden articles, photographs, and interviews have been featured in The Herb Companion, Virginia Gardener, and Cultivate, the magazine of the National Farm Bureau. She is the founder of The Christian Herbalists group and a popular local lecturer on culinary herbs and herbs for health, raised bed gardening, and horticulture therapy.