Growing coneflowers – purple coneflowers or Echinacea as they're properly called – gives me a great deal of joy. These native perennials love hot, dry weather. And because they're native to North America, they're perfectly suited to many garden types. Growing coneflowers is easy in most gardens!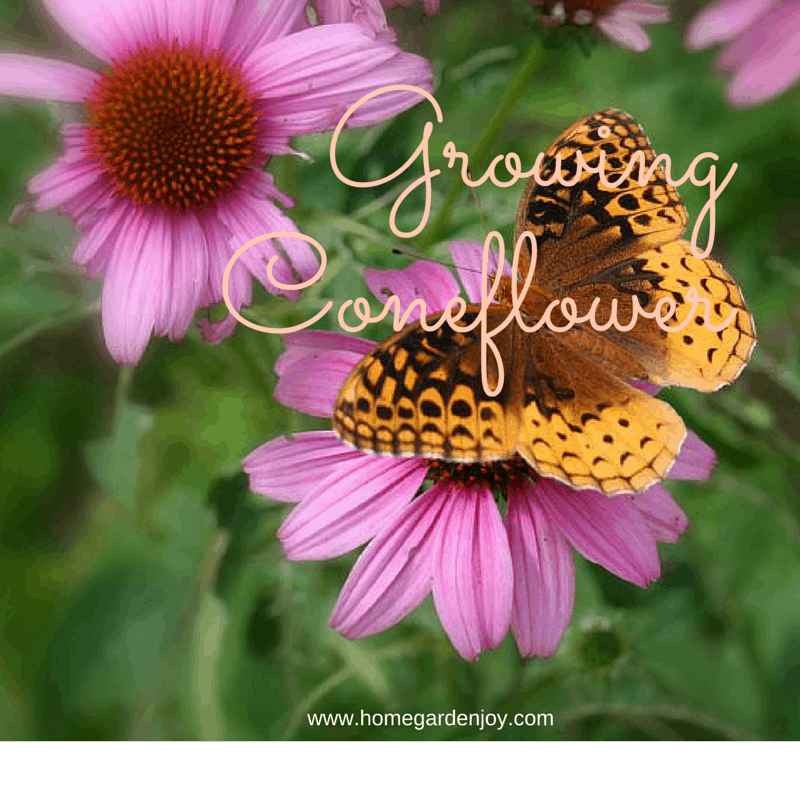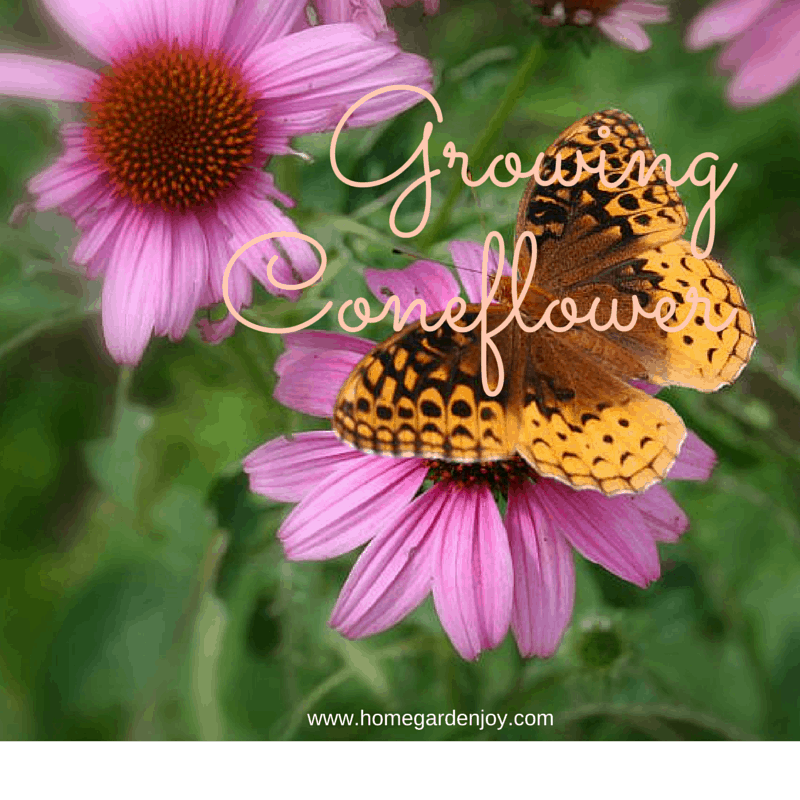 Five years ago, I purchased three packages of seeds from the Parks catalog. I added two packages of seeds in the following years. The result is a garden filled with coneflowers – purple coneflower (Echinacea purpurea), but also white and yellow.  I have three different shades of purple, the classic "Purpurea", "Cherry Brandy" and one that came with a mixed package of seeds that loves it and continues to reseed.
Coneflower loves the hot, dry weather here in south central Virginia. As a native perennial plant, it thrives in the local conditions. The butterflies love it, so it adds to my butterfly gardens. The birds also love to perch on the tall, rocket-shaped spires and nibble at the seeds. Goldfinches seem particularly fond of it.
I originally planted a border of coneflower around the island bed in the center of the lawn, but the coneflower had other ideas. Over the years, it has reseeded abundantly, producing many plants that have filled the bed with flowers. I think coneflower is one of the easiest plants to grow, and with just a little care and luck, you can fill a flower garden with their cheerful blossoms.
Growing Coneflowers
How to Grow Coneflower
Coneflower is easy to start from seed. I start my coneflower indoors, under the plant lights, approximately six to eight weeks before the last frost date. Use a sterile seed starting mixture and a dome to maintain humidity. Once the plants have several sets of leaves, they can be moved outdoors.
Coneflower prefer a light, loamy soil, but will do just fine in clay if given time to extend their deep tap roots into the earth. They prefer full sun but will also tolerate partial shade. Their native habitat is prairies and meadows; if you can recreate that type of atmosphere for your coneflowers, they'll reward you with abundant blooms.
Coneflower doesn't need to be divided like other perennials. You can translate the volunteers, or self-seeded plants, if they grow in areas where you don't want them. Try to do this early in the spring and water the plants well after transplanting. Their deep tap root doesn't like to be disturbed and may need several weeks or months to recover from transplanting.
You can use Echinacea as a cut flower, a border plant, a cottage garden flower or as part of a butterfly garden flower. Seeds can be collected in the fall or after the seed head dries out. If you do collect and store seeds, store them in envelopes or paper sacks, nice and dry, in a dark, cool location.
As you can see from my pictures here, in just a few short years, a little invested into the purchase of good quality seeds can yield a beautiful garden. Give coneflowers enough light, water and time, and you'll look like you have a green thumb even if you kill plastic plants.
Coneflowers: A Few Facts about Echineacea or Purple Coneflowers
Coneflowers are native to the prairies of the United States and Canada
They grow well in garden zones 5 to 8
"Magnus" is one type of coneflower that is hardy to zone 3 (northern Maine/Canada)
They attract birds (who eat their seeds) and butterflies (who love their nectar).
Needs full sun to partial sun.
Can be planted in a wide range of soil types including clay, clay loam
Heat tolerant
Drought tolerant
Bothered by very few pests.
Gallery of Purple Coneflower Pictures
Click on any photo to see a close up. All pictures taken by Jeanne Grunert and were photographed in my garden.
Jeanne Grunert is a certified Virginia Master Gardener and the author of several gardening books. Her garden articles, photographs, and interviews have been featured in The Herb Companion, Virginia Gardener, and Cultivate, the magazine of the National Farm Bureau. She is the founder of The Christian Herbalists group and a popular local lecturer on culinary herbs and herbs for health, raised bed gardening, and horticulture therapy.