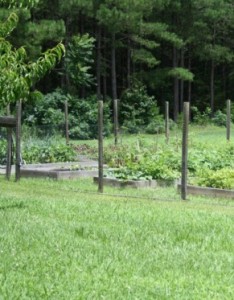 Vegetable garden yesterday.
In a word: YES.  You can get too much rain.
I went outside yesterday to harvest the organic onions. I grew yellow skin onions this year.  I'd picked a test one last week and it was delicious – perfect round shape, great taste, not a single sign of bug damage. The four spring root crops are ready for harvest now: beets, onions, garlic and potatoes.  I'd gotten the garlic off to a good start on the drying racks in the garage. Now it was time for the onions.
I took my harvest basket out to the garden and prepared to pull the onions from the bed. I could see the tops of them; baseball sized, perfect. I pulled the flopped, tall stems, green turning brown, another signal that the onions are ready.
And guess what?  The squishy stem pulled right off in my hand. Curious and slightly panicked, I reached into the soil with my bare fingers to touch the top of the onion. And it squished into a blob of stinky onion goo.
Yuck! I couldn't wipe my fingers on the grass fast enough.
Quickly, I started pulling as many onions as I could salvage. I pulled about six before stopping. Tonight, when the sun moves away from the vegetable garden, I'll return with a trowel and see what can be salvaged.
The beets and garlic seemed to survive almost 10 days straight of rain showers, but the onions may not have survived.  As for the potatoes, it's time to harvest some of the first crop. I'm almost scared to look because nothing – and I mean nothing – stinks worse than rotted potatoes.
Jeanne Grunert is a certified Virginia Master Gardener and the author of several gardening books. Her garden articles, photographs, and interviews have been featured in The Herb Companion, Virginia Gardener, and Cultivate, the magazine of the National Farm Bureau. She is the founder of The Christian Herbalists group and a popular local lecturer on culinary herbs and herbs for health, raised bed gardening, and horticulture therapy.