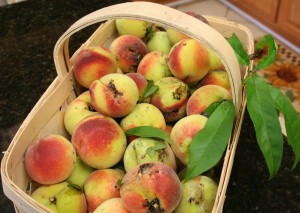 Peaches from my orchard…organic. Each unique. Each a different flavor.
I've read time and time again, in countless fancy  magazines, how "home grown" or "farm fresh" produce tastes better. And yes, I did enjoy going to the farmer's market when I lived on Long Island and buying fresh apples from the farmers who traveled to LI from upstate New York bearing crates or Empires and MacIntoshes.  Those apples remain in my memory some of the best I've ever tasted – can you tell that apples are among my favorite foods?
But still, I never thought I'd be one of those people who insist, "It just tastes better."
Better may not be the right word.  More real sounds stupid, but that's about the best I can come up with. This morning, I cut up several Elberta peaches, fresh from the tree.  Each peach tasted unique.  One had a strong "peachy" flavor, like the sweetest peach candy you've ever tasted.  One was so-so, mild, sweet, a little tart. The third was so tart it made my mouth pucker.  Now, all three were from the same tree, all three appeared ripe, and all three were picked on the same day.  It's quite possible that the tart-almost-killed-my-taste-buds peach wasn't ripe yet, but it seemed identical to the others. If I was shopping at the supermarket and picking peaches out of the produce bin, I'd have reached for that one along with the other three, not suspecting it of being unripe. It looked the same.
I've got several store bought peaches here at home too, and they taste identical to one another. You can cut open any of those peaches and get sweet, juicy and so so peach flavor.
There's no character to them.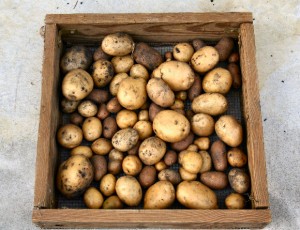 Hey, guess what? Potatoes come in different colors and sizes!
I think that's something we (meaning all of us, not just you and me, Gentle Reader) miss with all the factory farming, factory mass production, sterilized and sanitized world we live in.  Every single cookie you buy from the same name brand looks and tastes the same. Sure, one cookie may have 6 chocolate chips and another has 8, but if I blind folded you and put those cookies on a plate you'd be hard pressed to tell me which one was which purely on a taste test.
Not so with home baked cookies. I make a decent chocolate chip cookie.  This past spring, my church held a bake sale to raise money for the new Parish Center. Some gifted baker made chocolate chip cookies and I bought a bag of them to bring home. They were…heavenly. Melt in your mouth, some added twist, absolutely scrumptious.  I wish I knew who baked them; I'd stake out her car in the parking lot and offer to buy the entire batch next time we hold a bake sale.
Hand made means unique, different, original. I love buying stuff on Etsy for that reason – everything that's hand made is unique. I'm wearing earrings today from my friend Sharon's Etsy shop and they are different from another pair I bought for my sister's birthday. Same crafter, same materials, different earrings.  Both beautiful.
Nature never makes the same thing twice. When I bite into fresh peaches picked from my garden, each one tastes different. Unique. Individual.
Doesn't it make you wonder how in the world the stores get peaches, plums, apples, lettuce and all the rest EXACTLY identical? I have two heads of iceberg lettuce in the refrigerator today and I'd be hard pressed to find a big difference in them. Yet I've grown lettuce and had two heads grown right next to each other taste different; one a little bitter, the other mild.
How did we go, in just a few decades, from relishing home grown stuff to mass produced factory farmer stuff that's cheap, functional but boring as hell?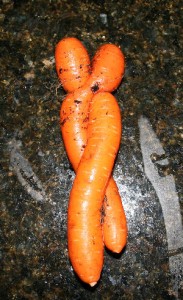 Nature, the true original ! Gardening, never boring….
Natural things are supposed to be different! Not perfectly round, waxed, and tasteless.
So here's to apples without shine…peaches with a blemish and a spot…lettuce munched by earwigs…and tomatoes with a few dots on them.  They may not be perfect, but they're perfectly delicious.
Jeanne Grunert is a certified Virginia Master Gardener and the author of several gardening books. Her garden articles, photographs, and interviews have been featured in The Herb Companion, Virginia Gardener, and Cultivate, the magazine of the National Farm Bureau. She is the founder of The Christian Herbalists group and a popular local lecturer on culinary herbs and herbs for health, raised bed gardening, and horticulture therapy.