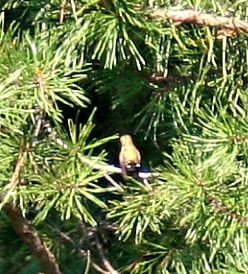 Hummingbird perched in a pine this morning.
How much do you spend on hummingbird food each summer? I don't even want to think about it.  Since moving to Virginia, I've grown to love the colorful little guys and gals who frequent Seven Oaks. They're so nosy, so intelligent and lively. I love it when they "nag" me when their feeder is empty; they will actually fly to the windows of my office on the second floor of the house, hover for a bit, fly down to the feeder, and return, chattering, when the feeder is empty. I've seen hummingbirds on Long Island, but never like I see them here in Virginia, and keeping their feeder full is one of my daily tasks. I check the feeder, cap off their little nectar, and make sure mold isn't growing inside.
Yet buying hummingbird food gets expensive and inconvenient. It's the end of the summer and you'd think that no one around here needs anything summer related; all of the stores have already turned to fall, with Halloween decorations out and everything! Yet we've got at least six more weeks of feeding hummingbirds before they migrate south. I checked both Lowe's and Wal-Mart for the powdered concentrate this week and they were completely sold out.  Lowe's had the liquid, but it was expensive. I decided instead to make my own hummingbird food.
Are you ready for the recipe?  Here it is…
Homemade Hummingbird Nectar
1 cup white sugar
4 cups water
THAT'S IT. That is all you need.
Amazing.
Just add the sugar to the water in a pot, boil it and stir it to dissolve the sugar, then let is cool completely before pouring it into the feeder. If it's hot, you run the risk of cracking the feeder.
What about adding red food dye? You don't need any food coloring, especially if you've had your feeder in the same spot for a while. They'll find the food, trust me.
I'm working on a craft project now to make my own hummingbird feeders from old wine bottles. If they come out nice, I'll share that project, too.
Feed the birds. Not even tuppence a bag, to quote Mary Poppins!
Jeanne Grunert is a certified Virginia Master Gardener and the author of several gardening books. Her garden articles, photographs, and interviews have been featured in The Herb Companion, Virginia Gardener, and Cultivate, the magazine of the National Farm Bureau. She is the founder of The Christian Herbalists group and a popular local lecturer on culinary herbs and herbs for health, raised bed gardening, and horticulture therapy.