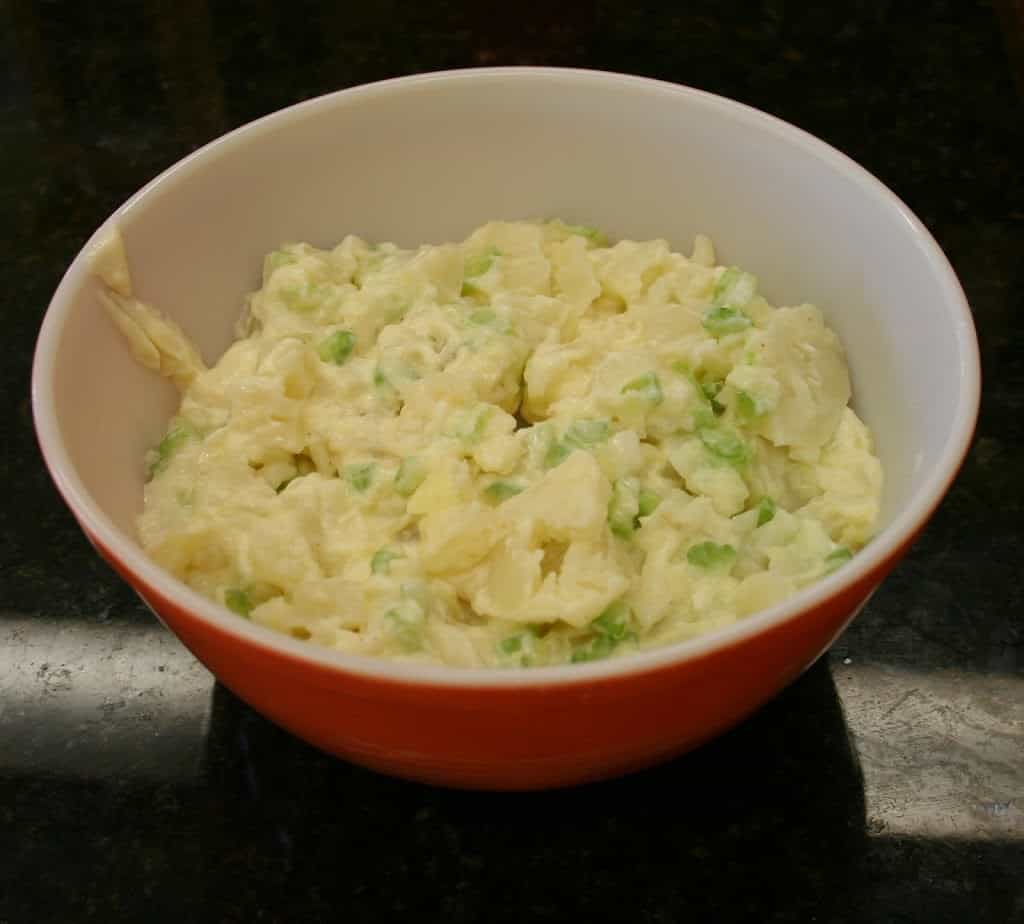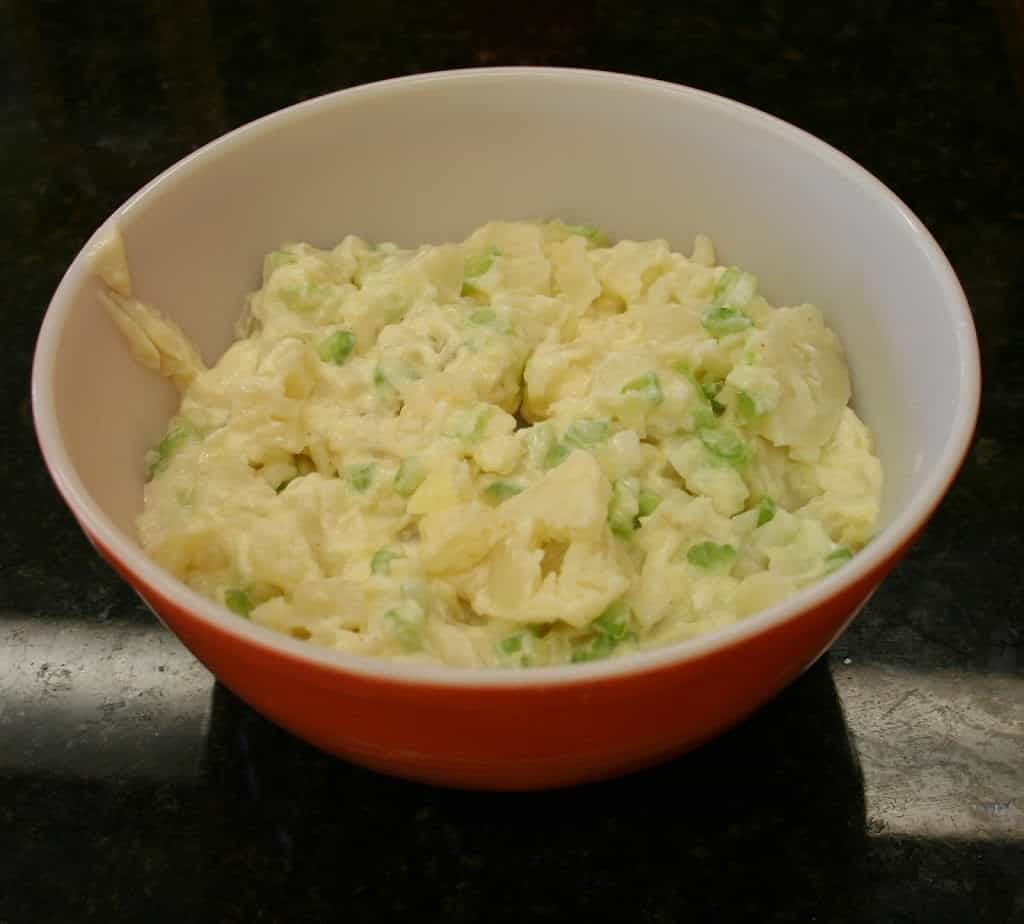 What's a gal going to do with 70 pounds of organic, homegrown Yukon gold potatoes, about 10 pounds of onions and leftover chicken?  Make leftover chicken with homemade potato salad for dinner, of course! This recipe is from my husband's family and a favorite around here. If potatoes are on sale, or you've grown your own, you can make this recipe in about an hour from start to finish.
Easy Homemade Potato Salad Recipe
A few hints for great homemade potato salad:
Peel and slice the potatoes before cooking. This cuts the cooking time drastically, and avoids burning your hands handling those hot boiled potatoes.
If using homegrown potatoes, reduce the cooking time by 5 minutes.  Cook for 20  minutes for store bought or Russet potatoes; 10-15 for Yukon Gold. They're more tender and the fresh ones cook up more quickly.
You can use Dijon mustard if you prefer.
I use light mayo, either an olive oil based mayonnaise such as Hellman's or a canola-oil based mayo.
Ready? Let's get cooking!
You'll need…
Equipment
Large pot
Colander
Cutting board
Sharp knife
Bowl with lid
Small bowl
Spatula
Measuring spoons
Ingredients:
About 6 large Yukon Gold potatoes
1 medium or large onion
2 stalks of celery
1 cup of mayonnaise
1 tablespoon of cider vinegar
1 tablespoon French mustard OR 1 teaspoon (note smaller amount) of Dijon mustard
Salt and pepper to taste
Directions:
Fill the large pot halfway with cold water. Place on the stove.
Peel the potatoes.
Slice potatoes in half.
Cut the halves into quarter inch sized pieces.
Place pieces into COLD water.
Bring to a boil.
Once it begins to boil, time for 15 minutes. After 10 minutes, check a slice.  The potato should be firm yet tender. (If using store bought potatoes, cook for 20 minutes, check after 15)
When cooked, drain.
Rinse under cold water.
Place in bowl.
Clean and trim ends off the celery. Cut into small pieces and place into bowl with potato slices.
Remove skins and ends of onions. Dice into fine pieces. Add to potatoes and celery.
Make the dressing: Mix the mayo, cider vinegar, mustard, salt and pepper.
Add to the potatoes, celery and onions. Mix gently.
Cover with plastic wrap and refrigerate until ready to serve.
Makes 4 to 6 servings. Enjoy!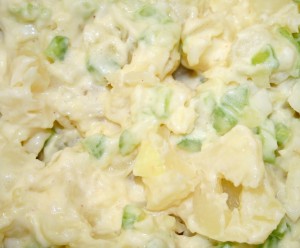 Yum…homemade potato salad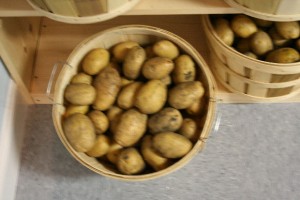 Home grown Yukon Gold potatoes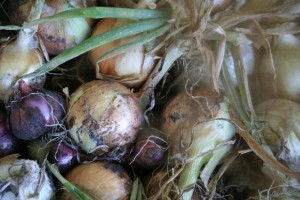 Home grown onions
Jeanne Grunert is a certified Virginia Master Gardener and the author of several gardening books. Her garden articles, photographs, and interviews have been featured in The Herb Companion, Virginia Gardener, and Cultivate, the magazine of the National Farm Bureau. She is the founder of The Christian Herbalists group and a popular local lecturer on culinary herbs and herbs for health, raised bed gardening, and horticulture therapy.