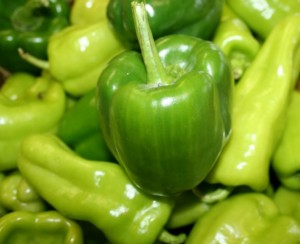 This stuffed peppers recipe is a real treat, but they can be expensive to make unless you grow your own green bell peppers. Bell peppers currently retail at our local supermarket for 69 cents per pepper, and they're not even organic; I grow organic peppers, and they seem to do well here in Prospect (Zone 6b/7).  This recipe is easy to assemble but requires plenty of time to make the ingredients. Making it from scratch, however, ensures the best taste, so don't cut corners on the recipe.
Stuffed Peppers Recipe
Serves 4/Serving size: 2 peppers each
You'll need…
8 large green bell peppers. Try to select peppers with a flat bottom so they sit upright in the pan.
1 cup of white rice, cooked
1/2 cup spaghetti sauce
1 can of corn kernals, drained
1/2 lb ground beef
1 large or 2 medium sized fresh tomatoes, diced
1 onion, diced
1/2 teaspoon garlic salt
1/2 teaspoon paprika
8 slices of cheddar cheese
Directions:
Wash and slice the tops of the peppers off. Scoop out the seeds and fibrous interior. Discard top, seeds and interior. Rinse again. Boil a pot of water and immerse the peppers into the water. Boil for 20-30 minutes or until they are tender yet retain their shape. The color fades from bright green to a darker green when they are ready.
Cook the rice as per package directions and pour into a large mixing bowl.
In a large saucepan, cook the ground beef, breaking it up into small pieces. Remove meat with a slotted spoon and add it to the rice in the mixing bowl.
Add the diced onion to the meat drippings; fry until tender. Remove with slotted spoon and add to the rice and meat mixture. Discard fat.
Drain and rinse corn kernels. Add to rice, meat and onion mixture.
Add tomatoes, sauce and spices to the rice/meat/onion/corn mixture. Stir until blended.
When peppers are ready, use tongs to drain and remove them onto a flat, heat-proof surface. Let them cool a bit, then spoon the mixture into each until it reaches the top.
Place peppers in an oven-proof dish with a lid. Place lid over top. Bake at 350 degrees for 25 minutes.
Remove from oven. Place cheese over top of each pepper, replace lid, and let stand for 5 minutes until cheese melts.
Serve immediately.
Jeanne Grunert is a certified Virginia Master Gardener and the author of several gardening books. Her garden articles, photographs, and interviews have been featured in The Herb Companion, Virginia Gardener, and Cultivate, the magazine of the National Farm Bureau. She is the founder of The Christian Herbalists group and a popular local lecturer on culinary herbs and herbs for health, raised bed gardening, and horticulture therapy.