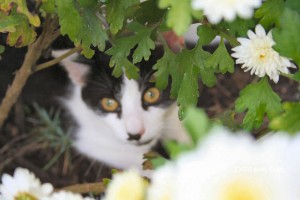 Groucho as a kitten, hiding in the mums last September
Time to get those sweaters out from the back of the closet, sharpen your pruning shears, and get ready for fall! September's free gardening tips sheet is now available on Seven Oaks.  I have them listed on our Monthly Gardening Task page.
Chrysanthemums are now plentiful in the stores, and in the weeks ahead, I'll share with you tips on growing mums in the home garden. If you really want to be adventurous, consider growing mums for exhibition; the Chrysanthemum Society of America offers local competitions where you can compete for ribbons and prizes based on the flowers you raise.
September is also when our annual Five County Fair comes to Farmville, and I have my canned goods and counted cross stitch completed this year ready to enter. I'm debating entering some of my photography, but I'm not sure what the presentation rules are; if I have any fresh vegetables, I'll enter them as well. I love the fair. It's a lot of fun, and I especially enjoy the displays, the competitions and the animals.
Fall is almost here…are you ready? Download my free gardening tip sheet today.
Jeanne Grunert is a certified Virginia Master Gardener and the author of several gardening books. Her garden articles, photographs, and interviews have been featured in The Herb Companion, Virginia Gardener, and Cultivate, the magazine of the National Farm Bureau. She is the founder of The Christian Herbalists group and a popular local lecturer on culinary herbs and herbs for health, raised bed gardening, and horticulture therapy.