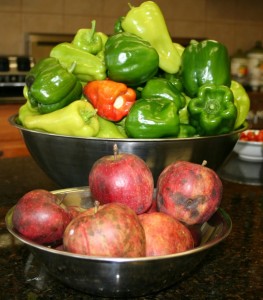 My organic garden harvest: peppers and apples.
Many people are concerned with the amount of pesticides and chemicals used on the foods they eat. Yet you really can't grow everything you'd like — I love pineapples, avocados and grapefruits, but none of those fruits will grow here in Virginia. So what to do? The next best thing is to grow what you can to reduce your pesticide load, buy organic when it makes sense to do so, and accept some conventionally grown produce in your life if you want variety.  That's my philosophy, anyway.
Here at Seven Oaks we trying our best to grow organic produce for our own consumption (we don't sell to the public), but we do sometimes use a spray or two, especially on the fruit trees. I've found this sensible approach is one that most gardeners can embrace. It's a far cry from my dad's "spray malathion until the entire garden is coated with it" approach (he really did that) to the purist "any spray is a bad spray" approach.
Dr. Joseph Mercola, MD, who runs a popular natural health website, just published a list of the best and worst vegetables. These aren't necessarily the "best" in terms of vitamin and mineral content, or the best to eat for health reasons. Instead, it's more about the best in terms of least amount of pesticides used, or the best in terms of skin removed so the pesticides go with it.  For example, conventionally grown bananas are fine; most will agree that any pesticide residue is on the banana skin, which is discarded. Ditto for oranges, lemons and grapefruits; unless you're zesting citrus fruits for a recipe, chances are that you're discarding the rinds, and that's where the majority of the pesticides are found.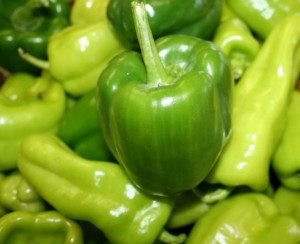 Organic peppers from my garden.
Many of the fruits and vegetables on Dr. Mercola's list can be easily grown at home to reduce your pesticide load. Strawberries don't take up much room and can be grown in containers, window sills, planter boxes or in the garden. While it's true that you can't grow them year 'round, and if you're hankering for a strawberry in January you'll end up at the supermarket, if you're okay with eating fruit in season, then growing your own makes good sense.  The same goes with bell peppers.  Here in Virginia, my garden produces abundant bell peppers July, August and September. I cook with them to be sure, but you can't eat too many peppers at one sitting no matter how much like them. That's why I can them and make garlic-sweet pickled peppers, which are delicious on salads or sandwiches.
What do you think about Dr. Mercola's list?  Can you grow any of his "worst" pesticide offending foods yourself?
The List: List of Best & Worst Vegetables to Eat.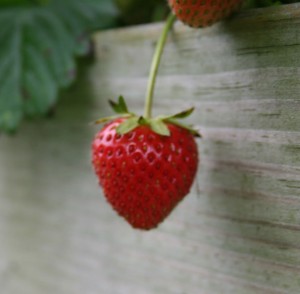 Organic strawberry in my garden. No sprays needed!
Jeanne Grunert is a certified Virginia Master Gardener and the author of several gardening books. Her garden articles, photographs, and interviews have been featured in The Herb Companion, Virginia Gardener, and Cultivate, the magazine of the National Farm Bureau. She is the founder of The Christian Herbalists group and a popular local lecturer on culinary herbs and herbs for health, raised bed gardening, and horticulture therapy.