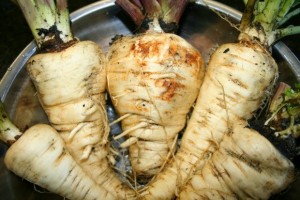 I gave away a few bunches of parsnips, but I'm still enjoying the bountiful harvest from the garden. Parsnips are super easy to grow (at least for me) and they do well organically, but they take time, and you have to have patience and room to let them just grow and grow from spring to fall.  Once the first frost touches them, they can be harvested. Frost sweetens them up nicely!
Last night, I made roasted parsnip "French fries" to accompany the leftover turkey.  Today I added the roasted parsnip fries to a yummy salad, and I thought I would share the recipes for both with you.
Roasted Parsnip Fries Recipe
You will need for the Roasted Parsnip Fries Recipe
1 to 3 large parsnips, washed, peeled with ends sliced off
1 tablespoon extra virgin olive oil
Coarse salt
Pepper
Dried thyme
Preheat the oven to 350 degrees F.
Scrub dirt away from the parsnips.  Slice the ends off the parsnips and compost; peel the parsnips and add the peel to your compost pile.
Slice the parsnips into French-fry sized pieces and arrange in a single layer in an oven proof dish with lid. Drizzle with olive oil.  Sprinkle with coarse salt and pepper, then add a dash of thyme. Roast for 15 minutes with the lid on the dish, stir, and roast for another 10-15 minutes. Serve and enjoy!
Recipes from the Garden: Thanksgiving Salad
I decided to use up some leftovers today for this salad, and it was delicious! You can substitute baby spinach leaves or Romaine for the iceberg lettuce.
Assemble in a large salad bowl:
1 to 2 cups of iceberg lettuce (or spinach or Romaine)
1 tablespoon dried cranberries
1 teaspoon feta cheese, crumbled
1 teaspoon shelled walnut pieces
1 to 3 ounces diced white meat turkey left overs
Drizzle with extra virgin olive oil and 1 tablespoon apple cider vinegar. Sprinkle with pepper and dried thyme. Serve and enjoy immediately.
Happy (belated) Thanksgiving!
Jeanne Grunert is a certified Virginia Master Gardener and the author of several gardening books. Her garden articles, photographs, and interviews have been featured in The Herb Companion, Virginia Gardener, and Cultivate, the magazine of the National Farm Bureau. She is the founder of The Christian Herbalists group and a popular local lecturer on culinary herbs and herbs for health, raised bed gardening, and horticulture therapy.