As soon as the paint dried, I was dying to write this post. I'm probably the least 'crafty' person you'll ever meet. So when I say that these are Pinterest crafts that don't suck…crafts that don't come out looking like your kindergartener made you a Mother's Day gift or something…believe me, that's saying a lot.
Behold, Craft 1: The Dollar Store Candle Holders.
I made these and gave them to my sister for Christmas. She LOVED them! Best of all, the candles are completely unscented. My sis has terrible allergic reactions to all the scented candles in the stores, and she loves having 'real' candles around her house. She's had to settle for the battery-powered candles until I found these unscented votives at the stores. Plus, I made them pretty! I could actually do this craft – me, the woman who is all thumbs, who almost flunked first grade art class, the woman who can't draw a stick figure….made this.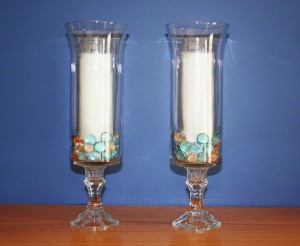 Here is the original tutorial, from Blessed Life.
I used colored stones that matched my sister's living room decor, but you can use beautiful rocks, shells, glass pebbles, beads, or even sand – whatever matches your decor. It was easy to make, the hurricane lamps were sturdy, and the cats didn't wreck them before I got them safely packaged and shipped. Yay! A craft even I could do!
Behold, Craft #2:  Sea Glass Jars
I love sea glass,  those pieces of old glass bottles and such that get tumbled around by the ocean, washed with salt, and shaded and softened until they are works of art. I used to collect them when I lived on Long Island. As a child growing up in the 1970s, there was plenty of glass on the beach (among other things). Then everyone switched to metal cans and plastic bottles. Now you just cut your feet on the beach from the litter instead of finding pretty stuff.
But…you can make sea glass. Okay, not exactly sea glass, but you can make glass LOOK like the stuff which is just as nice.
The caveat? You can't drink out of these jars, nor can you use them to hold liquids. The coloring will wash away or dissolve. But you can make them out of nearly anything, as I demonstrate here. This little jar held artichoke hearts for salads; I washed it with soap and water, peeled off the label, and used it as my guinea pig.
My husband thought I'd gone insane when I ran upstairs from the basement holding my little jar and shouting, "Look, I did it! I made something!"
Behold: the sea glass jar, which will now hold paperclips on my desk.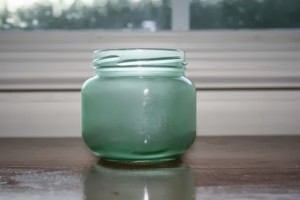 You have to admit it's pretty, no?
The recipe for the coloring came from Live Gorgeously.
A couple of words of advice on this craft. Don't try to paint the outside of the jar; pour the paint inside and swirl it around. Pour out the excess. Then place a big pile of absorbent newspaper on the work surface and tip the jar over. Let the paint run out, tip the jar back, swirl and repeat every half hour or so while you go and do something else. Then let it dry upside down.  I tried to paint the first one and it did look like a kindergartener's finger painting project. The second one is the one above; I used the swirl technique and it came out nice.
So that's my foray into crafting. I actually found a recipe for homemade Modge Podge, and so now I want to try some decoupage. I can't believe that in middle life, I am becoming a "lady who crafts."   Given that I have lived some 40-odd years (some very odd years) and haven't been able to do anything remotely crafty, this is a big deal.
Now you all know what you are getting for Christmas….
Jeanne Grunert is a certified Virginia Master Gardener and the author of several gardening books. Her garden articles, photographs, and interviews have been featured in The Herb Companion, Virginia Gardener, and Cultivate, the magazine of the National Farm Bureau. She is the founder of The Christian Herbalists group and a popular local lecturer on culinary herbs and herbs for health, raised bed gardening, and horticulture therapy.