Yesterday, we talked about how to plan a raised bed vegetable garden. I shared with you some basic tips for choosing a location for your new garden. Today, let's talk about the overall design of a raised bed garden.
Raised Beds and Paths
Most raised bed gardens consist of rectangular or square-shaped raised bed with access pathways running in between the beds. How many garden beds you include in your raised bed vegetable garden plan depends on many factors.
How much time do you want to devote to your garden? What vegetables do you want to grow?
Take a few minutes to jot down a list of everything you've dreamed of growing to get an idea of how much space you might need. Keep in mind that some crops, such as cucumbers, squash, peas and beans, can be grown up rather than across the ground, thus saving space. Trellises, staked netting and other supports can be placed over a raised bed to provide vines with ample space to climb vertically rather than trail across the ground. Other crops, such as pumpkins, watermelon and other large melons do need space to spread out, not to mention plenty of water. Once you know what you'd like to grow, you can better plan the space requirements.
Constructing Raised Beds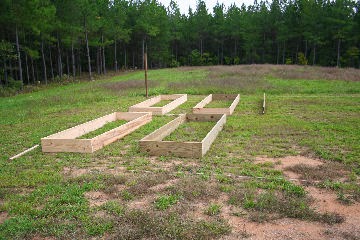 This is a picture of my own vegetable garden raised beds during construction. We used untreated lumber for three of the beds and treated on the remainder of the beds. What's the difference?
Pressure Treated Wood for Gardens
Pressure-treated wood is lumber that has been treated with chemical preservatives to help it resist rot and insect damage. It last longer, but organic gardeners tend to shun it because of the fear that chemicals leach from the lumber into the soil over time. Although opinion varies about its use in an organic garden, a true certified organic garden cannot use pressure-treated wood. My own research shows that the risk of chemicals leaking into the soil is minimal, and that root crops grown near the edges of such beds are more susceptible to taking up any chemicals than other types of crops. From my research, I decided that the beds used to grow root crops would be made from untreated lumber; treated lumber was fashioned into the other beds. Overall, this was a sound decision for me. For more on the subject, Fine Gardening offers an insightful look at the differences between the two types of lumber and the choice to use one or the other.
Measurements for Raised Beds
We made our garden beds from three 8′ long boards approximately 8″ high by 2″ wide. One board was cut into two sections to form the short ends of the rectangles. My husband used the power drill to insert screws into the ends, and we stapled landscape fabric over the bottom of the frame. We then flipped the frame over so that the landscape fabric covered the grass, preventing it from growing. A mixture of rich, organic soil and compost from the local paper mill was added to each bed, along with composted cow manure, peat moss and lime.
The treated lumber beds are now on year six in the garden and are fine. The untreated beds began decaying last year. We've replaced one and have another to replace. The lumber along the sides rots, splits, and eventually splinters into sawdust and chips as nature's scavengers – mold, rot and insects – devour it. My husband is looking into protective paint for the untreated beds to seal the wood and make it less permeable.
Planning the Pathways
When you're planning a raised bed vegetable garden, leave at least three feet between the beds. This gives you enough room to maneuver a wheelbarrow or other equipment in and out of the garden.
Here is my vegetable garden plan. It's not exactly to scale, but it shows you the number of beds I have to work with and where the permanent plantings are – the asparagus and strawberries.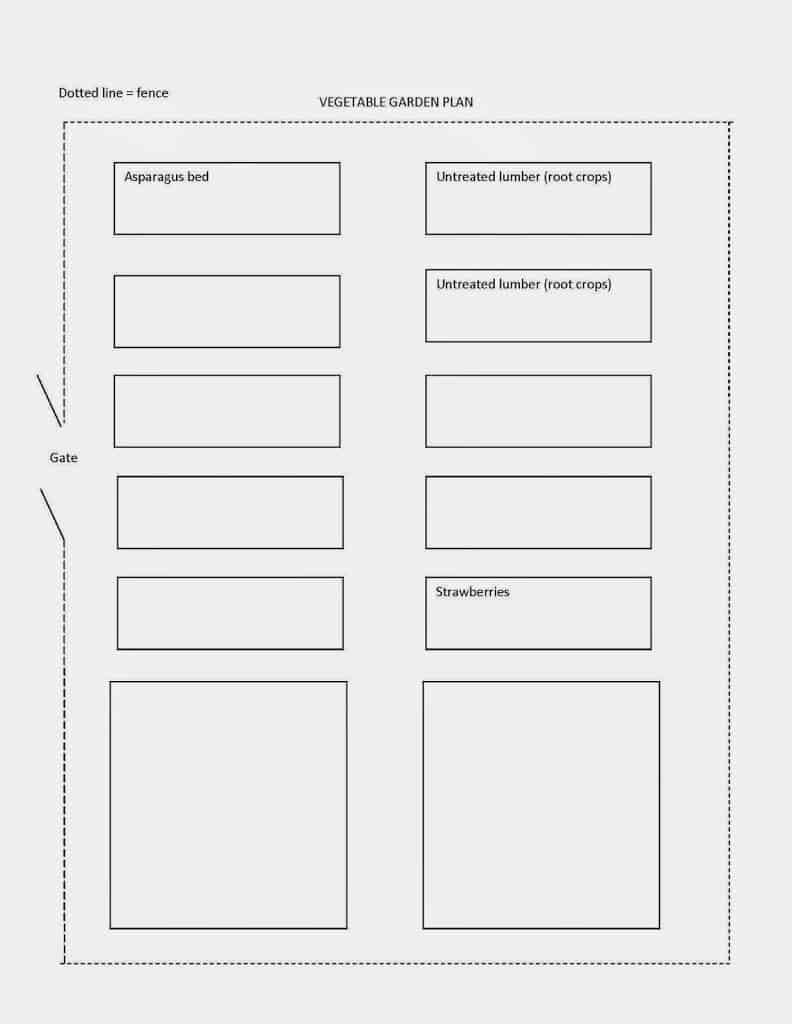 I have also written a book on raised bed gardens. Click the link below to read excerpts, reviews and to order from Amazon.
Plan and Build a Raised Bed Vegetable Garden walks you through site selection, building a simple raised bed, soil for raised bed gardens, pathway construction and more.
Jeanne Grunert is a certified Virginia Master Gardener and the author of several gardening books. Her garden articles, photographs, and interviews have been featured in The Herb Companion, Virginia Gardener, and Cultivate, the magazine of the National Farm Bureau. She is the founder of The Christian Herbalists group and a popular local lecturer on culinary herbs and herbs for health, raised bed gardening, and horticulture therapy.