Asparagus for the home garden can be challenging. It prefers alkaline soil with a pH around 7.0 – 8.0, higher than most vegetables. It's a long-lived perennial that should be left in the same spot of earth for years. Once it starts producing, you'll harvest plenty of asparagus.
Asparagus for the Home Garden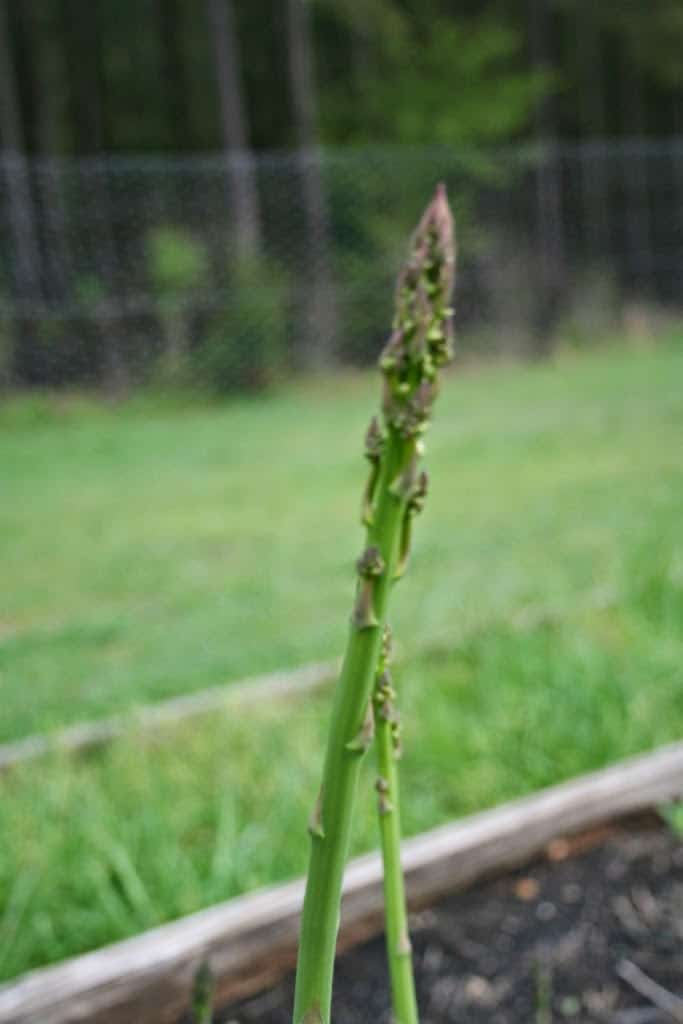 Asparagus is a tender spring delicacy, a vegetable much prized by gardeners and cooks alike. The tender green shoots found in the grocery store are actually the first shoots that emerge from the plants each spring. The crowns produce the edible shoots and if they aren't harvested, they grow into large, fern-like plants with delicate foliage.
The ancient Egyptians grew asparagus; there's a frieze showing asparagus growing in Egyptian gardens from around 3,000 B.C.  Asparagus was enjoyed in Syria, Greece and Rome; the Romans even froze asparagus by trekking it high into the Alps so that it would be preserved for the feast of Epicurus.  The Emperor Augustus had an "asparagus fleet" to haul the vegetables away for storage.  Asparagus recipes were included in one of the oldest surviving cookbooks dating from the third century A.D.
In Europe, asparagus was known to the Spaniards, but it wasn't until around 1400 that it founds its way to the courtyards and kitchen gardens of Medieval French monks.  Sources say the first mention in English texts is around 1530, with Germany discovering the delicacy in 1540.  Asparagus, like most immigrants, arrived in the New World by boat in America in 1850.
Today, asparagus is grown worldwide wherever it can take root. Because an asparagus bed can live for decades, you can find asparagus gone wild among old farmsteads and even along roadways as birds, squirrels and other creatures accidentally spread its seeds and shoots. However, if you really want tasty and plentiful asparagus for your table, it pays to prepare the garden bed carefully.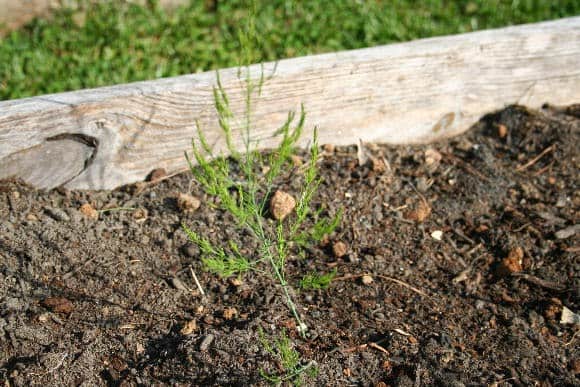 Asparagus in my garden.
Growing Conditions for Asparagus
Asparagus need full sun, defined as six or more hours a day. They break dormancy and produce edible shoots when the soil temperatures reach about 60 – 65 degrees F. Backyard gardeners looking for an early asparagus crop may find that raised bed gardens warm up sooner than other types of gardens and produce an earlier crop.
Because asparagus get so tall, if space is at a premium, plant them along the back of the garden. They are great companions with tomato plants. Tomatoes repel the asparagus beetle, a pest that can harm your crop, and asparagus nurture beneficial nematodes for tomatoes. You may want to plant asparagus at the back of the garden bed with a row of tomatoes in tomato cages in front of the asparagus. The cages will help hold up the tomatoes as well as the asparagus, while the natural elements in each plant provide mutual benefit.
[Tweet "Asparagus can be challenging to grow. Learn how to grow asparagus in the home garden."]
Soil and Fertilizer for Asparagus
The preferred soil pH is around 6.0 to 6.7. The soil should be well-drained yet moist, which is another plus for most gardens since that's typically a spring-like condition; cool, moist, rainy.
Once the crowns are established for a year or more, you can harvest the shoots when they are about 6 inches to 8 inches tall. Don't cut the shoots, but break them evenly near the crown. Don't get greedy, either. Leave at least one or more shoots per crown to develop so that photosynthesis can take place and the crown can continue to grow healthy roots.
Asparagus are heavy feeders, and fertilizer is recommended. Look for a high phosphorous (middle number) and potassium (last number on the bag of fertilizer) for their needs during the growing season. Before winter starts, feed with compost.  I leave my asparagus bed alone until late into the fall, and then I cut it back and cover with mulch to protect the crowns during the winter.
Asparagus Varieties
Choosing the asparagus varieties you want to grow is tough. Frankly, they all look alike in the gardening catalogs, and I'm never sure that what I'm buying at the grocery store is available commercially for backyard gardeners.
You can't go wrong with the "Jersey" series, and that's what I eventually settled on when I chose the cultivars for my own asparagus beds. Jersey Giant is a popular traditional green asparagus. There are also purple and white asparagus, with white a popular color in Europe.
Purchase male plants if you can. Asparagus plants are either male or female; females have red berries, and produce fewer edible shoots. A selection of all-male plants is more expensive but may be worth it by producing more asparagus faster in the home garden.
When purchasing asparagus to grow in the garden, I recommend splurging on the most mature crowns you can afford. What are crowns? The root parts that can be replanted to grow new asparagus plants. You can grow asparagus from seed, but they are slow to germinate and can take up to three years to mature enough to harvest. Who wants to wait that long? Crowns are typically marketed as one year or two year; two year crowns can be harvested the first year after planting. So if you buy two year crowns and they produce a few shoots, you can satisfy your longing to taste home-grown asparagus the first year. But as I warned before, don't be greedy; over-harvesting the first year can hurt your plants.
How to Plant Asparagus
Planting asparagus crowns can be a little tricky. Take your time preparing the soil. Rototill or dig in as much compost as you like to create the rich, fertilize well-drained soil asparagus plants need.  Set your rows about 15 inches apart.  Dig a trench, and set the crowns about four inches deep and 10 inches wide. Cover with soil and compost and water well.
Weeding
Asparagus plants themselves look kind of weedy, so it's tempting to let the weeds do what they will among your plants. That's not a good idea; the weeds will take phosphorous and potassium from the soil, elements asparagus really need, so pull out the weeds by hand. Try not to disturb the crowns during your weeding sessions. Although weeding isn't a lot of fun, it's necessary among asparagus plants.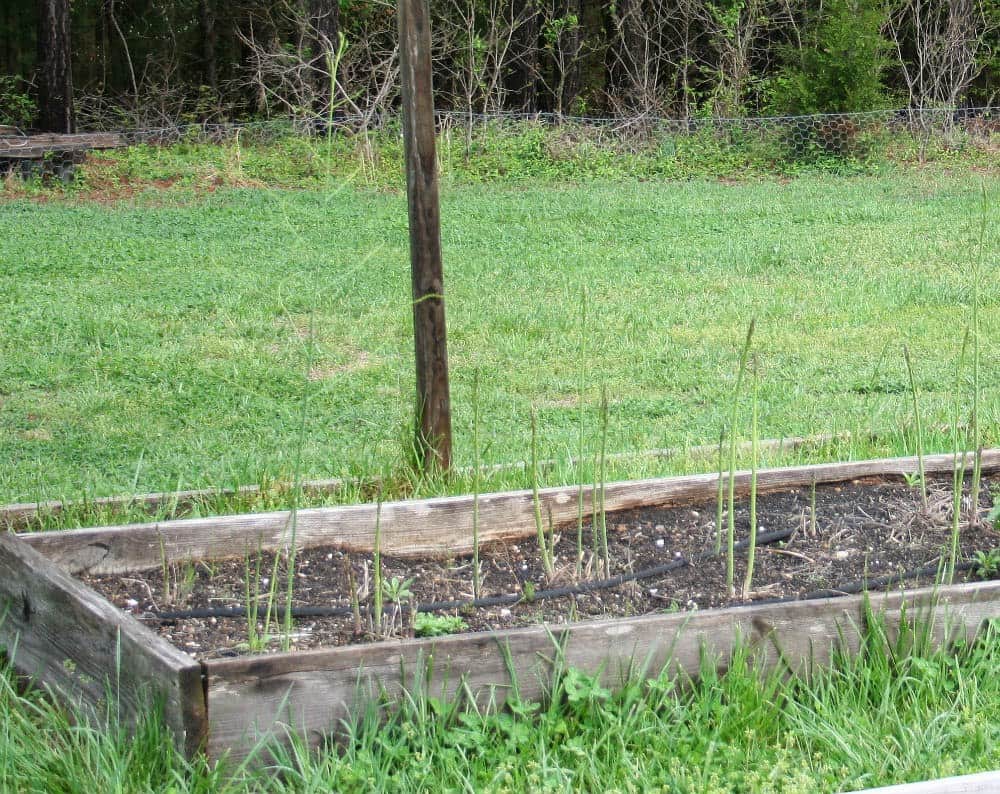 My asparagus bed in early spring in the vegetable garden.
The Pleasures of Fresh Asparagus
Harvest asparagus before the bud end opens. After the buds open, the stems toughen up quickly and can be like chewing on rope no matter how they're cooked. But the young, tender stems? Ah, there's a true delicacy! They're delicious steamed. I like to steam them, drizzle with good-quality extra virgin olive oil and crumbled feta cheese, and then sprinkle with pepper and coarse sea salt.
I could live on this during the spring!
For more on growing asparagus in gardening zones 6 and 7 (where Seven Oaks Farm is located in the Piedmont area of Virginia), please see:


Jeanne Grunert is a certified Virginia Master Gardener and the author of several gardening books. Her garden articles, photographs, and interviews have been featured in The Herb Companion, Virginia Gardener, and Cultivate, the magazine of the National Farm Bureau. She is the founder of The Christian Herbalists group and a popular local lecturer on culinary herbs and herbs for health, raised bed gardening, and horticulture therapy.