Growing carrots in the home garden is easy with the right soil. Did you know that the Romans loved carrots, or that carrots come in other colors besides orange? Learn more about growing carrots!
C is for carrot, those ubiquitous vegetables languishing at the side of your dinner plate or in the back of the fridge. Carrots have sort of fallen out of favor among the gourmets of the world, which is a shame. If you turned back the clock two thousands years and walked into a banquet hall in the Roman Empire, you would find the Emperor beckoning for a second helping of carrots. They were considered a delicacy among the ancients who prized them for their flavor and storage abilities. There's some debate as to whether the carrots mentioned by ancient writers were the same as our modern-day orange carrots or parsnips. Since both are delicious, let's pretend that carrots were on the menu and move along.
[Tweet "Did you know that the Romans loved carrots, or that carrots come in other colors besides orange? Learn more about growing carrots!"]
Growing Carrots in the Home Garden
As root crops, carrots need sandy soil or at least very loose, friable soil. Rocks, stones and clay will stunt their growth, or twist them into shapes like this (from my garden a few years ago)….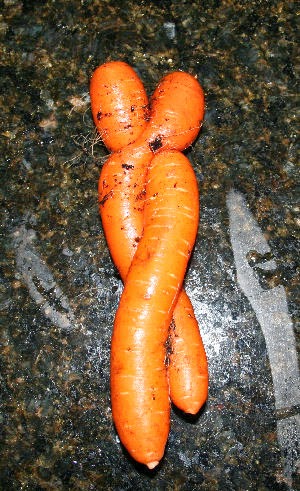 Oops. We weren't thinned…and we hit a rock…
Those nice straight, perfectly formed carrots you purchase at the market were most likely grown in sandy loam soil. If you don't have that kind of soil, you have a few options. You can grow carrots in containers (yes, you really can) or create a raised bed garden so that you can give them the perfect soil. It's up to you. 
Carrots are grown from seeds sown directly into the soil as soon as it can be worked in the spring. They prefer a slightly acidic soil with a pH of 5.5 to 6.5 – perfect for our Virginia climate and the naturally acidic soil found in many parts of the state.
–
Carrot seeds are notoriously tiny and hard to sow perfectly. You can buy seed tapes, which look like a long measuring tape with the seeds already affixed to the tape at the perfect width. You just bury the tape according to the package directions and it disintegrates in the ground; the carrots are then perfectly spaced. Another option is to sow carrot seeds in trenches and thin out the seedlings once they're a few inches tall. I prefer the second method and use the tiny immature carrots as 'baby' carrots. If you have chickens, pigs, rabbits or guinea pigs, you can feed them the baby carrots too. Otherwise they can be composted after thinning them to the proper spacing.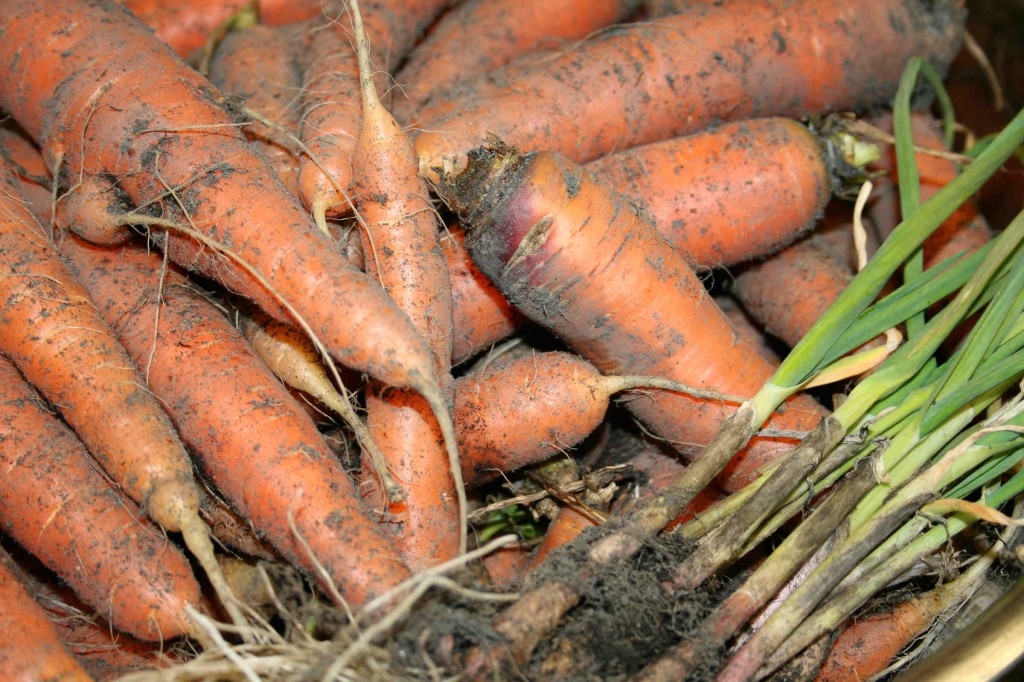 Carrots should be spaced about an inch apart in order to grow properly. They  need a depth of about 10-12 inches, but that depends on the variety. The scarlet "Nantes" and "Nantes Half Long" varieties produce good carrots that aren't as long as the store-bought ones but still perfectly fine carrots. They're great for home gardens or containers.
–
Carrots take a while to germinate, so don't give up if you don't see them sprout – be patient. Control weeds and keep them well-watered during their early stages, but cut back on watering as they reach maturity in about 55 to 80 days. Too much water at the late stages creates cracks in the carrots.
You'll know it's time to harvest your carrots when you see the tops at the soil level. I usually pull out one or two as test carrots; this is a rough guide to tell you if they're ready or not. Harvest, rinse, and remove the greens before storing in the fridge.
Storing Carrots
Carrots can be frozen or canned following the directions on your pressure canning system. Make sure you use a pressure canning system unless you pickle the carrots; they need the high heat of pressure canning to ensure freshness and prevent spoiling. If you store them fresh, keep them in the refrigerator; they need cool temperatures or else they get rubbery and spoil. I rinse them off outside under the garden hose, cut off the green stems without cutting into the carrot, and store them in plastic bags in the crisper drawer.
–
Here at Seven Oaks, I plant "Nantes Half-Long" carrots which according to the Cooperative Extension Office are great for Virginia's climate. I agree! Just make sure you use a fresh package of seeds each season. I made the mistake of trying to save a few pennies last year by planting seeds from an open package, and the germination rate was poor. Fresh seeds really do make a difference, and they're not expensive.
–
For recipes to use carrots, see my previous posts:
Jeanne Grunert is a certified Virginia Master Gardener and the author of several gardening books. Her garden articles, photographs, and interviews have been featured in The Herb Companion, Virginia Gardener, and Cultivate, the magazine of the National Farm Bureau. She is the founder of The Christian Herbalists group and a popular local lecturer on culinary herbs and herbs for health, raised bed gardening, and horticulture therapy.