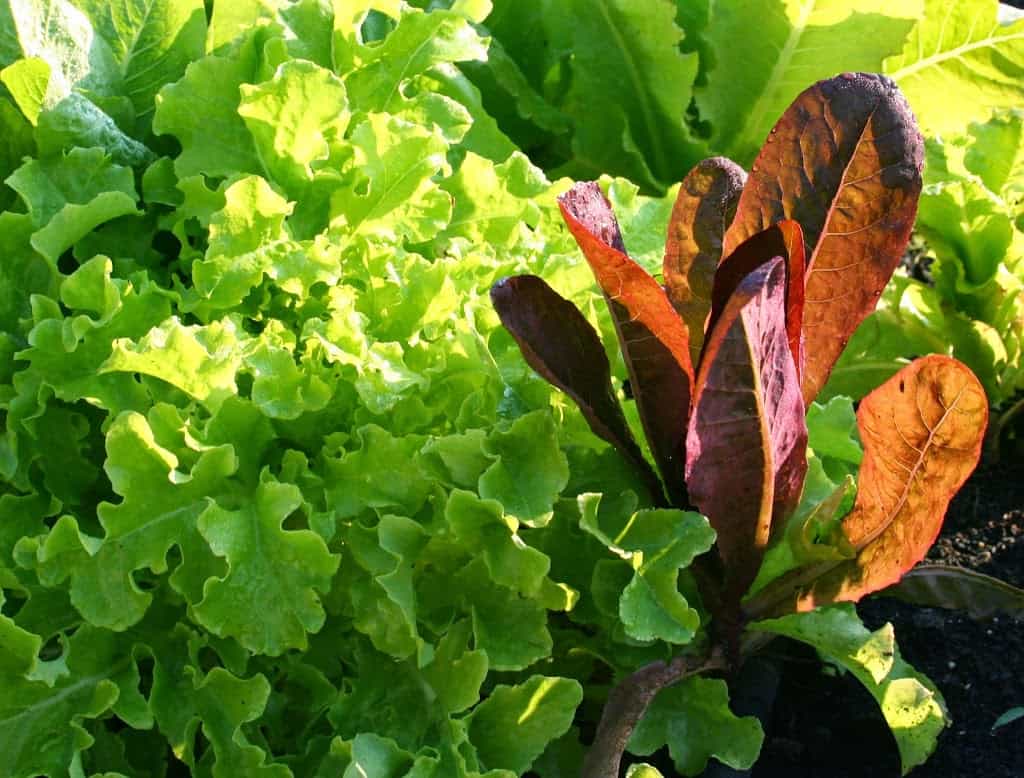 Lettuce and leeks are two of my favorite vegetables, and happily I can write about them today in honor of the letter "L" in the A to Z blogging challenge! The lettuce above grew in my garden last year from a 20 cent package of mixed lettuce seeds. There were at least five types of lettuce in the package. I think my favorite is the red-leafed variety, at the upper right. It had a mild taste, and mixed with the bitter greens and Romaine lettuce I also grew, made a beautiful, pleasing salad.
Growing Lettuce
Lettuce can be grown as soon as the soil can be worked in the spring. Lettuce prefers cool weather; hot weather makes it set seeds or "bolt", sending up a thick, central stem to produce seeds. Once lettuce bolts, it's bitter – no two ways about it. It prefers cool weather and fares well in the early spring and late fall.
Lettuce needs full sunlight but can tolerate partial shade. Make sure the soil is rich and well drained; add plenty of compost. Rake a small line in the soil and sprinkle the seeds, then lightly cover them with soil. Don't plant lettuce seeds too deeply or they won't sprout. Keep them well-watered. In about a week, you should see the first leaves appear as the seeds sprout. Keep watering it, and thin in about another two weeks to give the plants room to grow. To harvest, use scissors and snip off the leaves for your salad. Once the lettuce bolts or goes to seed, pull it out and compost it.
Slugs and snails love lettuce too. If you see nibbled edges or find slugs on your lettuce, a simple organic solution is diatomaceous earth. Diatomaceous earth looks like a fine gray powder and is sold at garden centers in cans and bags. It's really the fossilized remains of ancient algae.  It's harmless to humans and pets, as well as to birds and most wildlife, but the tiny crystals in the earth cut into slugs and snails, killing them. Sprinkle it around your lettuce patch to keep slugs at bay.  You can always use an old-fashioned beer tray or trap for slugs, but why waste good beer…?
Leeks
I love leeks, but I don't like the price tag at the grocery store! I used to buy them at the farmer's market in Huntington, Long Island when I lived nearby, and always managed to pick up delicious tender bunches of leeks for about $2 each fall. Many fall recipes call for this tender onion-flavored vegetable, and whether they're added to soups, stews or other dishes, they are delicious and a delicacy for the autumn palate.
This is my first year trying to grow leeks. I've already been told by several well-meaning gardening friends that I'm very far behind in the process, since I haven't even planted my seeds yet, but c'est la vie – that's life. 
Leeks can be started from seeds indoors several weeks before you plan to grow them outside, or you can buy starter plants at this time of year from the garden center. The Cooperative Extension office says that leeks can be grown in full sun or partial shade, with rich, well drained soil with a pH of 6.2 to 6.8.  They need a lot of moisture for even growth, so my soaker hose is going to come in handy for the leek bed! Soaker hoses distribute an even amount of moisture through tiny holes along the soft, pliable hose. It drips water right at the soil line rather than spray it about, the way sprinklers do. It can help conserve water, an important quality for a garden like mine watered from a well.
Leeks grow to be one to two feet tall. The root and lower stem are eaten. To blanch them, soil is mounded against the stem, which whitens it.  They need a long growing period, and tolerate a light frost, so the spring planting is usually harvest around Halloween or so.
Neat fact of the day:  The ancient Egyptians grew leeks over 4,000 years ago.  I wonder if they were an every day food or a delicacy, too?
Here's to the vegetable garden, the letter L, and lettuce and leeks!
Jeanne Grunert is a certified Virginia Master Gardener and the author of several gardening books. Her garden articles, photographs, and interviews have been featured in The Herb Companion, Virginia Gardener, and Cultivate, the magazine of the National Farm Bureau. She is the founder of The Christian Herbalists group and a popular local lecturer on culinary herbs and herbs for health, raised bed gardening, and horticulture therapy.