Radishes and rutabegas are both cool-weather vegetables that are easy to grow in most gardens. They thrive on cool, moist days, such as weather found in early spring.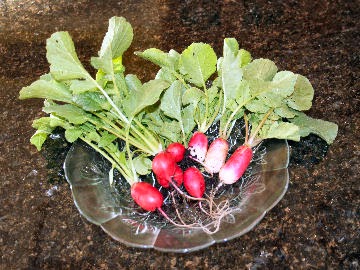 >p>
Sometimes I think the world is divided into two categories: radish people and non-radish people. In other words, people who LOVE radishes, and people who either loathe them or just don't care.
I'm in the latter camp.
I grow radishes each year because it's nice to have early fresh salad vegetables. Radishes add zip to salads at a time when few other vegetables are available. They grow rapidly, making them a good choice if you're gardening with kids. They're also fairly easy to grow, too.
Types of Radishes
If all you've ever known about radishes are the red, marble-sized ones sold at the supermarket, you're in for a treat. Radishes can be red or white, striped like peppermint candy or any shade in between. French breakfast radishes are sweet and oval-shaped; there are other heirlooms varieties from various countries around the world. Radish seeds are inexpensive, and if you're a radish lover, experiment with the different types.
How to Grow Radishes
To grow radishes, you need sunshine and soil, some water and seeds, and that's about it. Radishes can be grown in the ground, in window boxes, containers or planters. Sprinkle the seeds lightly on the surface of the soil; cover with about a quarter of an inch of soil. Water well. Make sure the radishes are grown in an area with at least 4 or more hours of sunshine per day, and water daily.  In about three to four weeks, when you see the red bump of the radish root around the soil level, it's time to pull them, clean them and eat them.
Don't eat radishes after the hot weather arrives. They're hotter than blazes! It's like eating a firecracker. Cool weather helps grow sweet radishes.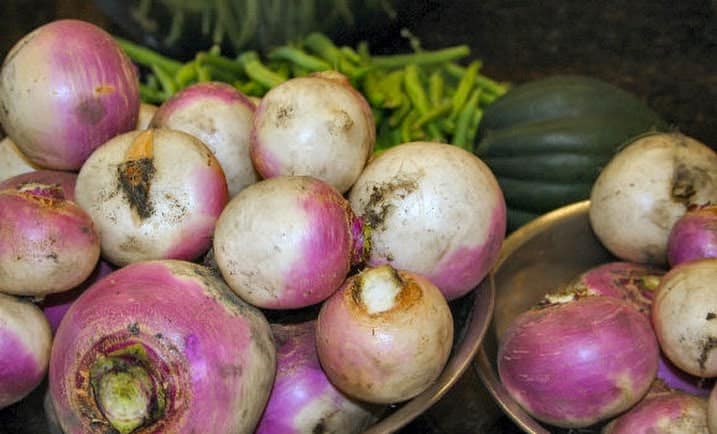 Rutabaga (Turnip)
Now THIS is a vegetable I love! I wasn't always a rutabaga fan. In fact, we never ate rutabaga or turnip in my household growing up. Then when I met my now-husband, his mother made us turnips and potatoes, and I fell in love with this cool-season crop. They're so easy to grow, and they taste great mashed with potatoes. I used to bring a tub of mashed potatoes and turnips to work for my lunch. Yes, I love them that much. 
Rutabaga or Turnip?
Technically, they're two different vegetables. Rutabaga takes about a month longer to grow. The taste is similar. The photo above is of turnips grown in my garden…I know it's confusing, but if I served you a dish of mashed rutabaga and potato, or turnip and potato, you probably couldn't tell the difference. Or at least not by much. Some aficionados claim they can. If you buy seeds marked rutabaga, the growing conditions are almost identical to turnip. 
How to Grow Rutabaga
Like most root crops, turnips prefer cool weather, so they're either a spring and fall crop, or a fall-only crop, depending on where you live. Consult with your local Cooperative Extension Office for the planting dates for your location.
Make sure the soil is rich and well-drained. The soil must be at least 40 degrees F in order for the seeds to germinate, so plant about 3-4 weeks before the frost free date in your region. Plant the seeds in full sun, sprinkle with soil, and keep well-watered. After germination, thin the seedlings out so that there's about 6 inches or more between them. If they're too close together, you'll either get a tangle of roots or small rutabagas. Harvest when you can see the knobby root above the soil line, or pull out a test one when ready. Store in the fridge until you're ready to enjoy them.
R is for radish, and for rutabaga!  R is today's letter for the A to Z blogging challenge.  We're almost at the end of the alphabetical journey. I hope you've enjoyed it.  
Jeanne Grunert is a certified Virginia Master Gardener and the author of several gardening books. Her garden articles, photographs, and interviews have been featured in The Herb Companion, Virginia Gardener, and Cultivate, the magazine of the National Farm Bureau. She is the founder of The Christian Herbalists group and a popular local lecturer on culinary herbs and herbs for health, raised bed gardening, and horticulture therapy.