We never thought about growing potatoes here at Seven Oaks until a few years ago, when our neighbors, Mel and Joan, suggested it. Mel, who I jokingly call the Potato King of Pamplin (the nearby town), grew great fields of potatoes, specifically Yukon Gold Potatoes. He gave us a bag of starter spuds, a tub of sulfur, and instructions on how to grow potatoes. Since I'd decided not to grow watermelon again, we turned the watermelon bed in the vegetable garden into the potato bed. Since then, I've been hooked on growing potatoes. No wonder peasants the world over love them; they're some of the easiest vegetables to grow.
Growing Potatoes in the Home Garden
Yukon Gold (Y is today's letter on the A to Z Blogging Challenge) Potatoes are a variety that seems to grow exceptionally well in my southern Virginia garden. The potatoes make excellent mashed potatoes, and a few starter spuds can grow into quite the harvest.
One of the reasons I think they grow well in my garden is that they like a more acidic soil than many other plants. A pH of 4.8 to 6.5 suits them just fine. The raised beds filled with rich, organic material soil creates the perfect environment for potatoes. On Long Island, New York, where I grew up, potatoes were a staple crop of the eastern farms; the sandy loam of Long Island also produced excellent potatoes. You will need at least 8 to 12 inches of soil, a large plot of ground, and full sun to grow potatoes. 
Purchase starter potatoes at the garden center. Each bag will contain one or two giant potatoes with multiple eyes. Eyes are the bumps on a potato that sprout into things that look like tentacles. The tentacles are shoots that will eventually emerge above the soil line and develop stems and leaves. Some people use store-bought potatoes, but these can be treated with either chemicals or irradiation to prevent sprouting. It doesn't always work, as most people who have pulled out a sprouted bag of potatoes from the pantry will attest, but it often does work – and anything done to the potatoes to prevent sprouting in storage will also prevent or inhibit their growth in your garden. Potatoes packaged especially for the garden aren't treated with anything.
Follow the directions on the package carefully. Each potato must be cut into pieces, with one eye per piece, and left out for several hours or overnight to dry out a little. We rolled ours in sulfur the first year; Mel told us it prevented diseases. After that, however, we returned the unused bag of sulfur to him and just skipped that step and it was fine.
Each potato piece is then planted in the ground about a foot apart and covered with several inches of soil. We make little hills of soil, so that the potato plants can grow up and over the hills a bit. We plant potatoes here in Virginia as soon as the soil can be worked in April. Frosts can kill the emerging leaves, but they do rebound.
Potatoes planted in April are ready to harvest by late July or early August. We harvest by hand, which is messy. It looks like we've taken a dirt bath after we harvest potatoes! We usually wait until our nephew, Michael, comes for his summer visit. Little boys and dirt seem to go together, don't they? He absolutely loves working with his uncle in the garden to dig up the potatoes by hand.
We dig into the soil with our bare hands and pull up the plants. We put the potatoes in the wheelbarrow, and use a second wheelbarrow for the stems and leaves. Then we compost the stems and leaves, and store the potatoes in a cool spot in baskets in the cellar. They tend to sprout after a few weeks, but if you take off the new growth, they last longer.
Here's a picture of our potato harvest from a few years ago. Enjoy!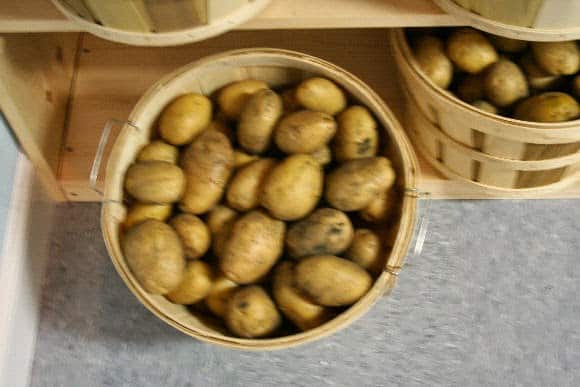 Jeanne Grunert is a certified Virginia Master Gardener and the author of several gardening books. Her garden articles, photographs, and interviews have been featured in The Herb Companion, Virginia Gardener, and Cultivate, the magazine of the National Farm Bureau. She is the founder of The Christian Herbalists group and a popular local lecturer on culinary herbs and herbs for health, raised bed gardening, and horticulture therapy.