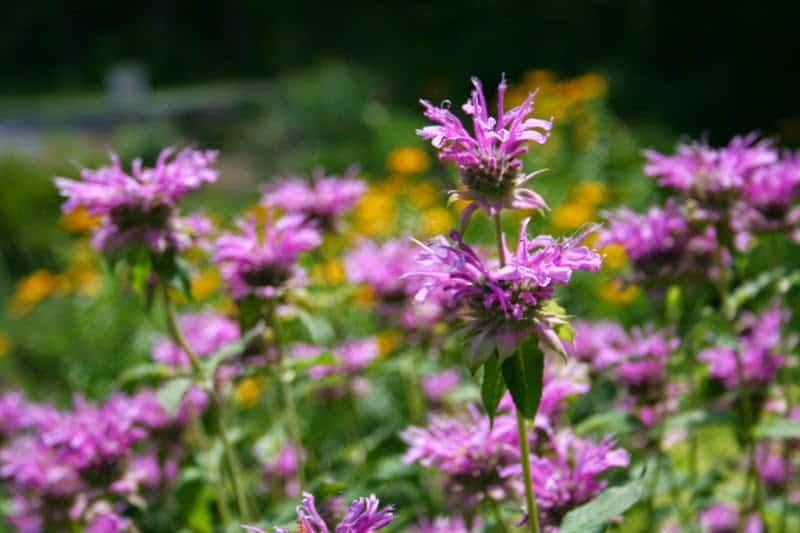 Monarda, Bee Balm, Oswego Tea…this beautiful plant is known by many names. It attract pollinators to the garden and offers an attractive flowering plant for the summer garden.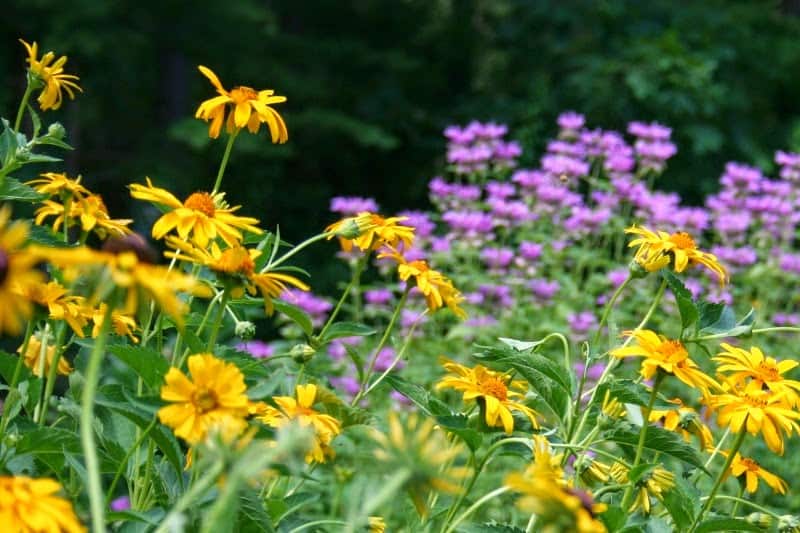 Yellow daisies in the front, monarda in the back in my garden today.
Growing Monarda
Monarda needs full sun, or about six to eight hours of bright, direct sunlight daily. You can start it from seeds inside the house during the winter. Just be sure to baby the transplants during their first season. Keep them well-watered until they establish deep roots, and add mulch to keep moisture near the roots. They aren't particularly heat tolerant, so if you live in the deep south, some afternoon shade will keep them happy. My own plants are in the shade starting around 4 p.m., which seems to make them happy!
Monarda needs about an inch of rainfall a week, so if you live in an area prone to summer droughts like I do, be prepared to water it. The rewards of all that work hauling water out to the garden or dragging the hose out to the garden will be well worth it.
You really don't need to do much to care for the herbaceous perennial form of monarda. I cut mine back in the fall just to keep it neat, and mulch it in the spring. That's it. 
Historically, monarda was used by Native Americans to season turkeys and other wild game. I don't know exactly which variety they grew, so don't go out picking leaves from your monarda and trying it in the Thanksgiving stuffing!  Monarda leaves contain thymol, a compound known to have some antiseptic qualities. "Oswego Tea" is an old folk-remedy for sore throats, mouth, throat and dental infections. Teas or tisanes brewed from monarda were used by American settlers as an antiseptic.
I don't grow monarda for its medicinal qualities. I grow it because it supports the pollinators in my garden, and because it's beautiful. Today the patch of monarda on the side of the path seemed to be alive with bees, humming and buzzing as they enjoyed the sweet nectar on the purple flowers. And while I haven't seen a hummingbird on my patch of monarda, I'm told the diminutive birds love the flowers almost as much as the bees.
You can order Mondara Seeds from American Meadows Seeds.
Jeanne Grunert is a certified Virginia Master Gardener and the author of several gardening books. Her garden articles, photographs, and interviews have been featured in The Herb Companion, Virginia Gardener, and Cultivate, the magazine of the National Farm Bureau. She is the founder of The Christian Herbalists group and a popular local lecturer on culinary herbs and herbs for health, raised bed gardening, and horticulture therapy.