Learn to dry fresh herbs without special equipment. Now's the time to dry basil, oregano, mint, parsley, catnip and many other fresh herbs. It's easy and all you need is the sun!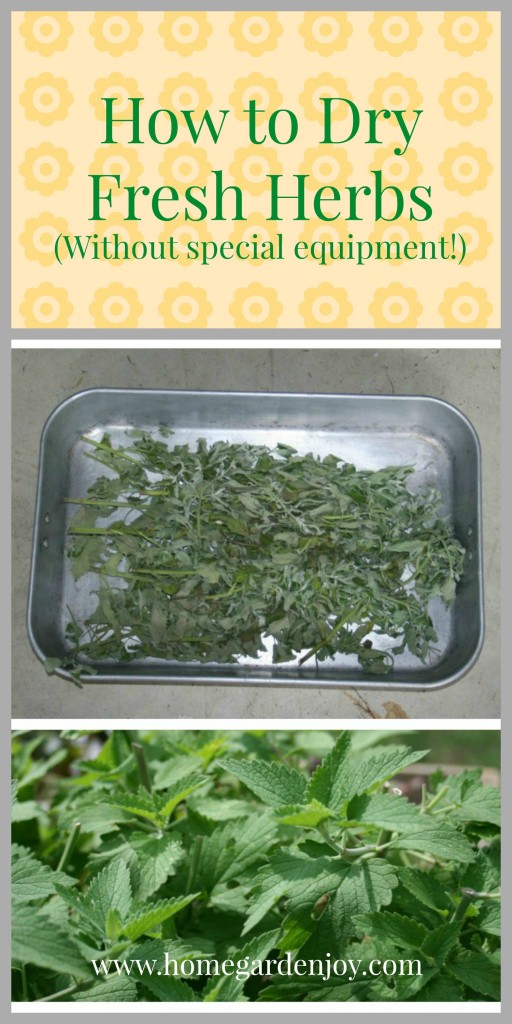 How to Dry Fresh Herbs without Special Equipment
Nothing says 'savor the taste of summer' like fresh herbs…or herbs dried at the peak of freshness. I love growing herbs and have basil, sage, lavender, lemon balm, mint, dill and chives growing in the garden. Mint and oregano were taking over the raised beds, so I moved those to the edge of the woods. Now whenever I need herbs to make a meal delicious, I just snip off a few leaves and voila – instant flavor.
Yet in a few short months, the herbs will be gone. Now's the time to dry them when they're at the peak of freshness. Drying herbs is easy, and you don't need any special equipment. Sure, a dehydrator would be a wonderful piece of kitchen equipment to make drying herbs a snap, but I don't have on yet. And while I'd love an old-fashioned drying rack, a special cabinet just to dry herbs, I haven't had time to make one yet.
So it's back to the old-fashioned methods:
Tie up a bundle of herbs and hang them in a hot, dry location;
Place herbs in a metal dry and let them dry out on their own.
Air-Drying Herbs
I used dill as an example of how to air-dry herbs.
Here's the fresh dill in the garden. Isn't it pretty? I just let mine seed wherever it wants to…it started in another garden bed several years ago, and now it just grows wherever it wants to. But that's fine, because it makes few demands, and doesn't bother the other plants, so I just let it be. This dill grows among my onions and beets.
Herbs such as dill and rosemary are easy to dry using this method. Snip several long stems and tie or rubber-band the ends together. Hang them upside-down in a warm area. Some instructions call for the herbs to be placed inside a paper bag; the bag allows air to circulate to dry the herbs, but keeps dust off of them. I don't bother with that. I just hang them up near a window in my garage.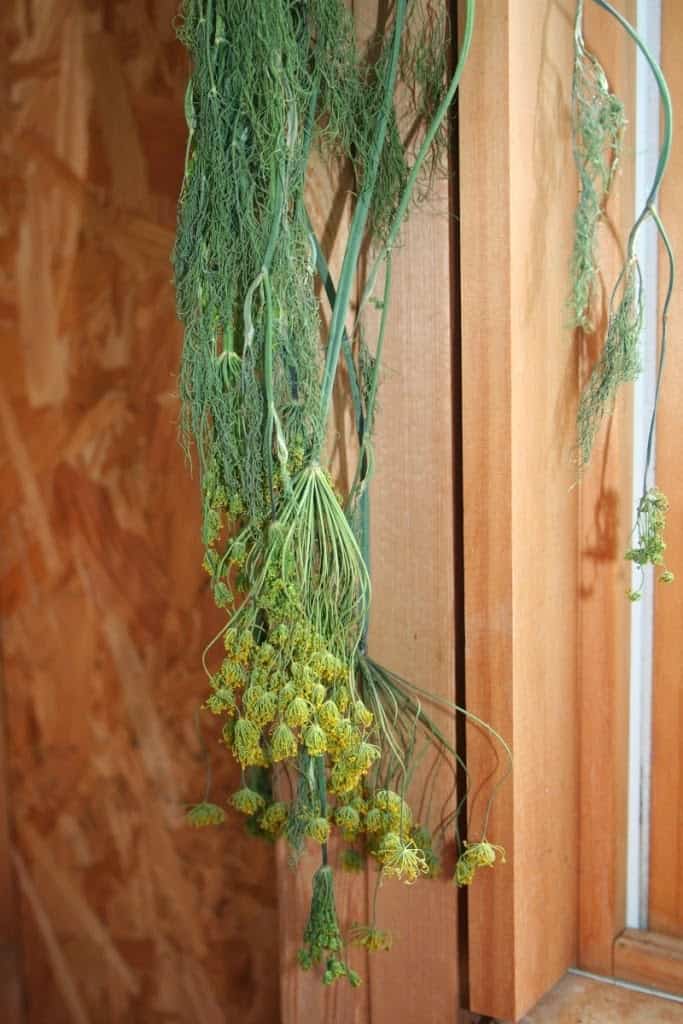 Dill drying in the garage.
When the herbs are dry, bring them into the house. Spread paper towels on the table. Wash and dry your hands so that they're clean. Then use your fingers to gently pull off the dried herbs. I form the paper towel into a little funnel and tap the dried herbs into a container. I've used cleaned and dried bouillon cube containers, recycled small glass containers, and herb containers purchased from the dollar store. The herb containers look like salt or pepper shakers but the lids snap on tightly. It doesn't matter what kind of container you use to store your dried herbs, as long as you can label it with the type of herb you've dried and the date, and it has a lid that locks into place to seal in the freshness.
This method works best for low-moisture herbs such as chives, dill, and rosemary.
Solar-Drying Herbs
Herbs with large leaves, such as the basil in the first picture or the catnip I'm using here as an example, contain more moisture in their leaves and are a little harder to hang-dry like dill.  I've tried drying basil the way I dried the dill and it just ends up getting mushy.  Instead, snip the leaves and lay them on an old metal tray. I use a large roasting pan like this one. Place it in the sun to allow the herbs to dry out. You should bring it inside at night so that they dew doesn't re-hydrate the herbs or cause mildew. When the herbs are dry, simply crumple them up with your hands and tap them into a container.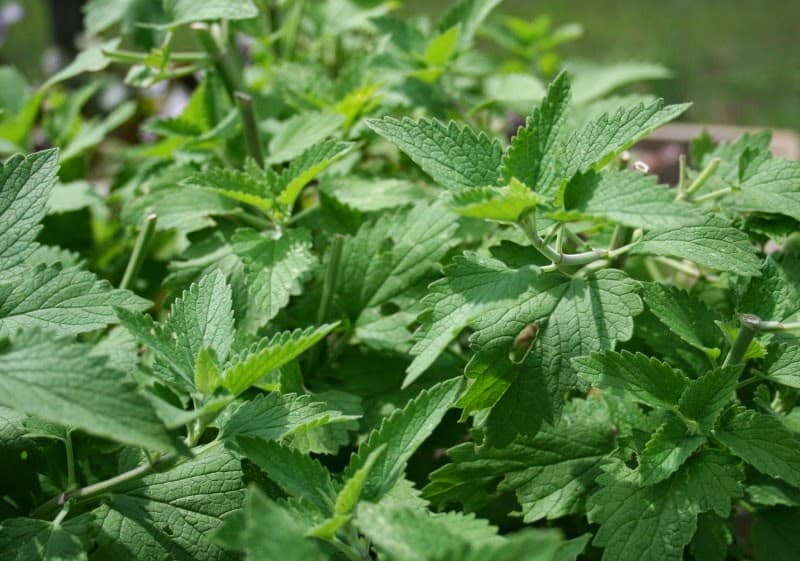 Catnip in the garden…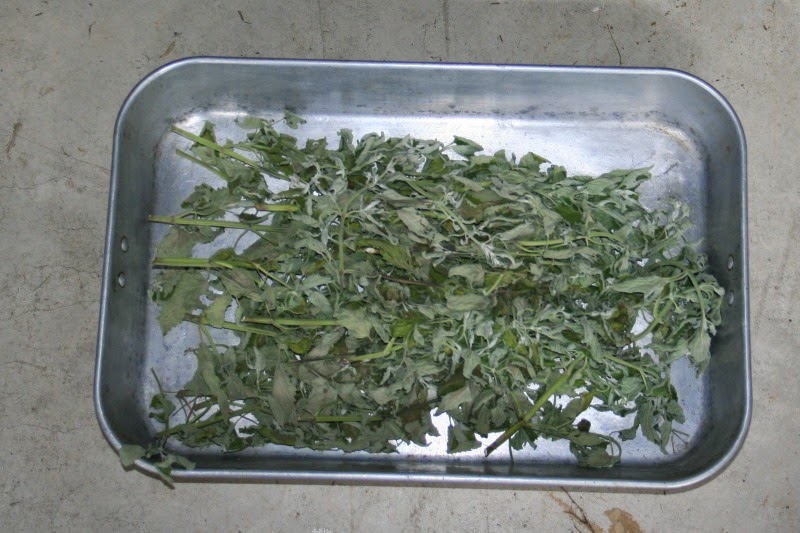 Catnip drying in my garage.
One word of advice: if you're drying catnip, keep it away from the felines! That's why mine is in the garage. If it's outside, they'll find it. My cats are nip fiends.
Oven-Dry Herbs
Lastly, you can oven-dry herbs. Turn the oven on to a very low temperature – 150 to 180 degrees F should do it. Place the herbs on a cookie sheet and let them sit in the warm oven for two to four hours. I like to use an old cookie sheet because the herbs can stick and I have to scrap at them with a spatula! I also like to use the oven after I've made a roast, so that the oven is already warm and I don't have to waste electricity (I'm pretty frugal about stuff like this). I rarely dry herbs in this way, but the technique is similar to solar drying. You're just speeding up the process by using the oven's heat to desiccate or dry out the leaves.
If you enjoyed this article, you may also enjoy: