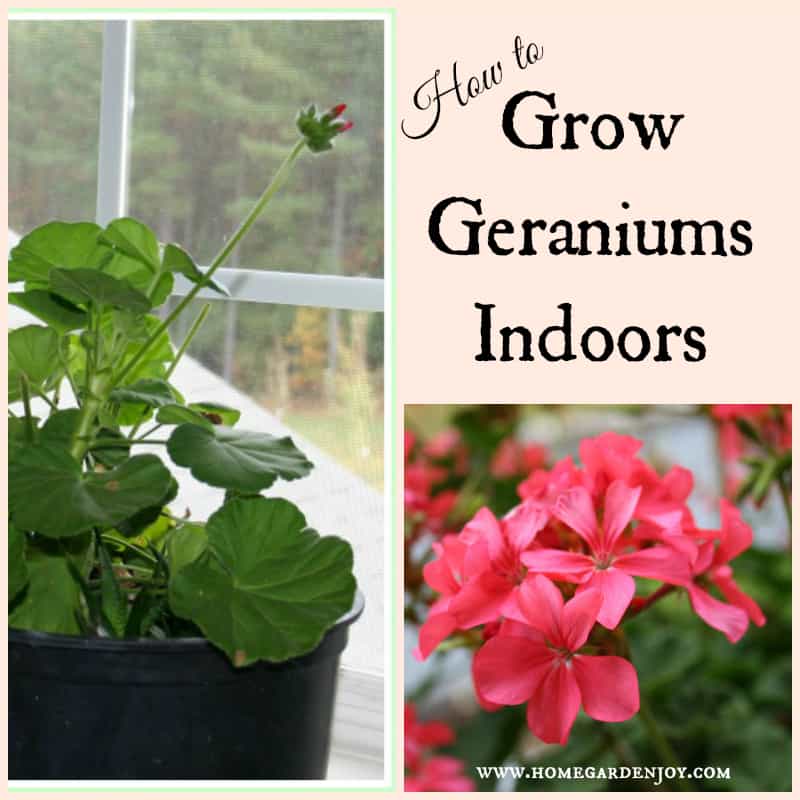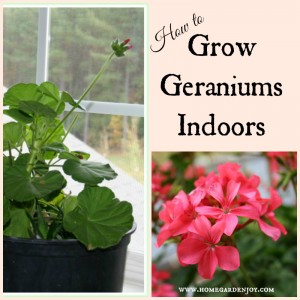 Can you grow geraniums indoors during the winter? Yes, you can – and I've successfully kept my geraniums indoors for the past three winters. If you love geraniums, and hate to see them killed by the frost this fall, then learn more about growing geraniums indoors.
Prepare Your Geraniums
The first thing you need to do is to prepare your geraniums for their new life indoors during the wintertime. During the summer months, plants produce more chloroplasts, the specialized cells that act like little factories, turning sunlight into food in the leaves. Leaves take on a rich green hue, and the leaves tend to be small, compact, thick and healthy on a geranium grown under the proper conditions.
Once you move your geranium plants indoors, they receive less light even if you place them on a bright, sunny windowsill. There are fewer hours of daylight during the winter months, and the sun's rays are at a different angle. The leaves turn larger and pale. Geraniums may grow lanky and produce long, thin stalks.
To prepare your geraniums for their new life indoors, follow these steps:
Choose the healthiest geraniums from your collection to keep indoors during the winter.
With a clean, sterile pair of sharp scissors or garden shears, trim the plant down to about 2/3 to 1/2 of its original size. Cut off any existing flowers.
Dig the geranium up from the garden or pot and transplant it into a clean pot filled with sterile, bagged house plant soil.
Water well outside and use the spray hose to wash the leaves and stems.
Bring it indoors and place it on a tray on a sunny windowsill or under plant lights.
Keep it well watered throughout the wintertime.
For more step by step information on how to prepare your geraniums for winter indoors, see my article on the Dave's Gardening website.
Why Use Only Sterile Potting Soil?
One of the most frequently asked questions I get is, "Why must I use sterile, bagged house plant or potting soil purchased from a garden center? Why can't I just bring the pots inside, or dig up the plants and use garden soil to plant them?"
Soil teems with life, and that includes insect life. Some insects lay their eggs in the soil, while others find places to burrow in to hibernate during the cold winter months. When you dig up soil from your garden and bring it indoors, the insects think it's springtime. After all, they've just gone from a chilly fall morning to a nice, cozy 68 degree house. So the eggs hatch, the insects awaken, and soon you could be in for a nasty surprise! Bugs – bugs everywhere!
Soil can also harbor microbes that cause plant diseases. Outside, competing forces keep them in check, but indoors, you've given them the perfect habitat to multiply, grow and spread.
So do yourself and your plants a favor. Choose sterile potting soil from the garden center whenever you want to plant something that you will keep inside your home. It is sterilized by a heat processing method, and typically includes the right mixture of soil and other amendments to create good drainage and adequate nutrition. It's a great investment when you're growing plants indoors.
My Geranium Collection
This picture shows my own geraniums growing indoors today as I write this. I actually saved four full-sized plants and transplanted several baby geraniums that were growing underneath the window boxes were my mature plants had dispersed seeds. I place a cloth tablecloth, usually a stained one that I will no longer use on my dining room table, or cloth place mats on the table in my guest bedroom and on the bookcase in my office. The guest bedroom windows face east-southeast, and my office windows face south and southwest. It's enough light to keep my geranium collection happy and health over the winter months. I follow the steps outlined above, then continue watering them at least twice a week or more frequently when the heat is on inside the house. I find that the forced hot air heat in my home dries out my house plants quickly during the winter months, and the geraniums are used to being watered regularly. Keeping them watered during the winter also seems to prevent blossom and leaf drop, which can get messy inside the house.
I hope you grow some geraniums indoors during the winter months. Not only is it economical, because you'll be able to start your garden next spring with full-sized plants, but it also brings a hint of spring and summer inside just when you need it the most. There's something truly miraculous about a red geranium nodding against an ice-covered window pane in January when snows swirl outside. It's a promise of things to come and a reminder that spring is never far off.
Jeanne Grunert is a certified Virginia Master Gardener and the author of several gardening books. Her garden articles, photographs, and interviews have been featured in The Herb Companion, Virginia Gardener, and Cultivate, the magazine of the National Farm Bureau. She is the founder of The Christian Herbalists group and a popular local lecturer on culinary herbs and herbs for health, raised bed gardening, and horticulture therapy.