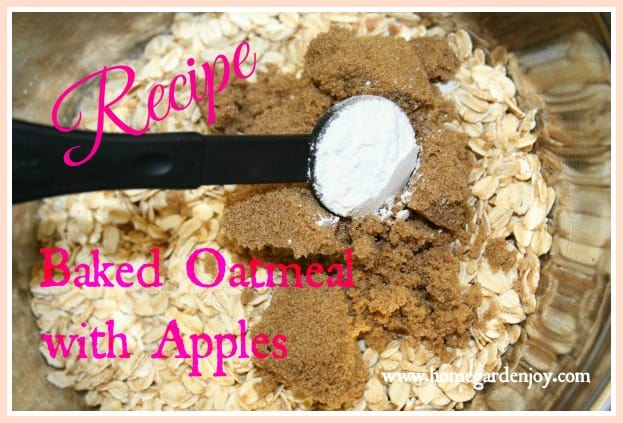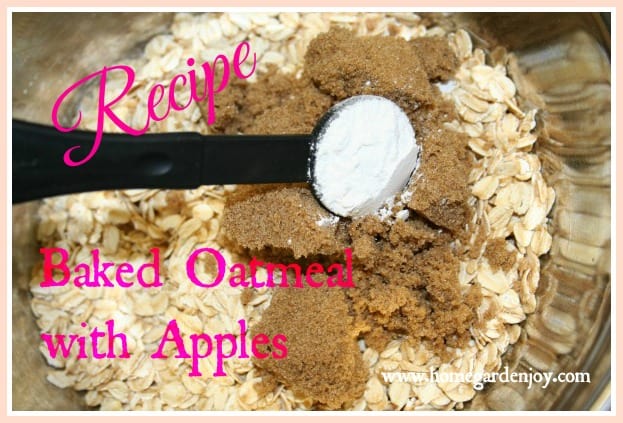 I know that oatmeal is supposed to be good for your heart and cholesterol and all of that, but I'm not a fan. We do, however, have quite a pantry full of old-fashioned oatmeal. So what to do with it? This recipe for baked oatmeal with apples will make even the most die-hard oatmeal hater raise a spoon in a toast to your culinary genius.
The original recipe for baked oatmeal can be found in the 2004 Cooking Light cookbook, but my recipe includes significant changes. They say that necessity is the mother of invention; in my household, I'd say it's the inspiration behind every invention, and that holds true for this recipe, too.  I planned to make this recipe today, but someone (ah-hem, and it's not me) ate all the raisins from the pantry and the little snack sized bag of nuts I'd hidden on the baking shelf in the pantry (um, that was me.)  So I decide to "apple up" this recipe and increase the quotient of apples, add some spices, and use up the old fashioned oatmeal in the pantry instead of the quick-cooking oats the recipe calls for.
The result? A hearty, warm bowl of apple and spice infused goodness.
Recipe for Baked Oatmeal with Apples
You will need…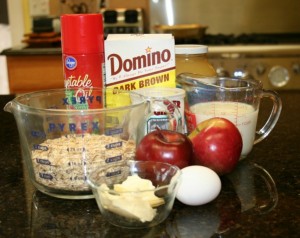 Ingredients:
2 cups of quick cooking or old-fashioned oatmeal
1/2 cup of packed brown sugar
1/2 cup of peeled, cored, diced apples – the juicier the better
1 teaspoon of baking powder
1 1/2 cups of milk
1/2 cup to 2/3 cup of applesauce
2 tablespoons of butter or margarine, melted
1 large egg, beaten
1 teaspoon cinnamon
Pinch of cloves (optional)
Cooking spray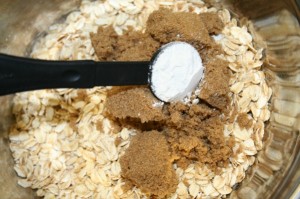 Preheat the oven to 375 degrees F. Spray an 8 x 8 glass baking dish with cooking spray and set it aside.
Mix all ingredients by hand, in order they are listed, in a medium sized bowl. Spread evenly in the baking dish. Bake for 20 minutes, then serve warm. Refrigerate leftovers…if there are any.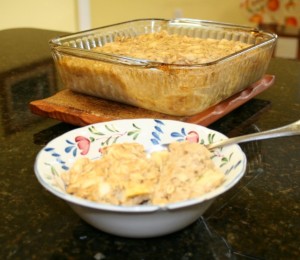 Jeanne Grunert is a certified Virginia Master Gardener and the author of several gardening books. Her garden articles, photographs, and interviews have been featured in The Herb Companion, Virginia Gardener, and Cultivate, the magazine of the National Farm Bureau. She is the founder of The Christian Herbalists group and a popular local lecturer on culinary herbs and herbs for health, raised bed gardening, and horticulture therapy.