These dollar store fall craft ideas can help you create a beautiful centerpiece for just pennies. If you want to dress up your home for fall but you don't have a lot of money, dollar store crafts are ideal.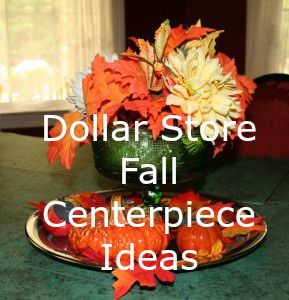 I made this fall centerpiece from a few objects found at the dollar store, a thrift shop store container, and a silver tray that also holds my Advent wreath in December.
My dad actually made the original centerpiece from instructions he saw in the newspaper. You can easily recreate it using bunches of silk mums, autumn leaves and a few picks of acorns or plastic Indian corn found at the dollar store. A round green floral oasis holds everything in place.
The glass pedestal bowl was a local thrift shop find many years ago. I think I paid a whopping 50 cents for it! I love colored glass and have many pieces like this that I've found at flea markets, yard sales, thrift shops or bequeathed to me by relatives cleaning out their homes. Each one finds a place in my cabinets or on display like this one did.
The tray is decorated with two ceramic pumpkins, each purchased at the dollar store, and a ceramic apple, also a dollar store find. I used a round silver tray that was my mom's and held a coffee and tea service. It's a rather ugly, 1960s style tray, with some sort of modern design etched into it which isn't my taste at all. So I covered it with random silk fall leaves – also purchased from the dollar store.
This fall centerpiece will be on my table until Advent, when I simply remove the decorations and place the advent wreath on the silver tray. Fresh greens and holly boughs cut from our woods will cover the funky 60s etching on the tray again during Advent.
For now, though, the centerpiece holds pride of place on my dining room table….until of course the Pumpkin Ghost makes his annual appearance!
(Read the story of the Pumpkin Ghost here.)
Happy October, everyone!
If you enjoyed this article, you may also enjoy these Halloween and fall articles:
Jeanne Grunert is a certified Virginia Master Gardener and the author of several gardening books. Her garden articles, photographs, and interviews have been featured in The Herb Companion, Virginia Gardener, and Cultivate, the magazine of the National Farm Bureau. She is the founder of The Christian Herbalists group and a popular local lecturer on culinary herbs and herbs for health, raised bed gardening, and horticulture therapy.