The best light for starting seeds indoors is either natural sunlight or a simple light fixture. You can make a light fixture easily and inexpensively from items purchased at any hardware store. Learn more.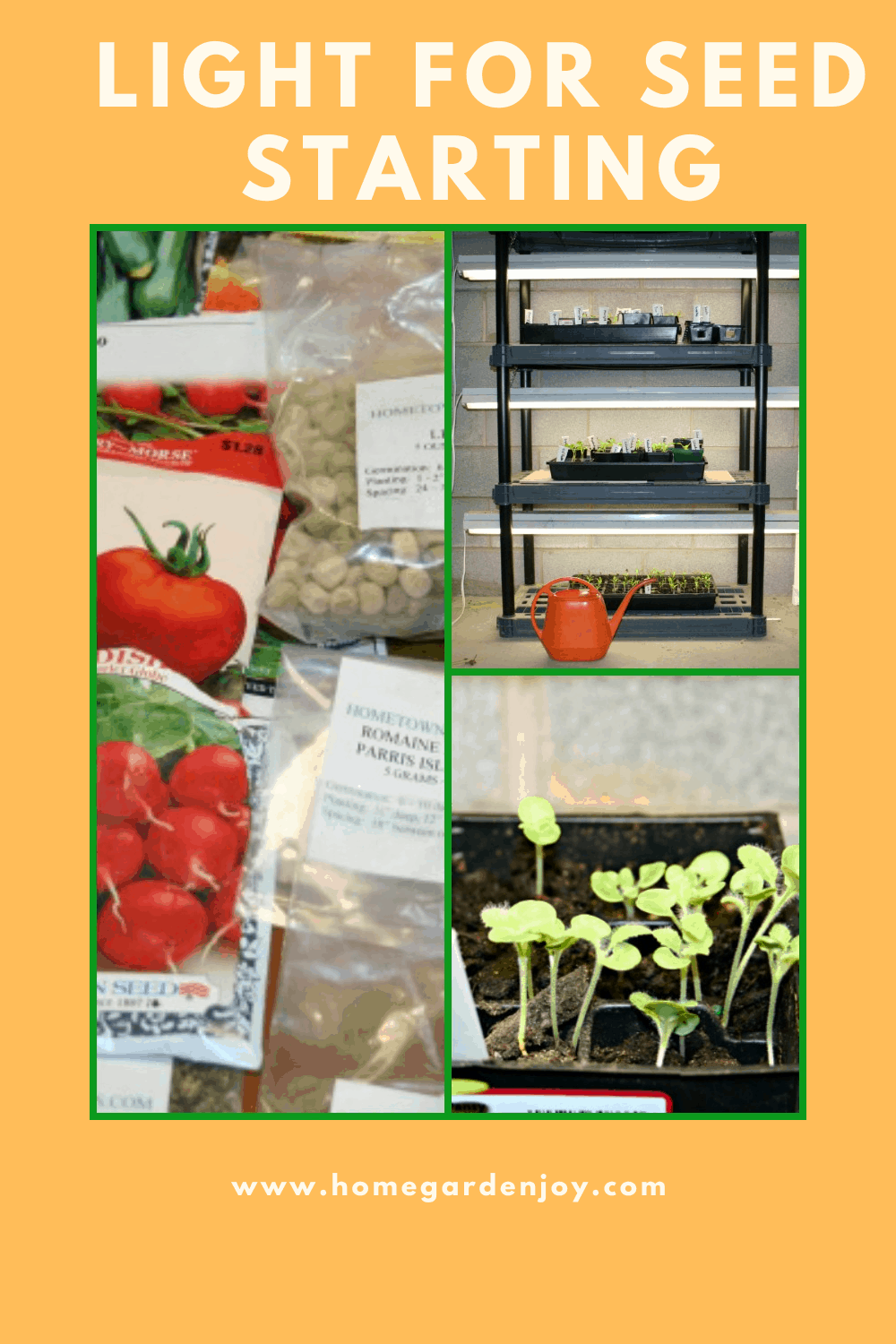 Best Light for Starting Seeds Indoors
If you want to start seeds indoors this winter, you will need light, and plenty of it. While some websites and books recommend using natural light, I've found that even light from the brightest southern-facing windows isn't bright enough during the winter months to adequately start healthy seedlings. Even if seedlings do emerge, they grow tall and leggy as they struggle towards whatever light source is nearby. You do need a supplemental source of light in order for seedlings to grow properly.
But what type of light is best? The best lights for seedlings are plain old fluorescent bulbs. Seedlings do not require a full spectrum light the way mature plants do, and they can grow quite happily under fluorescent lights.
You can purchase a plant stand like the kind sold in catalogs or build your own. My husband built mine for me from a storage shelving unit kit and several shop lights sold at Lowe's.
He purchased a plastic shop-type storage shelving unit with perforated shelves. Next, he purchased several shop light fixtures with hanging chains and suspended them under each shelf. You can see a little of the chain looped through the shelf in the picture, above on the right side.
This suspends each fluorescent fixture at a good distance from the seed trays. I place an old cookie sheet or another tray underneath each seed starting tray to catch any drips so that they don't damage the lights.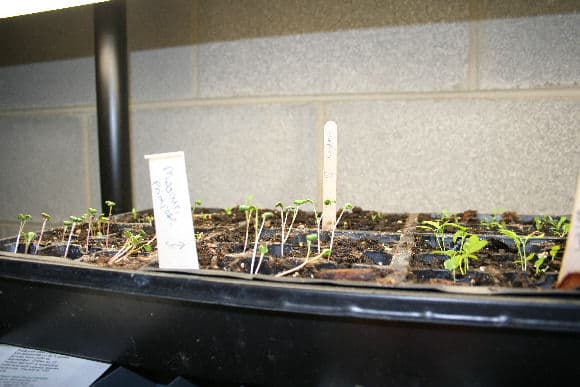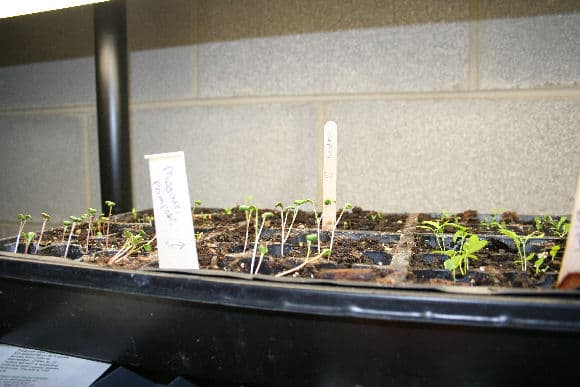 My seed starting lights are on a simple timer, also purchased from the hardware department. The timer ensures that the lights don't stay on all night – yes, I've done that before! It's easy to set up, but save the directions, because next year you might not remember how to set the timer.
My seed-starting setup is in the basement of my home. Basements are good places for messy tasks, which is why many families have their woodworking shops and other hobbies set up there. Unfortunately, they are also cold – sometimes too cold for seed starting. Most seeds prefer warmth in order to germinate.
To mitigate the chilly basement air, I can use seed heating mats. These are special mats or cables used underneath seed starting trays or inside the soil itself to heat it sufficiently to fool the seedlings into thinking my basement is sunny and springlike. If you do purchase seed starting trays or mats, always buy ones made for seed starting – never try to jerry-rig them yourself!  They need to be waterproof and most of all, SAFE for both your seedlings and your home.
Buying Seed Starting Equipment
If building your own seed starting light fixture isn't for you, there are plenty of wonderful options available from your local home and garden center or from online retailers. Here are a few that I've check out online and liked for many reasons.
The Hydrofarm T5 Grow Light System sits on top of a table. It sets up easily, and the height can be adjusted. You can use it to start seeds or raise your prized African violets or other plants. It's easy to use, a simple setup and adapts to multiple purposes.
Do you have seed starting question? Ask me in the comments section and I will be glad to answer in a future blog post!
Jeanne Grunert is a certified Virginia Master Gardener and the author of several gardening books. Her garden articles, photographs, and interviews have been featured in The Herb Companion, Virginia Gardener, and Cultivate, the magazine of the National Farm Bureau. She is the founder of The Christian Herbalists group and a popular local lecturer on culinary herbs and herbs for health, raised bed gardening, and horticulture therapy.