Sometimes you just feel like homemade soup, and this easy sweet potato soup recipe fits the bill for a quick, hearty, tasty and nutritious recipe. I made this easy sweet potato soup recipe today for lunch. It took about 15 minutes to prepare since I began with canned sweet potatoes and carrots; if you have to cook either the sweet potatoes or the carrots, it will take up to an hour.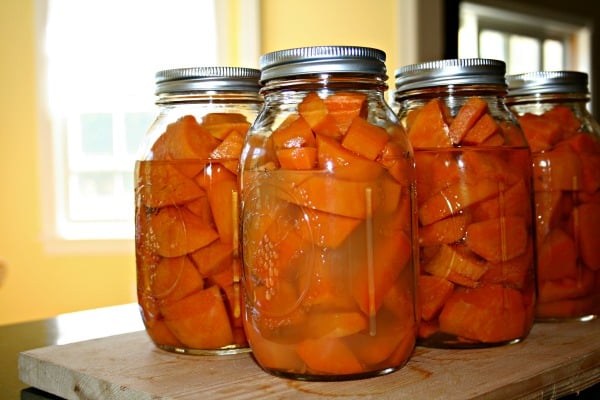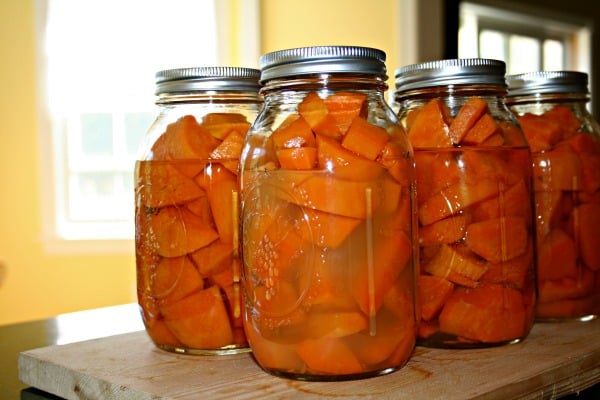 Canned Sweet Potatoes
Last fall, I canned about six quarts of sweet potatoes. It was my first time canning sweet potatoes and I wasn't sure if I'd canned them correctly. A lot of the liquid either evaporated from the jars or was absorbed by the sweet potatoes during canning. I didn't know what to make with the canned sweet potatoes, and we still have plenty of fresh ones left. Then I remember the basic sweet potato soup recipe I had on hand and I decided to experiment with it.
I'm happy to say that the canned sweet potatoes were great! They were soft, which was fine since this is a pureed recipe. They tasted fresh, and the jars were indeed sealed well. The same goes for the garden carrots I canned last year, which also went into today's recipe.
I felt like I'd climbed the homemaker's Mount Everest. Success! Achievement! Brass bands playing!
Now to make the soup…
Easy Sweet Potato Soup Ingredients
This recipe makes four 1-cup servings.
You will need:
1 quart jar of canned sweet potatoes OR four medium sweet potatoes, peeled, cubed and boiled until soft
1 pint jar of canned garden carrots OR one cup of cooked carrots
1/2 pint jar of canned apples OR 1 apple, cored, peeled and diced
1 small slice onion
2 tablespoons butter (vegetarian/vegan, substitute olive oil)
1 pint home canned chicken broth OR 1 can of chicken broth
1/8 teaspoon ground turmeric
1/8 teaspoon ground ginger
1/8 teaspoon ground cinnamon
1/4 teaspoon chive salt or other herb salt (you can substitute regular table salt)
Drain the carrots and sweet potatoes and set aside. If cooking them instead of using home canned vegetables, cook them until soft, then let cool and set aside.
Peel and dice the onion and apple. In a small saucepan, melt butter or heat oil over medium heat. Sautee onion until soft; add apple and sautee. If the pan gets dry, add a bit of broth to moisten the mix. Stir constantly while cooking, about 5 minutes. Turn off heat and set aside. When cool, add to sweet potato and carrot mixture.
Pour 1/3 of the can of broth into the blender; add half of the vegetable and apple mixture. Add a splash of broth to the top, then cover and secure the cover according to the manufacturer's directions for your appliance. Puree until smooth. Pour into a sauce pan. Return blender, add the remaining broth and vegetable mix, close again and puree. Pour into the saucepan.
Add ginger and pepper and heat the pureed soup until hot. Serve in bowls with a sprinkle of raisins and pumpkin seeds on top, or a dash of feta cheese and raisins. Store unused portion in the refrigerator for up to three days.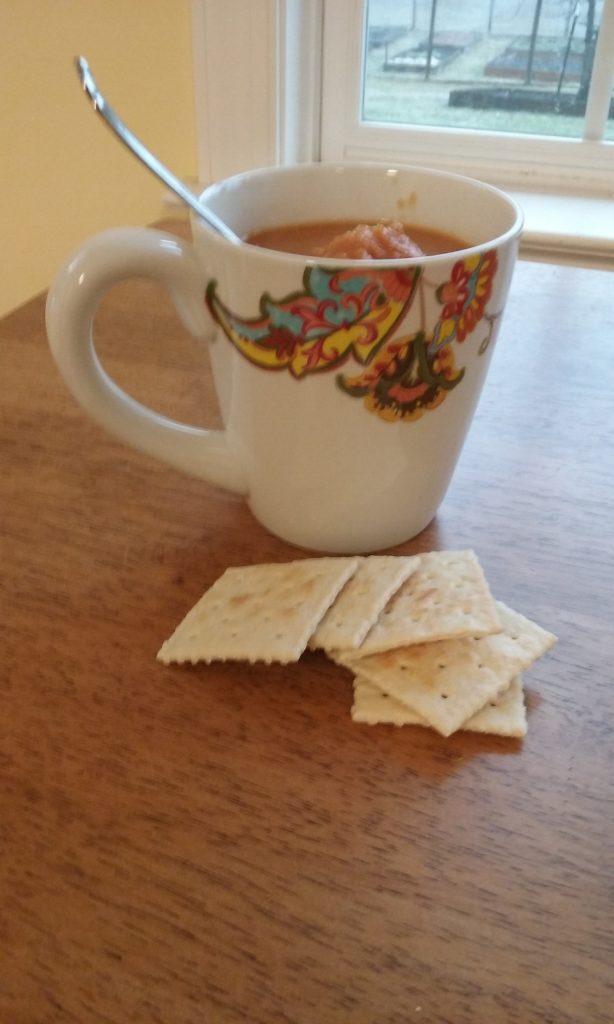 Bon appetit!
Jeanne Grunert is a certified Virginia Master Gardener and the author of several gardening books. Her garden articles, photographs, and interviews have been featured in The Herb Companion, Virginia Gardener, and Cultivate, the magazine of the National Farm Bureau. She is the founder of The Christian Herbalists group and a popular local lecturer on culinary herbs and herbs for health, raised bed gardening, and horticulture therapy.