Identifying good bugs from bad by their cocoons takes some practice. Here are the steps for insect identification that I use if I find a cocoon or egg case I don't know.
Identifying Good Bugs from Bad by Their Cocoons
On Sunday as I was working in the garden, I noticed a few cocoons on the forsythia bushes by the driveway. One was familiar, but one was not. My husband asked, "Is it a bad bug? Or a good bug?"
A quick internet search later revealed it to be the cocoon of a familiar garden moth, a harmless creature who probably pollinated a few flowers each year and added color and liveliness to the garden. It would have been a shame to harm the cocoon; but many gardeners, unaware that some good bugs spin cocoons too, might have destroyed
The Difference Between a Cocoon and an Egg Case
Technically, moths spin cocoons and praying mantis spin egg cases, but for the sake of the average backyard gardener just looking at egg sacs hanging from trees in the garden and wondering if they should kill them or leave them alone, I'm sticking with "identifying good bugs from bad by their cocoons" for this article.
A Good Bug = Helpful to the Garden
There's really no such thing as a good bug or a bad bug. Most people consider 'good bugs' those that are helpful to the garden or at least won't hurt anything. 'Bad bugs' are those that harm plants, clothing (if indoors), or pose other threats.
Steps: Identifying Good Bugs from Bad by Their Cocoons
Step One: Take a photo of the cocoon.
Take a good, clear photo of the cocoon, like this one.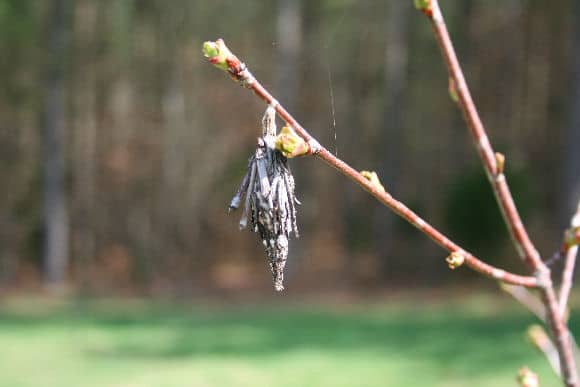 Step Two: Use Google Image Search
Upload the photo to Google Image Search. Google Image Search matches pictures based on general characteristics. It may bring up an exact match or you may need to hunt a bit more.
You may also want to look through Pinterest or similar sites to compare your pictures to those others have identified. The best photographic resources are those from your state's Cooperative Extension office, but there are also universities and similar research institutions that publish pictures of insects to aid correct identification.
Step Three: Read exact or close matches
Go through the Google Images and click on close or exact matches. Read the articles with the pictures. Make sure that the cocoon and bug or insect identification information matches three things:
The place where you live – by country, region, gardening zone. Insects aren't universal. Bugs that I find here in Virginia may be different from those in Texas, Oklahoma, London, Baton Rouge, Dublin, Hamburg, or Moscow. The closer the match the better.
Where you found the cocoon – did you find it inside your house or outside on a bush? What kind of bush or plant did you find it on? Insects lay their eggs near food sources. Like people, they want a good life for their babies and young, and so they place their egg cases and cocoons on plants that provide their babies with food when they hatch. That food is the plant or substance on which you find the egg case.
What time of year is it? – some bugs lay eggs in summer, and others in the fall to hatch in the spring. Identifying good bugs from bad by their cocoon is easier when you can also match the time of year when you find the cocoon to the species of insect under consideration.
Step Four: Get professional help
I'm a Virginia master gardener, which means I've studied and earned a certificate from Virginia Tech on home gardening in the state of Virginia. But I am not an entomologist – a scientist who studies insects.
If you are really stumped and can't figure out what kind of bug cocoon or egg case you are looking at, you have a few options.
Find a good insect identification book for your region, country or zone and use that to figure out whose cocoon or egg case you are studying.
Share a picture of the cocoon with garden center personnel or in the United States, your local Cooperative Extension office, for identification.
Call in an exterminator for insect problems in your home. If you found the cocoon outside, the garden center person or Cooperative Extension Agent (see above) is a better person to talk to about your insect cocoon.
Three Examples: Identifying Good Bugs from Bad by Their Cocoon
I identified these three examples using the steps above. In each case, I was able to get help to identify the cocoon and insect species and determine whether I should leave it alone or remove it.
Example 1: Bagworm Moth (Bad/Harmful)
Cocoons can be difficult to spot in the garden – and that's a good thing! Butterflies, moths and other insects shelter their egg cases and developing eggs in camouflage to ensure the survival of their young. The cocoons themselves are usually spun in colors similar to the foliage upon which they rest to better hide them from the curious gaze of hungry wintertime birds eager for a meal.
Take this cocoon, for example. It is a BAD bug – or at least bad from my perspective. This is the cocoon of the bagworm caterpillar. I found it a few years ago hanging on the boughs of my apricot tree in our fruit tree orchard.
The bagworm feeds upon the leaves of the host tree, sometimes stripping it bare. In the case of my young apricot trees, such damage could have been catastrophic. I had to remove the bagworms from the fruit trees and destroy them by hand. Correct identification of this pest's bag or egg sac, which also looks like a cocoon, prevented the destruction of my fruit trees.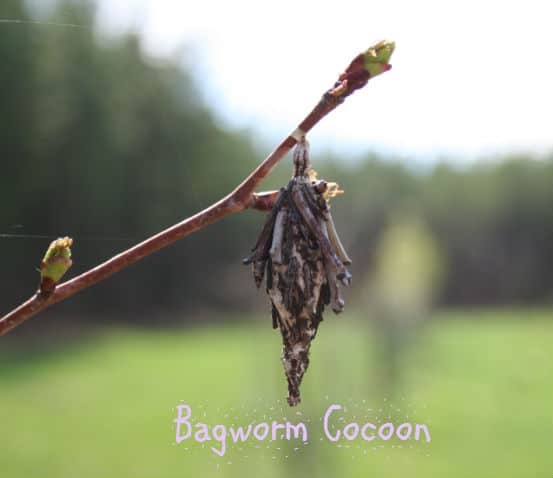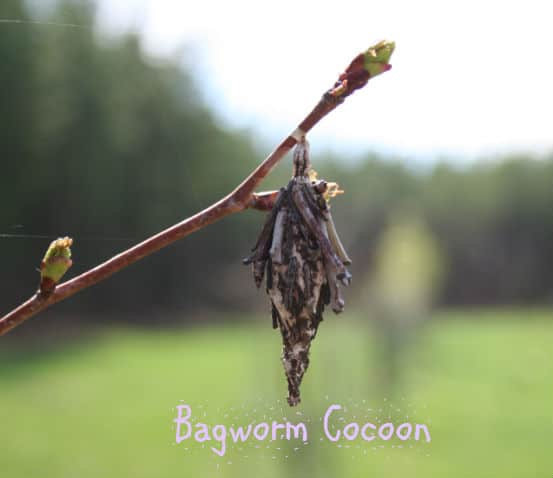 Example 2: Prometha Moth (Good/Neutral Bug)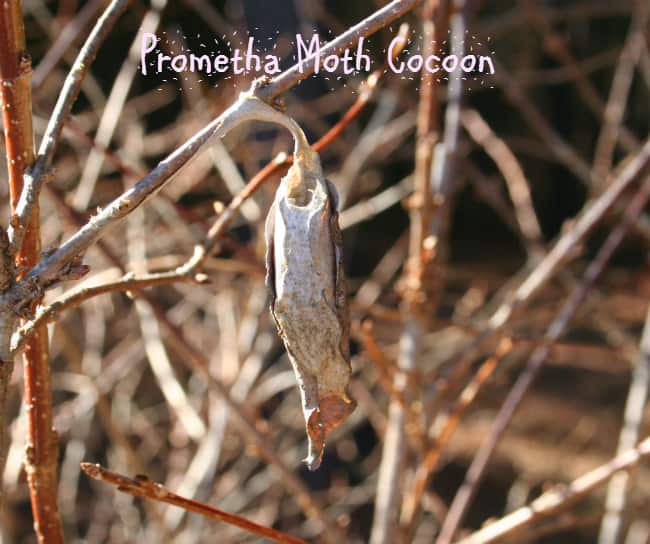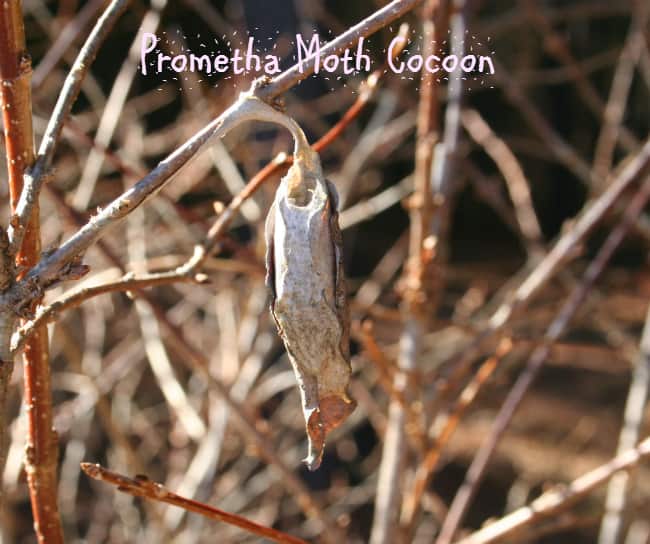 Now take this adorable creature – the Prometha Moth.
We found several cocoons like the one above hanging on our forsythia hedge. My husband loves the forsythia hedge and tends it very carefully. He spotted the cocoons and immediately called me out to look at it, perhaps remembering the bagworm moth cocoon we had discovered in the orchard back in 2013. "What do you think?" he asked me.
"Leave it alone until I can figure out what it is," I replied.
I quickly used an image search to find similar pictures and voila – cocoon identified! The Prometha Moth is a gentle creature that does eat host plant leaves but doesn't really harm a plant the way others do. The host plants for hungry larvae include spicebush, sassafras, tulip tree, and lilac, among others. Given the number of cocoons we found on the forsythia, I'd say they like that plant, too.
We left them alone. I can't wait to check on them in the spring. I hope to capture one emerging from its cocoon, if I can, and photograph it!
Example 3: Praying Mantis (Good Bug)
Last but not least is something that you've probably stumbled across in the garden. I hope you left it alone, as it is the egg case of the wonderful, slightly creepy looking praying mantis.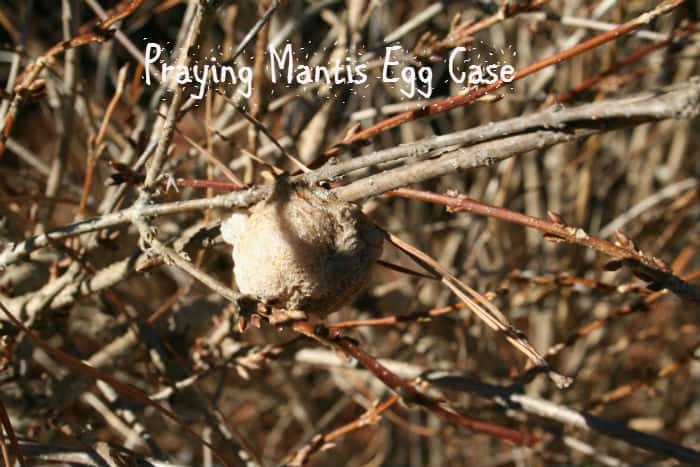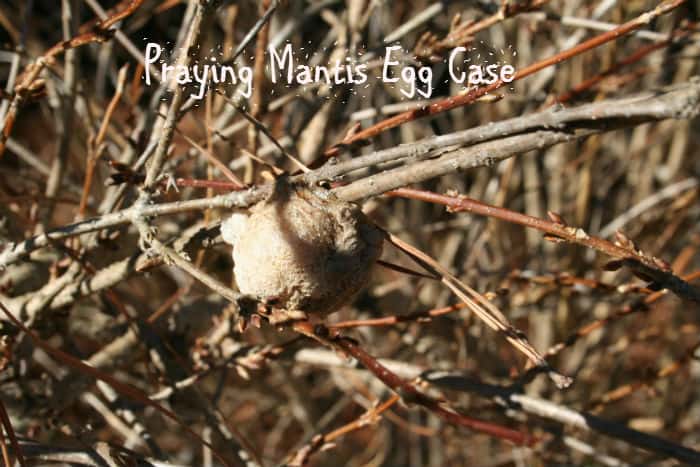 The praying mantis is a so-called "good" but because it preys on others. It literally pounces on insects and eats them. They dine on moths, crickets, grasshoppers, flies, and similar insects. Frankly, they can eat all the flies they want. Bon appetit!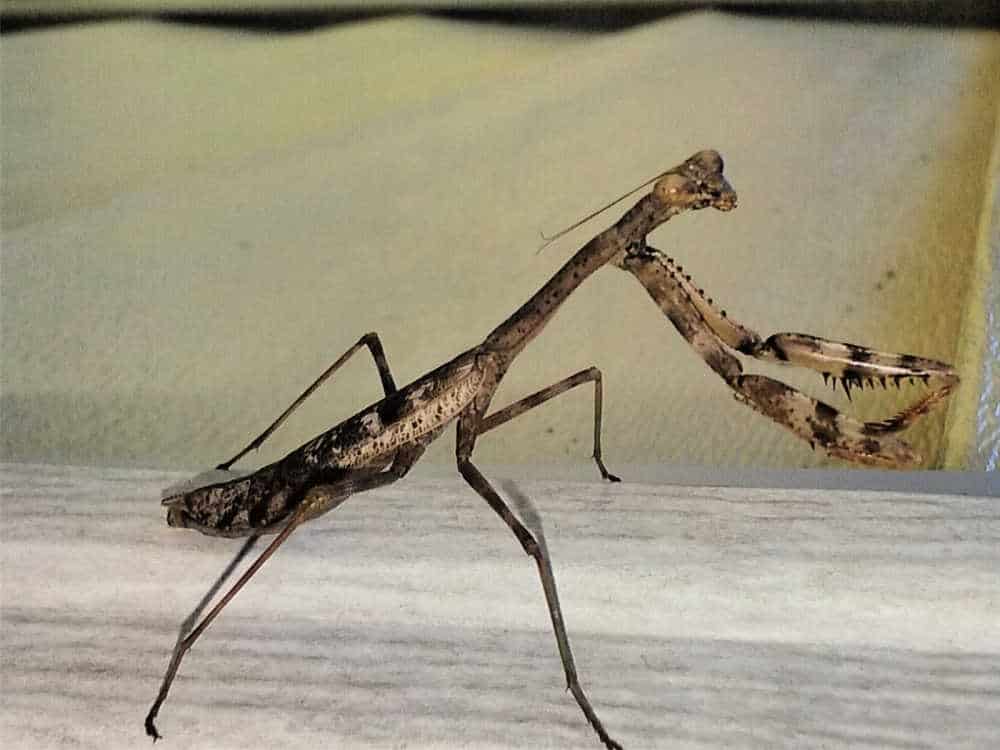 The praying mantis can turn his head 180 degrees around, peering this way and that to find prey. He holds very still but can move rapidly. The green and brown coloring on his body camouflages him perfectly.
Each egg sac holds hundreds of babies, and when they emerge, they look like tiny adults. I've seen our butterfly bushes covered with the nymphs or newly hatched praying mantids. They are a marvel of nature, and gardeners usually welcome them. In fact, many garden supply catalogs and organic gardening supply catalogs sell egg cases because they are so beneficial to the garden!
How to Tell Good Bugs from Bad Bugs by Their Cocoons
Whenever you encounter a bug in the garden, the first rule is simple: leave it alone. Until you can identify the insect and determine whether or not it causes harm, it's best to assume that it is either neutral or beneficial, that is, that it does not harm or may even provide an important benefit.
Cocoons, chrysalis and egg cases are no different. When you find one in the garden, leave it alone. Take a photograph of it. Talk to someone knowledgeable at your local nursery and garden center, Cooperative Extension Office, or a Master Gardener. Alternatively, you can upload your photo to a search engine like Google Image Search. It compares your picture to others online and will pull up similar pictures. Each one should link to a web page, and that will bring you to information on that particular egg case or cocoon. That's how I identify many insects in the garden since I am not particularly good at understanding all the nuances of their wings and bodies in order to search scientifically. For me, searching by picture is the easiest method.
I hope that you've enjoyed this encounter with some of the insects in my garden. It's amazing what you find, even in the middle of winter, if you look carefully enough around the garden.
This post updated 12/26/22 with additional photos
Jeanne Grunert is a certified Virginia Master Gardener and the author of several gardening books. Her garden articles, photographs, and interviews have been featured in The Herb Companion, Virginia Gardener, and Cultivate, the magazine of the National Farm Bureau. She is the founder of The Christian Herbalists group and a popular local lecturer on culinary herbs and herbs for health, raised bed gardening, and horticulture therapy.