There are many health benefits of gardening. Two I love the most: getting exercise, and relieving stress. Dirt is good for you in more ways than one.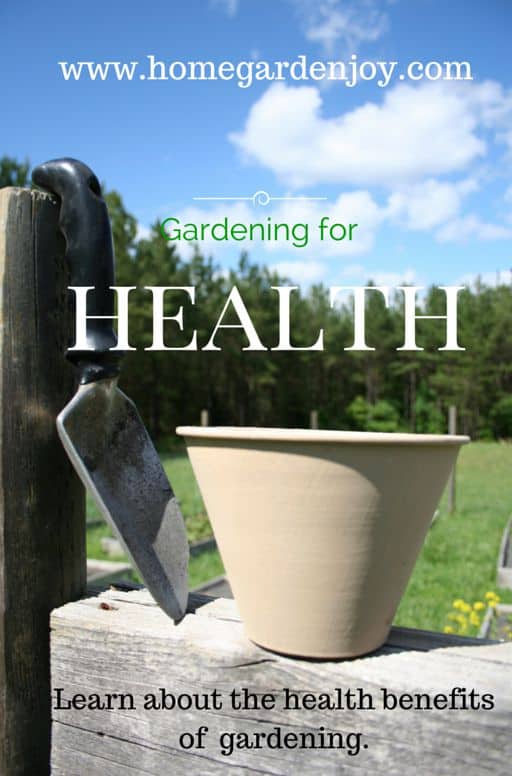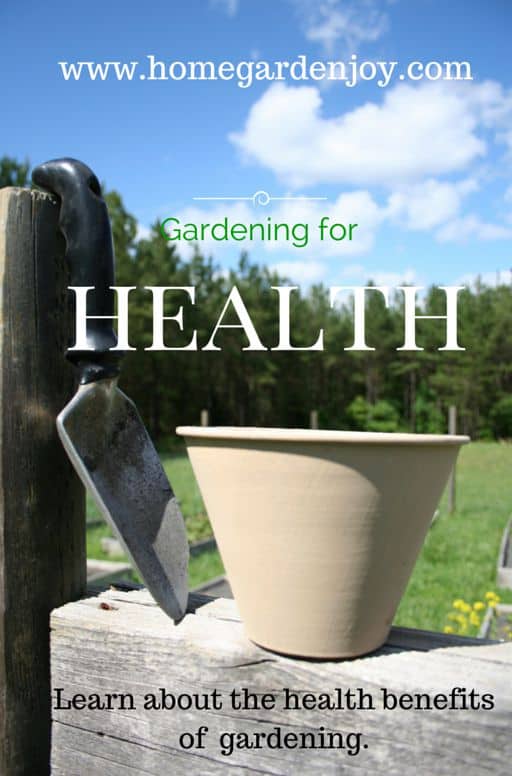 Walk outside. Take a deep breath. Look up at the sky, clouds and all. Notice the birds. The buzz of insects. The rustle of the leaves on a tree. Breath out. I'd all but guarantee that the stress you've been carrying all day has flowed out of you along with your breath. Gardening is a great stress reliever.
I love to garden, and I'd probably still garden even if scientists suddenly said it's bad for you. But it's not. Quite the contrary. Gardening is a wonderfully healthy activity. The health benefits of gardening include fitness, stress relief, lower blood pressure, and improved mood.
Health Benefits of Gardening
Fitness
When we were building the pathways in the garden, I realized that my biceps were more toned than when I was regularly lifting weights. It didn't take me long to realize that hefting pails of rocks for an hour a day was a quick way to build muscles!
One of the best-known health benefits of gardening is its fitness benefits. Not only does gardening burn an estimated 300 calories per hour (depends of course on what you are doing), but you'll build your muscles, improve your flexibility, and generally tone your body all over.
Pushing wheel barrows and manual lawn mowers, pulling weeds, digging and tilling…you name it, you're using muscles you never knew you had. It's a great way to supplement a conditioning program and fit some exercise into your day while accomplishing tasks on your to-do list.
Relieves Stress
Numerous studies point to being outdoors as a natural stress reliever. Whether it's going for a walk in a natural environment or gardening, just being around trees, plants, grass and dirt boosts your mood.
When I worked in New York City, I was happiest when I worked in buildings near green spaces. My office near Penn Station was convenient to a monastery around the corner which had tiny little walled garden tucked behind the building that was open to the public. It was an incredibly stressful job, but I always felt better after spending my lunch time sitting in the sun near the flowers. Another job was near Central Park, and walking past the Great Lawn, near Strawberry Fields or around the Lake was another terrific stress reliever.
Gardening brings us back to nature. It's not just about chores and work. It's about creating along with the world, about nurturing plants into being. It brings us back in touch with our true selves yearning for the Garden, the original Garden. Gardening for health wouldn't be complete without my second favorite benefit, stress relief!
Studies and Reports on the Health Benefits of Gardening
Here are a few gems I uncovered during my research for this blog post. I don't know about you, but I didn't need a study to show me the health benefits of gardening. I just go by how I feel – and how toned my muscles are – when I want to think about the healthy reasons to garden!
Here's to happy, healthy gardening!
Jeanne Grunert is a certified Virginia Master Gardener and the author of several gardening books. Her garden articles, photographs, and interviews have been featured in The Herb Companion, Virginia Gardener, and Cultivate, the magazine of the National Farm Bureau. She is the founder of The Christian Herbalists group and a popular local lecturer on culinary herbs and herbs for health, raised bed gardening, and horticulture therapy.