These new butterfly attracting perennials from High Country Gardens offer lovely easy-care plants for your butterfly garden. Add these to the back of the garden or around your foundation plantings for some butterfly-attracting plants. All of these plants should do well in gardens throughout Virginia. Most are suitable for zones 5 through 9, adapting to gardens from cool New England through the hot southern states.
Photos provided by High Country Gardens and used with permission.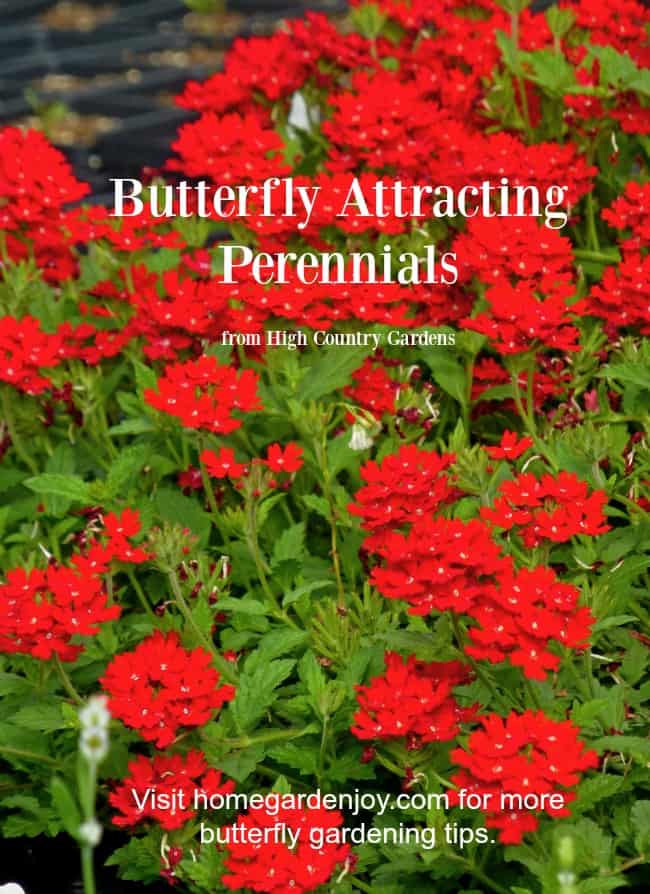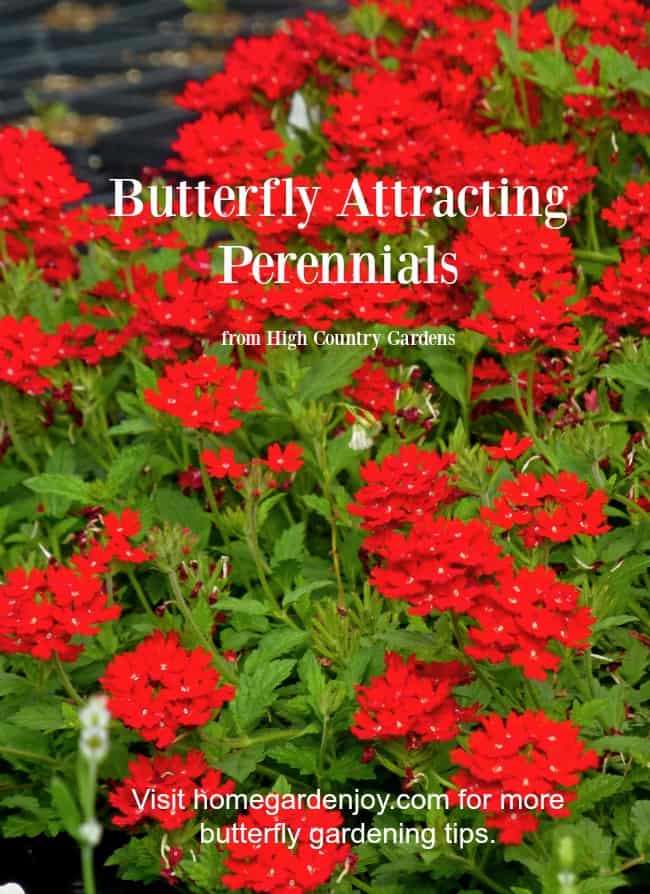 Butterfly Attracting Perennials
Verbena peruviana (Red Devil Verbena) 3″ x 15-18″ wide / zones 6-10
This incredible red-flowering plant blooms from late spring through the heat of summer. During hot weather, regular irrigation will encourage fast growth and lots of flowers. Red Devil is a low growing groundcover plant that can be inter-planted around other taller butterfly attracting perennials, where it will slowly spread to form a groundcover. Or let it spill over retaining walls. A plant native to Argentina, unlike common verbena, this is a cold hardy perennial species.
Plant care: Improve cold hardiness by reducing frequency of irrigation in the fall to harden off for winter. The plant's foliage is evergreen in mild zone 8-10 climates. Trim off dead or winter damaged stems in mid-spring. Fertilize once annually in the fall with a light application of compost or organic fertilizer.
[Tweet "These new butterfly attracting perennials from High Country Gardens offer lovely easy-care plants for your butterfly garden."]
Helianthus Undaunted Lemon Max (Hybrid Perennial Sunflower) 4-5′ x 4-5′ wide / Zones 4-9
Lemon Max is a sensational bloomer with an explosion of huge, clear yellow daisies in August. A big strapping plant to about 5 ft. in height and of equal girth, give Lemon Max plenty of room to grow; it's especially well-suited to meadows and habitat gardens. In moist conditions, the plant will re-seed itself with vigor, so it's not a good choice for orderly perennial beds. While at home in any soil type, the plant especially loves clay. Birds will relish the seeds, butterflies and native bees are especially fond of these nectar-rich flowers. A garden hybrid discovered by Lauren Springer Ogden in her Ft. Collins garden. A garden hybrid between Maximilian's sunflower and 'Lemon Queen,' this plant is very vigorous and longer-blooming than many perennial sunflowers. It has an extensive soil holding root system.
Plant care: A vigorous, tough-as-nails perennial, it is herbaceous and should be cut it back to just above ground level in mid-spring. Fertilizing is optional.
Buddleia alternifolia 'Argentea' (Silver Spring Blooming Butterfly Bush)
8-12′ x 8-12′ wide / zones 5-9
A 1998 Plant Select recommendation. Stunningly different and showy, few shrubs can rival this outstanding selection for its exotic look in the landscape. The long, cascading panicles of lavender-purple flowers are sweetly fragrant and attract many colorful pollinators, especially tiger swallowtails. The silver foliage keeps it interesting when the flowers are gone. A big grower, plant it where it can stretch its branches or use it as a screening plant to hide fences or unsightly views. This unusual shrub is spring-blooming unlike the common butterfly bush that blooms in summer.
Plant care: Buddleia blooms on last season's growth (like a forsythia or lilac), so don't prune from mid-summer, fall or winter because this removes the stems that bloom the following spring. Instead, prune after blooming is done in early summer. Cut back all the way at the base of the spent flowering stems. New vegetative stems will push out vigorously to provide next spring's flowers. Fertilize once annually in the fall with a light application of compost or organic fertilizer.
Note from Jeanne: Many gardeners warn against planting Buddleia, but regular readers will know that I'm a fan of this plant for the butterfly garden. Although it can produce an abundance of seedlings, its hardiness and deer resistance make it an anchor plant in my perennial garden.
For a formal perennial garden, check out my visit to the New Jersey Botanical Garden at Skylands.
More Butterfly Gardening Articles on Home Garden Joy
If you enjoyed this article, you may also enjoy:
Jeanne Grunert is a certified Virginia Master Gardener and the author of several gardening books. Her garden articles, photographs, and interviews have been featured in The Herb Companion, Virginia Gardener, and Cultivate, the magazine of the National Farm Bureau. She is the founder of The Christian Herbalists group and a popular local lecturer on culinary herbs and herbs for health, raised bed gardening, and horticulture therapy.