These flower garden ideas for containers and window boxes aren't just pretty. They will also attract gorgeous butterflies to your home and help butterflies thrive all summer long!
Butterfly Gardening in Containers
These flower garden ideas for containers and window boxes will help you create just the right container garden for color and fragrance.
You can grow beautiful flowers that attract butterflies, also called butterfly gardening, even if you live in a small apartment or have limited space. Using containers to grow plants that attract butterflies offers apartment dwellers and people with limited space the opportunity to try their hand at butterfly gardening.
Every spring, I plant window boxes full of flowers and enjoy the butterflies and hummingbirds that visit. My porch has several comfortable chairs and rocking chairs. There's nothing like pulling up a chair and relaxing on a hot summer's evening and watching the butterflies play among the flowers!
Flower Garden Ideas for Containers and Window Boxes to Attract Butterflies
There are many beautiful flowering annuals that offer sweet nectar and host plants for butterfly larvae and can be used as part of your flower garden ideas for containers and window boxes. The key is to plant attractive containers that also provide butterflies with what they want and need. Any time you want to attract wildlife to the garden, you must provide them with the elements they need – food, water, shelter, or places to raise their young. When you provide these four items in a way that's attractive to the creature you wish to attract, they will arrive. Butterflies are no exception.
Nearly anyone, anywhere in the world can attract beautiful butterflies to the garden with these flower garden ideas for containers and window boxes.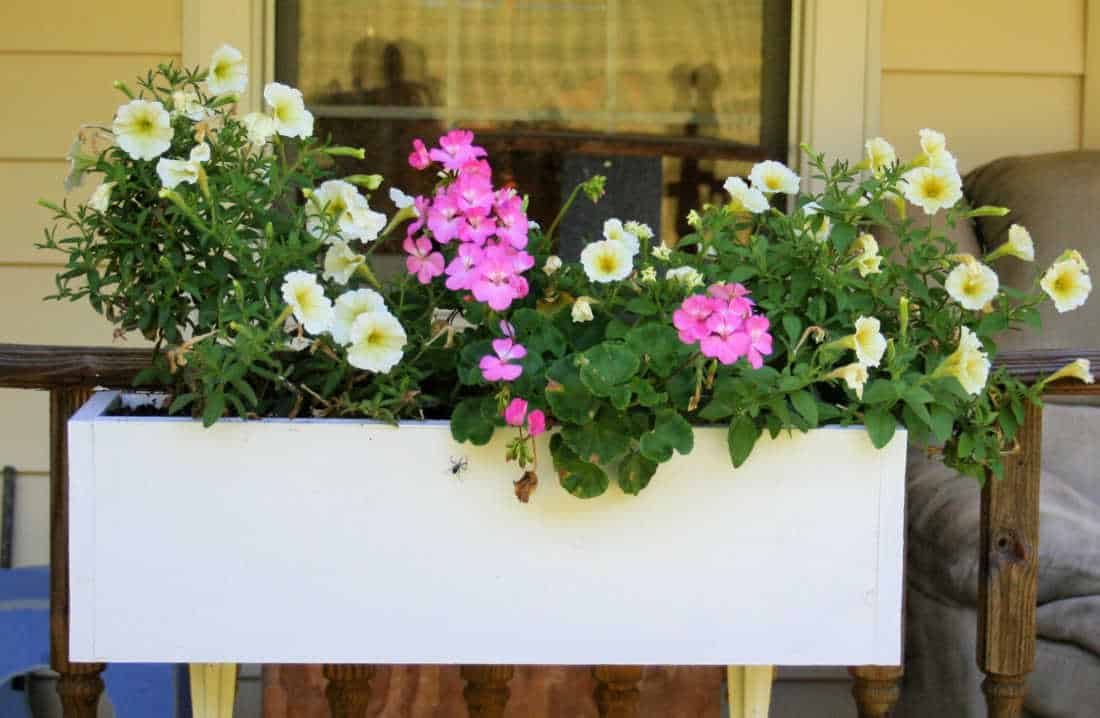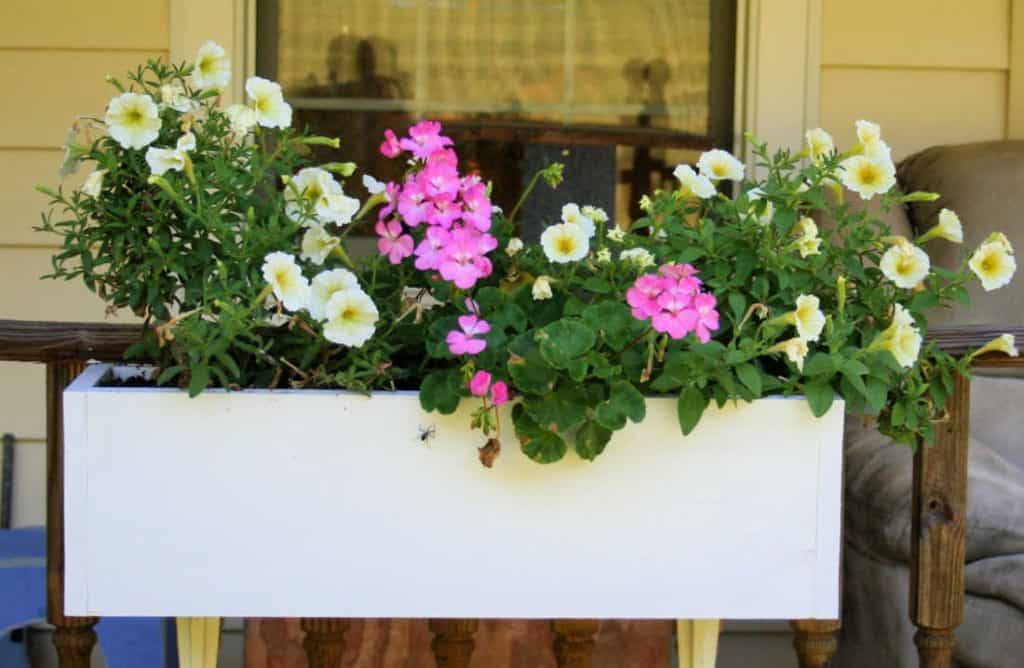 Creating a Container Butterfly Garden
To create a container butterfly garden, you must have a sunny location for the container garden. Butterfly plants love full, bright sunshine, which is defined as six or more hours per day of direct sunlight. If your front porch, balcony, patio, or deck receives six or more hours of sunlight per day, you can grow a container butterfly garden.
You should choose a container that's both attractive and functional. The container must be large enough to support one or more plants and not dry out quickly in the hot summer sun. Stone, terra cotta, plastic, and resin composites all make attractive planters, but each has advantages and disadvantages.
Stone, clay, and terra cotta are the most expensive containers to purchase. They will also last the longest with the right amount of care, such as emptying them and storing them indoors during the wintertime. Plastic and resin composite containers are lightweight and relatively inexpensive, but they may crack or discolor over time.
No matter what type of container your choose, be sure that it has several drainage holes in the bottom. You must allow excess rainwater a chance to drain through the soil and out of the container. If you don't have drainage holes, be sure to add them before planting your flowers.
Soil and Water for Container Gardens and Window Boxes
Choose a soil mixture or potting mixture from the garden center rather than using garden dirt. Garden dirt may contain microorganisms or insects that can cause diseases on your plants.
Because planters filled with soil are quite heavy, it's a good idea to place your container in the exact spot where you'll want to view it all season long and where it gets the most sunshine before adding rocks, soil, and plants. You can also place it on a wheeled dolly or add castors to the planter if you think you will need to move it frequently, but again, do so before adding the heavy ingredients.
A water source nearby and a watering can make it easy and convenient to water your containers. You may need to water your container garden daily during the hot summer months.
Always check the soil moisture before watering. Just stick your finger into the soil. If it feels dry, water it. If it's moist and the soil clings to your finger, you probably don't need to water your container.
Additionally, a layer of pebbles or stones at the bottom of the container, followed by soil, improves drainage.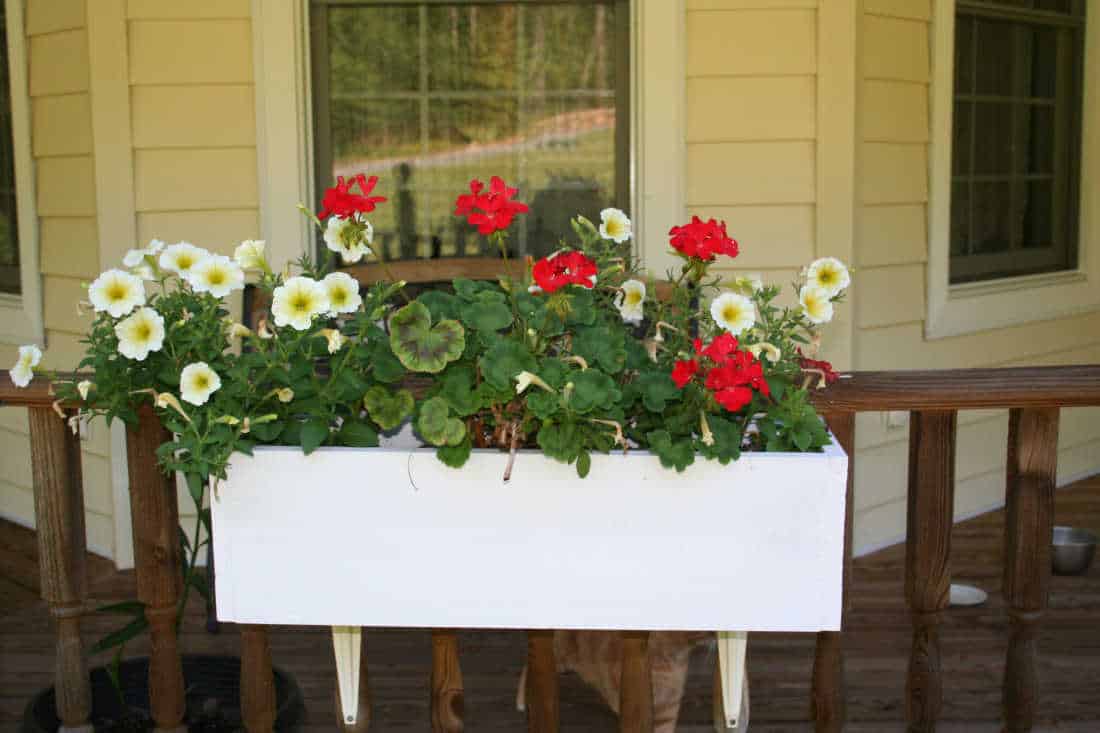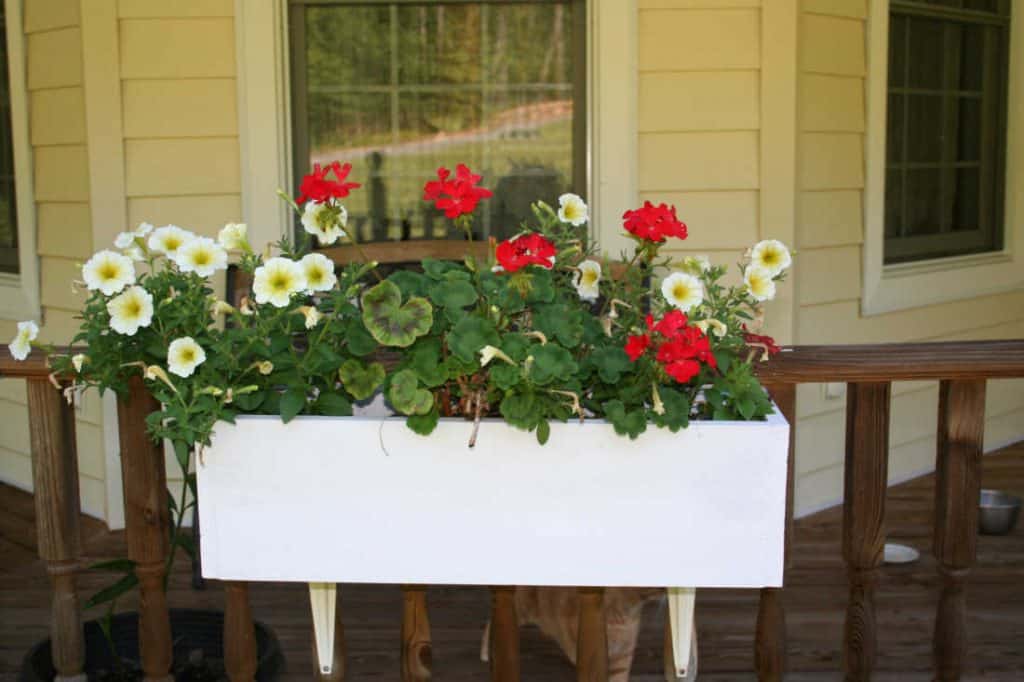 Choosing Butterfly Garden Flowers for Container Gardens
Many flowering annuals are quite suitable for containerized butterfly gardens. In the United States, these may include:
Alyssum – Butterflies love this flower, and it has an attractive, cascading quality that makes it wonderful for window boxes or in containers with other annuals such as in this example.
Lantana – Lantana is a tropical favorite with gorgeous clusters of flowers. It comes in many colors, including yellow, pink, and a variegated petal such as the one in the example that changes colors as the flower heads mature. Butterflies love lantana, and it will probably attract many beautiful butterflies to your container garden.
Marigolds – Marigolds are easy to grow and great for hot climates. If you tend to forget to water your plants, marigolds are a good choice, as they can withstand some drought.
Petunias – Petunias are good for climates that tend to have cooler evenings in the summer, such as New England or some eastern mountain zones. They come in a wide array of colors that go with most any color palette you choose for your container garden.
Snapdragons – While not typically thought of as a butterfly garden flower, snapdragons make an attractive accompaniment to traditional butterfly garden flowers. Hummingbirds love them, and that can add another layer of bird watching to your container garden.
Zinnias – Garden zinnias are an old-fashioned favorite that butterflies love. Choose dwarf varieties for container gardens.
Host Plants
Host plants suitable for container gardens include parsley, which the yellow swallowtail larvae love. Mints and other herbs may also attract butterflies who will use the herb plants as a nursery for their young.
If you see caterpillars on your herb garden, you may have a little nursery going in your herb garden. You can safely hand-pick some herbs to enjoy. The caterpillar will share.
Easy Design Tips for a Great Container Garden
Planting your container garden to attract butterflies is the last step. Choose the flowering annuals from the list above, and once purchased, grab your trowel and head out to the garden where you have your container.
Arrange Your Plants by Height
Dig a hole as wide and as deep as the container. Gently slide the plant out of the pot. If it doesn't come out easily, tap the sides of the pot. Never pull by the stem; if the stem breaks you may have injured the plant. A few missing leaves are easy for the plant to repair (it also has more!), but it usually has only one stem. Be gentle when transplanting your flowers.
Arrange the flowers according to height. Window boxes benefit from having a taller plant in the middle. Cascading plants or smaller plants can be arranged on either side. For a round container, choose a taller plant for the center and small or cascading plants around it. Choosing pairs of flowering plants adds symmetry, which creates a pleasing balance to the appearance of the container.
Color Coordination
Which colors go together? Nature paints a broad palette with her brush in the wild, but butterflies do tend to go for big drifts of similar colors. A container butterfly garden benefits from like colors in the same container or containers nearby with similar colored flowers.
Caring for a Container Garden
After planting your annual flowers, water your container well. You can fertilize with a gentle balanced fertilizer for flowering plants, either a 5-10-5 or a 10-10-10, according to the package directions. Organic gardeners may choose to use compost tea, seaweed, or similar organic fertilizer.
Grow Organic – Pesticides Kill Butterflies
One last word about container butterfly gardens. Like other types of butterfly gardens, it is best if you avoid using pesticides of any kind on your butterfly garden. Butterflies are insects, albeit pretty ones. Any insecticide or chemicals used in the garden to kill bad bugs can also kill the good ones like butterflies. Keep your beautiful butterflies healthy and happy and grow your container butterfly garden organically.
Jeanne Grunert is a certified Virginia Master Gardener and the author of several gardening books. Her garden articles, photographs, and interviews have been featured in The Herb Companion, Virginia Gardener, and Cultivate, the magazine of the National Farm Bureau. She is the founder of The Christian Herbalists group and a popular local lecturer on culinary herbs and herbs for health, raised bed gardening, and horticulture therapy.