Starting sweet potato slips meanings coaxing last year's sweet potatoes to grow into new plants. There are many ways that the old-timers tell you to start sweet potato slips…in sand, in soil, and more. I just dunk them in water and away we go!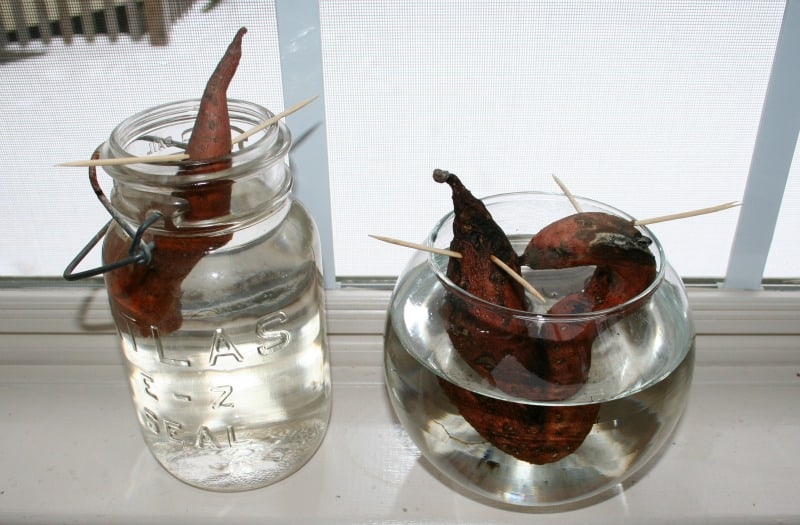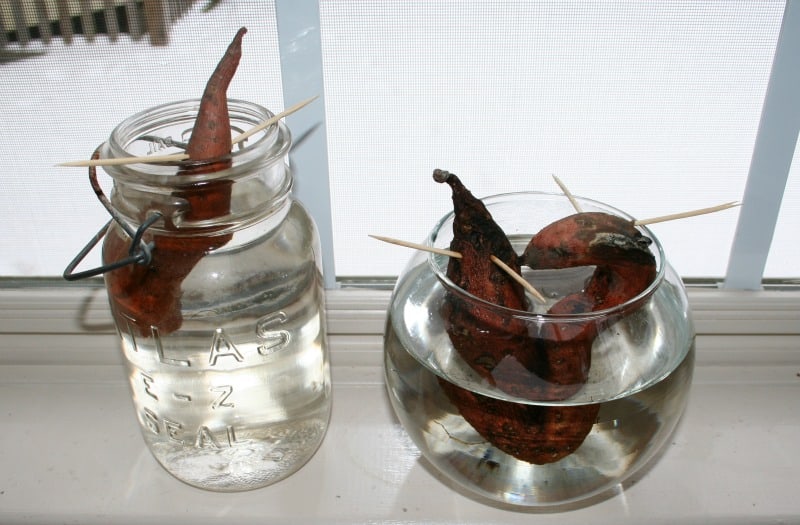 Starting Sweet Potato Slips
You knew there was a use for those old fish bowls, right? Above you'll see my weekend project: starting sweet potato slips. The jar on the left is actually a beautiful old 1940s canning jar that I can't use for actual canning anymore (the old-fashioned rubber gasket seals aren't considered safe for food storage today.). And on the right? My old Siamese fighting fish bowl. I love Siamese fighting fish or beta fish, but the cats love them more, so I no longer keep them as pets. But the bowls do come in handy at this time of year.
Starting sweet potato slips is easy for me because I have some sweet potatoes from last year that aren't big enough to cook. They are about the size of a big fat thumb, or a magic marker. I save them in a container in the basement until mid winter, and then I use them as started for sweet potato slips.
I don't do anything special with them. I insert toothpicks to hold them out of the water, then dunk most of the root into water in a glass jar or a plastic cup. There are more in my plant room out of sight. I started six plants in all.
I change the water weekly or when it starts looking cloudy. I also check the sweet potatoes for signs of rot. Although I've never had one rot on me, I've had a few that just won't grow. Those I will discard in late May when it is tine to plant them outdoors here in south central Virginia.
Each sweet potato slip produces one vine. The leaves and vines grow from the top, and the roots trail into the water. When the plant has vigorous growth and the soil has warmed sufficiently, and all danger of frost is past, I'll transplant them into the garden. One sweet potato plant like this will produce 5 or 6 edible potatoes, so if I started six plants, and all grow, then I will end up with about 30 sweet potatoes if all goes well.
Of course, that doesn't account for some that grow into massive club roots the size of a squash, or those that curl up into unpeelable U-shapes, or the funny ones that look like tiny baseballs. It's amazing how many I pull up from the garden but how many are either inedible or so difficult to peel that they aren't worth curing and storing.
In a good year, I will harvest anywhere from 50 to 60 pounds of sweet potatoes. In a bad year, like last year, I think we got about 10 pounds but most were just too small to use. So back into the garden they go…as sweet potato slips!
Happy growing!


Jeanne Grunert is a certified Virginia Master Gardener and the author of several gardening books. Her garden articles, photographs, and interviews have been featured in The Herb Companion, Virginia Gardener, and Cultivate, the magazine of the National Farm Bureau. She is the founder of The Christian Herbalists group and a popular local lecturer on culinary herbs and herbs for health, raised bed gardening, and horticulture therapy.