Well, it's finally happened. I installed my first water garden this weekend. What is a water garden? It's a pond or some kind of container for growing water plants.
My friend Liz is the queen of water gardens. I met her in the Master Gardeners group to which I belong, and Liz's garden has been featured in Virginia Gardener magazine. When I visited her home some time ago, I stood in awe by the side of her patio. She has a beautiful water garden, a large pond that's just soothing and beautiful. Smaller containers filled with colorful water plants and soothing green lilies and lotuses are sprinkled all around her rural home.
When Liz put out a call a few weeks ago via email to her friends asking if anyone wanted some water lotus, I said yes. Now, mind you: I don't own a pond. I haven't got a clue about planting water lotus. I only know that having a pond was on my wish list of things for my garden.
So with my typical "leap first, look later" gardening mindset, I accepted two water lotus roots from Liz.
The roots look like white garden hoses with hairy things sticking out of them.
I had no idea what to do with them.
Fortunately, Liz gave me a handout that she uses when she teaches water gardening. Hubby was amenable to buying a small pond at Lowe's. Hey, it's only $10 I told him! I didn't let on that Liz said I could use a simple dish pan from Wal-Mart for $2 to grow my water lotus. Girls have to have some secrets, don't they?
But where to put the pond? Originally I had visions of expanding my homemade water element, a small pan set near my meditation bench: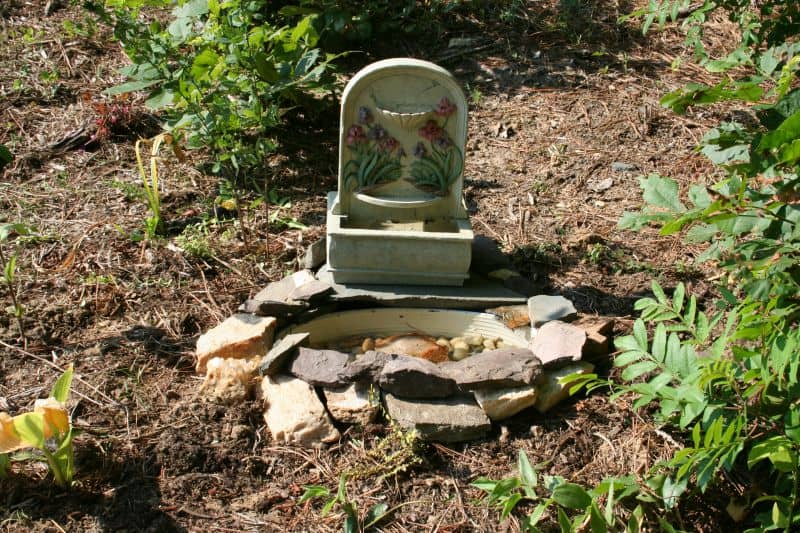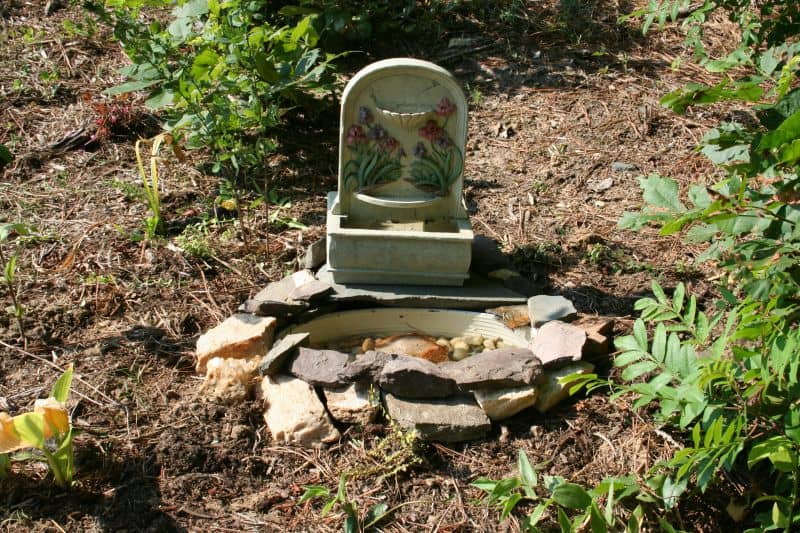 I soon abandoned that idea. The area where my tiny water element above stands is in full shade most of the time. Water lotus needs full sun.
A new area had to be found.
It was then that Hubby, with his characteristic big-picture thinking, announced we were going to finish the garden pathway…once and for all.
My perennial garden has paths cut out throughout the garden. We lined the paths with landscaping fabric and chunks of Buckingham slate, a naturally occurring beautiful local blue-gray slate. We then cemented together big rocks, mostly quartz and granite, found on our property to make the edging and filled in between the slates with purchased river stones.
The only problem was that the area where we intended to finish the path and install my new little pond was covered with a giant, and I mean giant, pile of junk. Builder's sand. Gravel for our driveway. Wood we meant to throw away. Oh boy, was it covered in junk.
All that junk had to be moved….one wheelbarrow at a time. One scoop at a time. One shovelful at a time.
It took two weeks, but when it was done, the area was clear, and it was time to finish the path. We spent the weekend laying the fabric, finding stones, and cementing them together.
I still need to pick up more stones this week at Lowe's to finis the path, but you can see above the path at the rear of the garden and my tiny new pond. The water lotus have already lifted shoots to the skies above, and have peeked through the water. The cats investigated the pond without incident, and we are off to a great start for my first water garden adventure.
I planted my water lotus in plain old potting soil (the cheap kind) placed in a layer about two to three inches thick on the bottom of the pond. Then I filled the pond with water from our well. That's it. The water was muddy at first but the debris settled, and I scooped out the few bits of floating bark and pine needles. Pollen scum coats the water now, but there's nothing I can do about that. We live on a timber farm, and spring is pine pollen season. It's part of the decor, you know (ha).
Anyway, that's the start of my water garden. Herbs will be planted around it to finish my herb garden. I am hoping to plant creeping thyme around the rocks, and more mints and other herbs for teas and healing salves that I make.
I asked Liz if she had any photos of the water lotus in bloom. This is what I hope, God willing, mine will look like in the summer. Thank you to Liz for permission to share her pictures:
Jeanne Grunert is a certified Virginia Master Gardener and the author of several gardening books. Her garden articles, photographs, and interviews have been featured in The Herb Companion, Virginia Gardener, and Cultivate, the magazine of the National Farm Bureau. She is the founder of The Christian Herbalists group and a popular local lecturer on culinary herbs and herbs for health, raised bed gardening, and horticulture therapy.