This rustic Tuscan bean salad recipe contains an abundance of protein, healthy carbohydrates and fiber…and flavor. Did I mention flavor? Bright, with overtones of onion and basil that will engage your sense in this healthy, wonderful salad. It's a recipe from the garden worth keeping.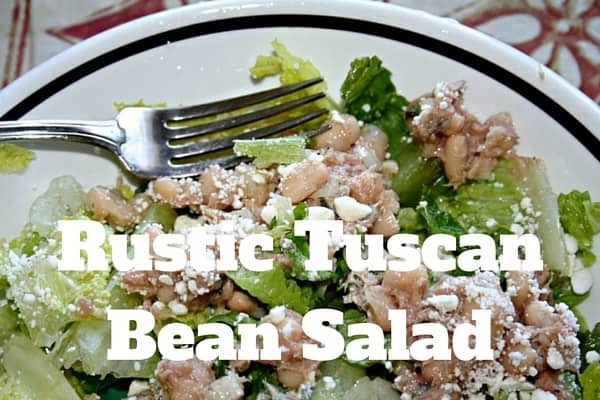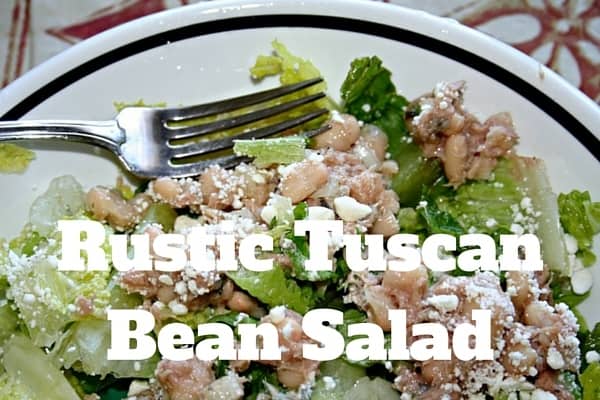 Rustic Tuscan Bean Salad Recipe
This rustic Tuscan bean salad recipe came to me today after reading through numerous recipes in the Fanny Farmer Cookbook. As you may recall from other recipes I've shared, the original cookbook, published in 1896, contains so much common sense cooking wisdom, basic recipes for everything from German potato salad to corn bread, and everything in between that it is my go-to book for all types of recipes.
I found the Tuscan bean salad recipe in the cookbook and adapted it to my own needs and tastes. I've cut way back on sugar, so no added sugars. I didn't have fresh basil on hand as the original recipe called for, so I substituted some dried basil from last year's garden. I did have fresh parsley, thanks to a wonderful plan purchased last year from my friend Beth's Long Ears Herb Farm which was so robust and healthy it wintered over in the garden.
You can use canned cannelli (white) beans and canned tuna fish to make the recipe. Canned beans contain a high amount of salt, so it is best to drain and rinse the beans before adding them to the recipe. I pour the can into a colander and rinse them thoroughly under cool running water, stirring with a spoon until all of the liquid from the canned beans has been rinsed off.
For tuna fish, use the driest, flakiest tuna you can find. Water or oil packed doesn't matter, but you want nice chunky tuna for this recipe.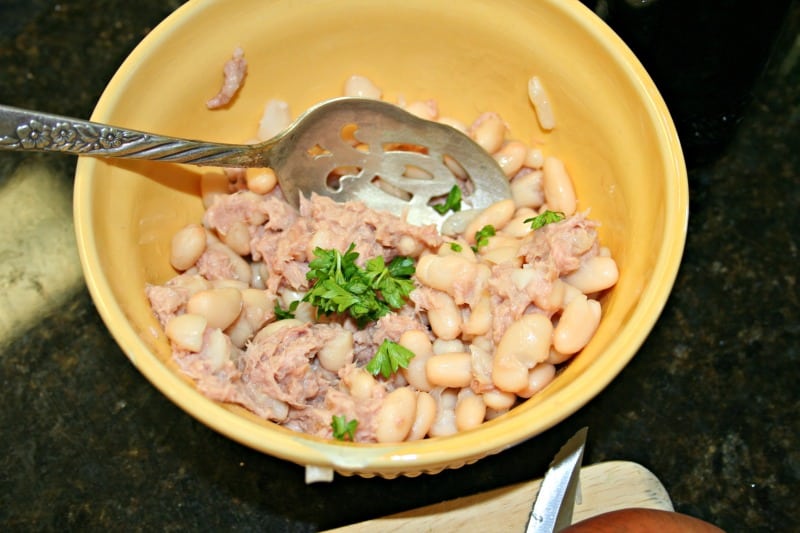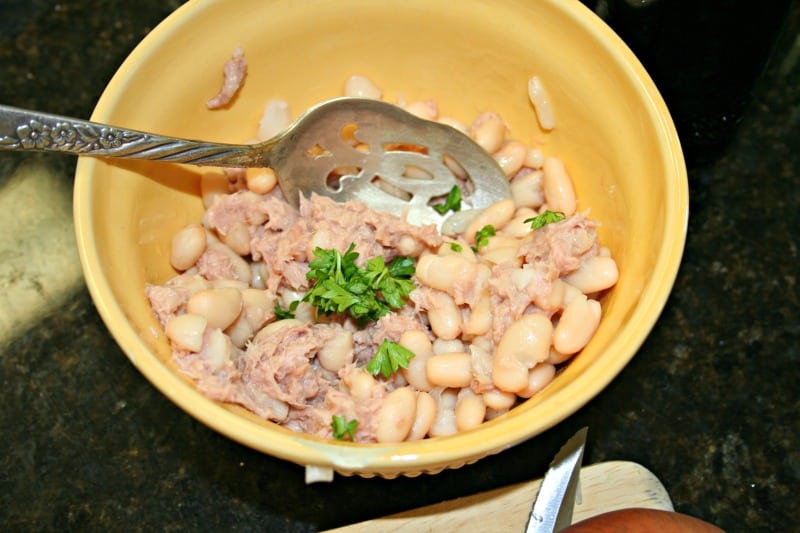 Recipe for Tuscan Bean Salad: Ingredients
From the garden…
1 small white or yellow onion or about 1/4 cup diced
1 teaspoon finely chopped fresh parsley
1 teaspoon finely chopped basil
1 cup Romaine or leaf lettuce, rinsed and shredded
From the pantry…
1 can of white beans (about 14 ounces)
2 cans of tuna fish (about 8 ounces total)
2 teaspoons apple cider vinegar
6 teaspoons extra virgin olive oil
Salt
Pepper
Crumbled feta cheese (about 2 tablespoons)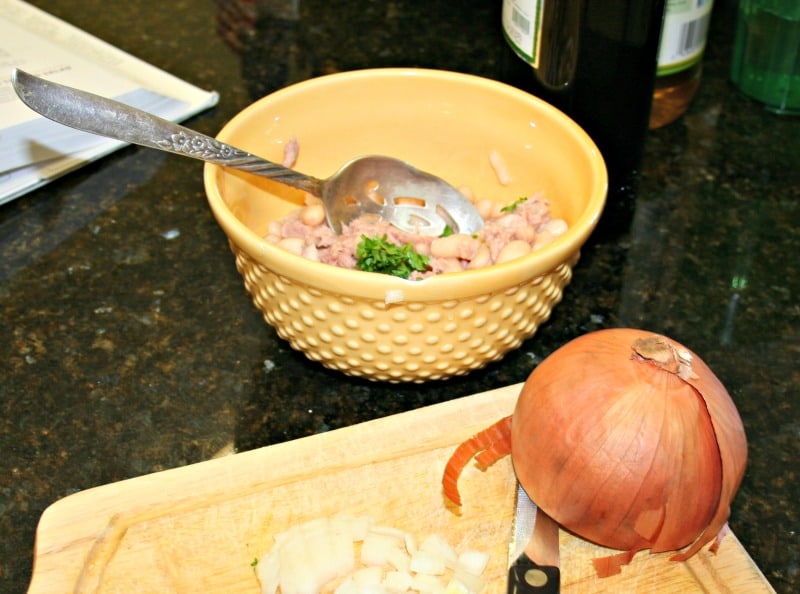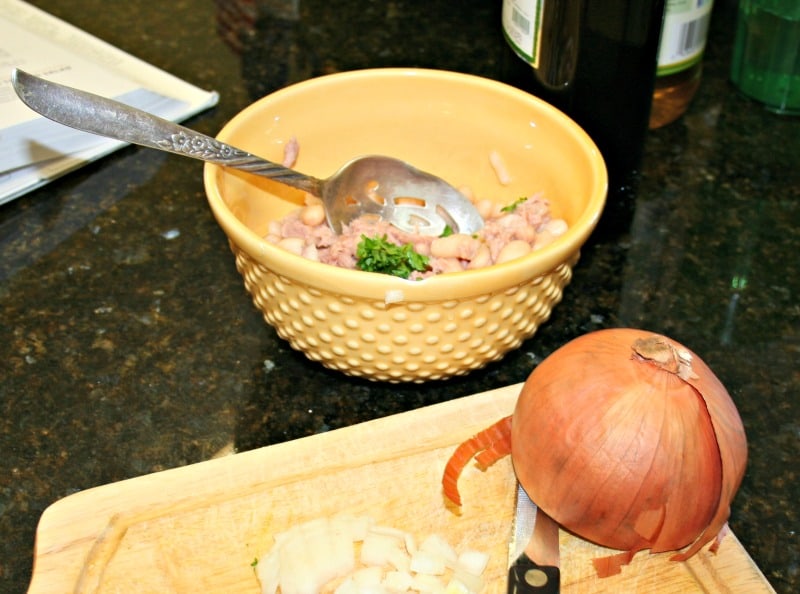 Tuscan Bean Salad Directions
Rinse and drain the canned beans under cool, running water. Pour into a bowl.
Drain the tuna fish and mix it into the beans.
Dice the onion fine. Add to the bowl
Dice the herbs. Add to the bowl
Mix the vinegar and oil. Pour over salad. Stir gently to combine.
Add salt and pepper to taste.
Place the washed, shredded lettuce into a serving bowl. Add one scoop of about 1/2 cup to 1 cup of the Tuscan bean salad recipe over the lettuce. Drizzle with remaining vinegar and oil dressing from the bowl.
Serves 2 large portions of 4 smaller portions.
I hope you enjoyed delightful recipe from the garden. Keep growing, keep creating. Happy gardening!