These favorite recipes for green peas can be made using fresh garden peas or frozen peas. At the end of May, my peas are almost ready to harvest. There is nothing, and I mean nothing, that tastes as good as fresh peas…cooked or raw, they're just delicious. Here are my five favorite recipes for green peas, from your garden or from the grocery store.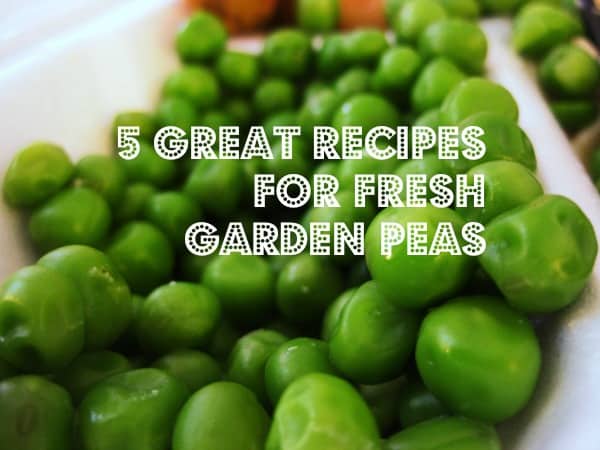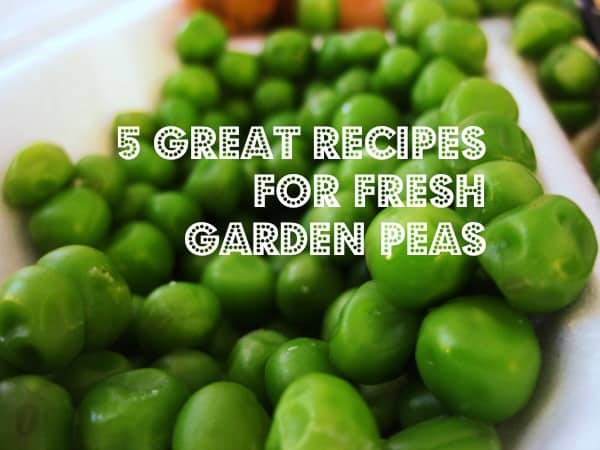 Five Favorite Recipes for Green Peas
I can't remember the first time I ate fresh green peas. Some of my earliest memories are walking with Mr. Hoffman, the man who owned the house next door to us in suburban/urban Long Island, showing m me how to pick peas from the vines. He'd let me shuck peas, watching as my nimble fingers carefully extracted the peas from the pods. I'm surprised he had enough left to eat; probably as many peas as landed in the metal cooking pot at my feet also landed in my mouth, for I loved fresh sweet peas!
This year, my pea crop looks like it might be a little low. A few surprise frosts, torrential rains, and a lot of challenges have kept the peas from really flourishing as they ought to. But when I do get those peas in, I love to cook with them. From the Italian pea recipe below to risotto dotted with green jewel-like peas, peas are some of my favorite vegetables from the garden.
How to Cook Fresh Peas
I boil or steam the fresh peas out of the pod. Place a sauce pan on the stove and add 1 cup of water. Add 1 cup of fresh peas and a pinch of salt. Make sure the water covers the peas but doesn't drown them, as my dad would say. Bring them to a boil, cover, and boil for up to six minutes, testing for the right consistency that pleases you after 2 minutes. Drain and serve with butter and salt.
Freezing Fresh Garden Peas
You can freeze fresh garden peas to enjoy later. To freeze garden peas, you will need:
Pot of boiling water
Pot of ice water
Strainer
Zip lock bags
1 cup measuring cup
You'll need to blanch the peas out of their pods before freezing them. Blanching means immersing them in hot water for 1 minute, then into ice-cold water for 30 seconds. (Time can vary with other vegetables or fruits.) Blanching stops the enzyme activity in the vegetables so they don't get freezer burn or spoil as quickly.
Simply add the peas to the boiling water, time it for a minute, then pour them into the strainer or colander. Pour the hot peas into the ice water and time for 30 seconds. Then pour back into the colander or strainer to rid them of excess water. Place 1 cup of peas into a zip lock plastic bag. Put the name of the item and the date on the bag and freeze immediately. You can freeze larger quantities if you want to but a 1 cup portion is the right size for two people.
Five Great Recipes for Fresh Garden Peas
These recipes all make fantastic side dishes with fresh garden peas. For a main dish, steam rice or cook arborio rice to make risotto. Add peas, shaved Parmesan cheese, and any other fresh spring vegetables that please you.
I hope you enjoyed these recipes and that you make some this week. Stop back every Friday for more tips on cooking and enjoying what you grow! #FoodieFriday  #recipesfromthegarden
Happy gardening. Keep growing!


Jeanne Grunert is a certified Virginia Master Gardener and the author of several gardening books. Her garden articles, photographs, and interviews have been featured in The Herb Companion, Virginia Gardener, and Cultivate, the magazine of the National Farm Bureau. She is the founder of The Christian Herbalists group and a popular local lecturer on culinary herbs and herbs for health, raised bed gardening, and horticulture therapy.