Crepe myrtle care is a big topic at this time of year throughout the south when the beautiful, gorgeous crepe myrtles bloom. Learn more about how to care for crepe myrtle and keep your plants blooming year after year.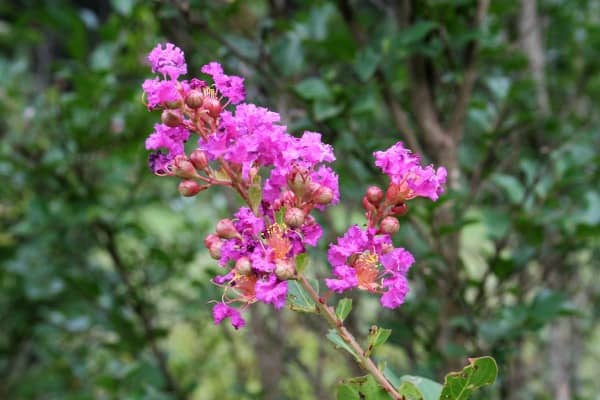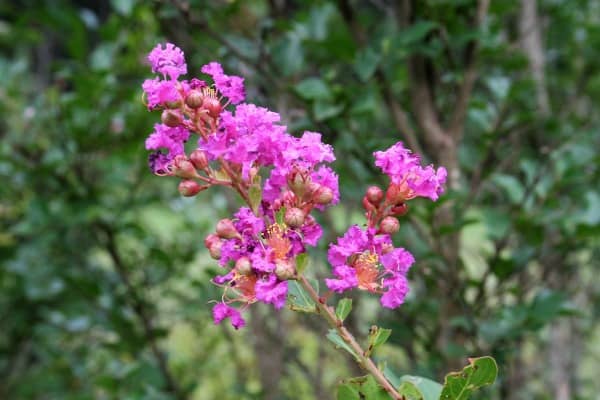 Crepe Myrtle Care
First things first: you can spell this plant's name as crepe myrtle, crapemyrtle, or any variation thereof. When I write for gardening magazines, they usually specify the preferred spelling. Many spellings are accepted. So spell it any way you choose! As long as it's not a crap myrtle, you're good to go…
Seriously, though, let's talk about crepe myrtle care. It's crepe myrtle season here in Virginia. I think it's a little late this year. We usually start to look for the crepe myrtle blooms in late July, but anytime between late July and late August is the natural blooming period for crepe myrtle.
Crepe myrtle is characterized as a deciduous, broadleaf shrub. This means that in the fall, the leaves will turn colors as the chlorophyll factories in the cells shut down, revealing the beautiful colors underneath.
At this time of year, we get to enjoy the pretty spires of tiny flowers along each branch. Crepe myrtles bloom profusely, often continuously, for up to a month. Colors include white, pink, red and purple. The foliage is gorgeous in the fall, the bark is lovely in the winter, and the flowers are colorful in late summer. What more can you ask from a plant?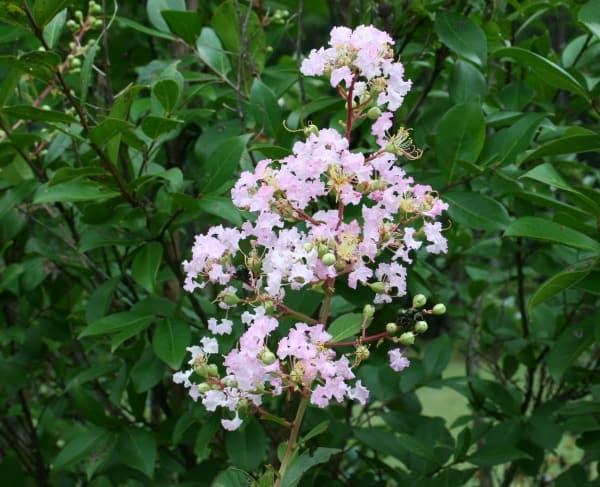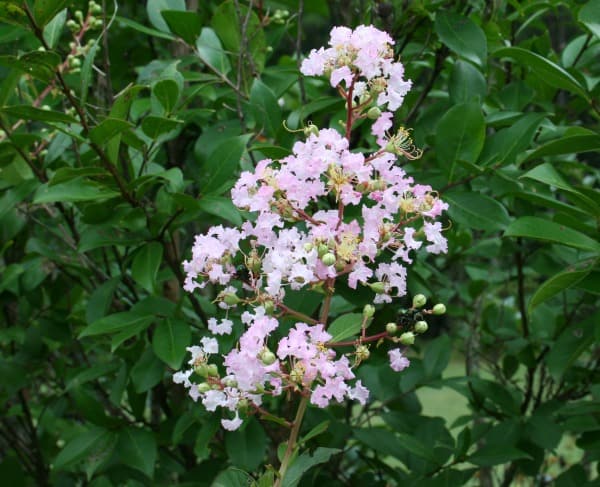 Alas, though, crepe myrtle needs warmth to survive. It grows in zones 6b (where I live) to zone 9. Cold winter temperatures will kill it. Soil pH should be slightly acidic, but it tolerates a range from 4.5 to 7.3 according to the Cooperative Extension website.
Plant crepe myrtle in full sunlight for the best blooms. Good soil drainage is essential. Plant in the spring or fall, and keep it well-watered throughout the growing season.
Do not prune the tops off like a flat-top haircut! This is called topping, and it is considered a fault or a desecration among crepe myrtle enthusiasts. Instead, select a variety that's right for the space available, and trim branches sparingly.
With a little care, your crepe myrtle can live many, many years. My own are eight years old and at least eight feet tall right now. They are too close together now, but we have been rewarded with some offspring that we've transplanted throughout the garden.
Crepe myrtle care wouldn't be complete without a brief mention of some of the disease problems they face. They can be susceptible to powdery mildew and black spot. Planting them as I did in an open area helps by keeping the air circulation free among the branches. I rake the leaves up in the fall, which also helps to prevent re-infection should there be any mildew lurking about.
Crepe myrtle care is relatively easy. With enough light, winter temperatures in zones 6b through 9, and plenty of moisture, they should thrive for years to come.
Jeanne Grunert is a certified Virginia Master Gardener and the author of several gardening books. Her garden articles, photographs, and interviews have been featured in The Herb Companion, Virginia Gardener, and Cultivate, the magazine of the National Farm Bureau. She is the founder of The Christian Herbalists group and a popular local lecturer on culinary herbs and herbs for health, raised bed gardening, and horticulture therapy.