I don't write about indoor plants all that much, although I think I should. I love house plants. Many of you know about my plant room: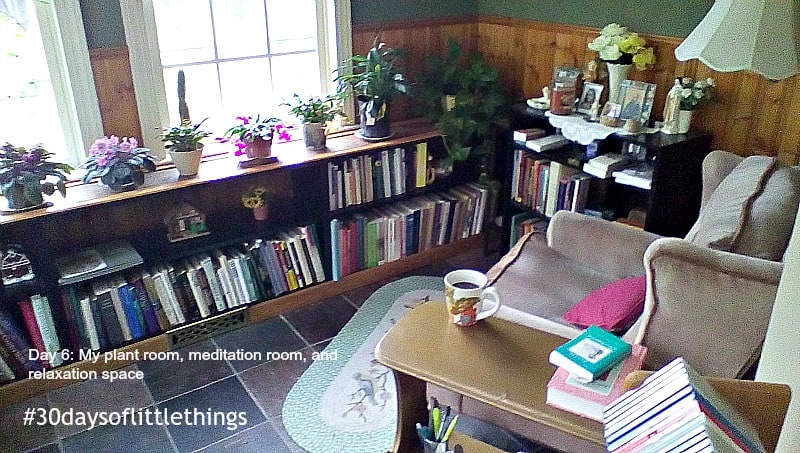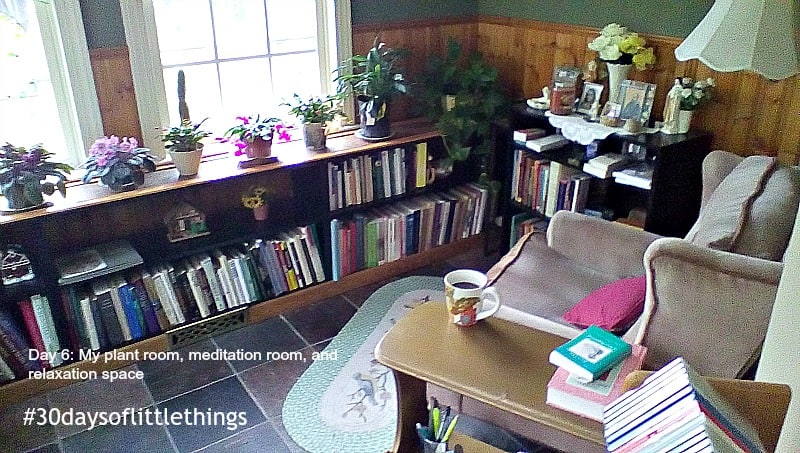 It's my favorite room in the house and last year, featured in my "30 days of little things to be thankful for". It is my special place in the home for relaxation and recreation. My books are in the plant room; my CDs, religious reading, and sewing supplies are, too. It's near enough to the kitchen so that I can start dinner and relax in comfort without being too far from the kitchen.
Among the indoor plants gracing my plant room are plenty of African violets. Many of you have heard my presentation on African violets. They are one of my favorite indoor plants. If I had room for more, I would grow more!
I also have low-light house plants such as Peace Lily and pothos, as well as Christmas cactus and one bizarre cactus inherited from my father-in-law.
I used to have more house plants before I had cats. Unfortunately, cats have a bad tendency to knock the plants off of the shelves! They love rubbing against the spikes of the cactus. It is like their personal scratching post.
If I could, I would fill a larger room with house plants of all sorts. My dream is to one day have a conservatory. A girl can dream!
As you consider the many indoor plants you can add to your home, the kind people over at Capital Garden Services contacted me and asked if I would share this infographic they've put together on the best indoor plants. I am delighted to share it with you. I think it provides plenty of useful information.
Happy gardening. Keep growing!
Image courtesy of Capital Garden Services.