Have you ever wondered how to roast chestnuts? You've probably heard about roasting chestnuts from the Christmas song – "Chestnuts, roasting, by an open fire." But did you know that you can still learn how to roast chestnuts? And you don't even need an open fire!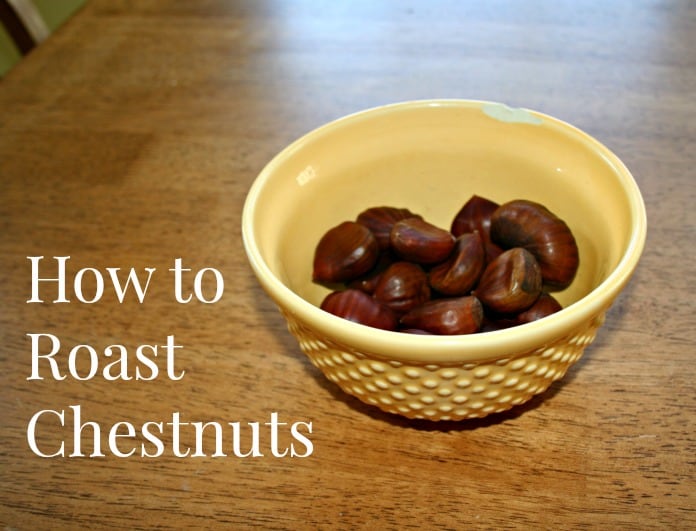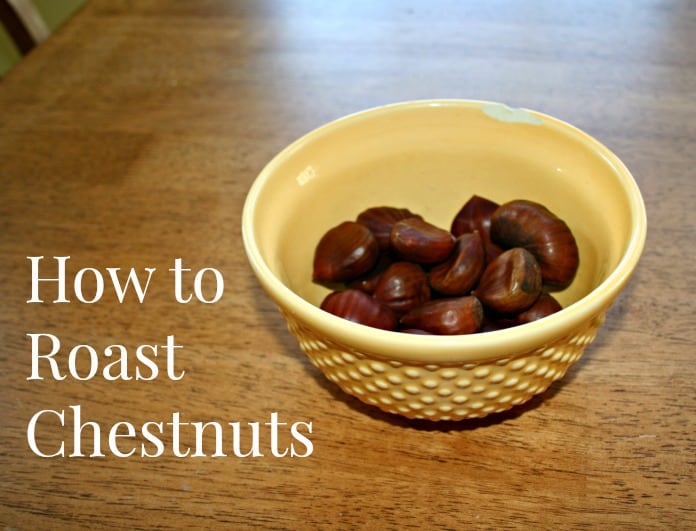 I was talking to some friends from Minnesota this week and describing how we planned to roast chestnuts this weekend. I took it for granted that my Minnesota friends knew about the wintertime tradition known as roasting chestnuts. The silence on the phone told me they didn't. "You mean…you've never roasted chestnuts?"
"I thought that was just a story," one friend said. "You know, an old tradition that's no longer done."
"Like in Dickens, when Bob Cratchett buys a pocketful of chestnuts from the street cart to give his children on Christmas Eve?"
"Exactly!"
Growing up in the New York City area, I knew what chestnuts were, of course. All along the streets of the city, starting in November, the chestnut vendors appear. They have carts that breathe salty-scented steam and a meaty, nutty aroma that's only associated with roasting chestnuts. Pay the man at the cart and he'll scoop a bagful of hot, roasted chestnuts for you. You can peel and munch to your heart's content.
Roasting chestnuts has been a pastime for hundreds, perhaps thousands, of years. In Mediterranean areas, gathering and roasting chestnuts in the fall and winter served an important purpose; grain stores might be low, and wild chestnuts provided a good source of nutrition during the lean months.
The tradition of enjoying roasted chestnuts during the holidays, however, can be traced back to Rome around the 15th or 16th century. Some scholars associate them with St. Martin's Day in Portugal and St. Simon's day in Italy. Others say that Christians associated the nuts with purity and chastity, which linked them to the Virgin Mary and Christmas. Who knows? Chestnuts roasting by an open fire became a common symbol of Christmas, and one that continues in our Christmas carols to this day.
Italian immigrants brought their love of roasted chestnuts to the New World. Chestnuts in America were a popular treat in the 19th century. In 1904, a blight began destroying the estimated 200 million American chestnut trees. These beautiful trees were an important part of the American forests and provided wood for settlers as well as food for wildlife and people. After the decline of the American chestnut, Mediterranean and Asian chestnuts were imported and roasted instead.
How to Roast Chestnuts
Now let's look at how to roast chestnuts. It's easy to do in a modern oven. You don't need an open fire, like in the Christmas carols, to cook them!
Chestnuts should be cooked; the shells are too hard to get off the inner kernel without heat and steam. Roasting makes the meat taste sweeter, too.
Chestnuts make their appearance in the supermarkets during December. They are usually sold in a small net bag. Look for firm, unblemished nuts. They can go bad without refrigeration, but it takes a month or more. If the shells look shiny (like in my picture, below) they are probably in good shape.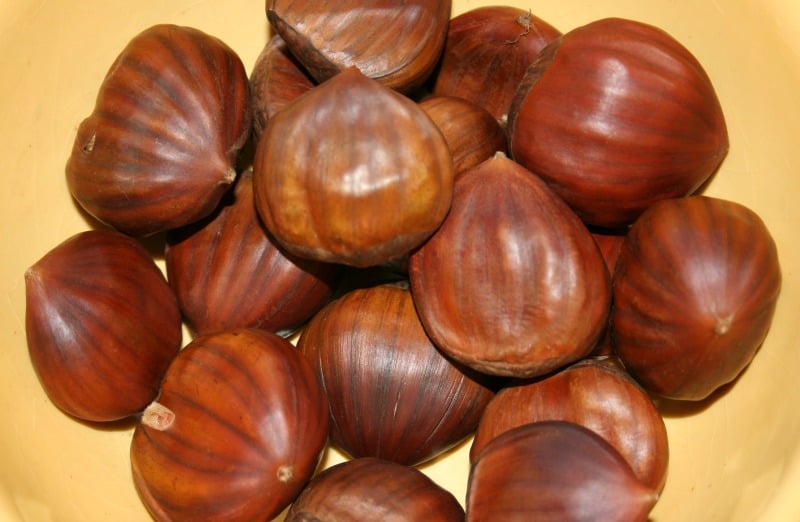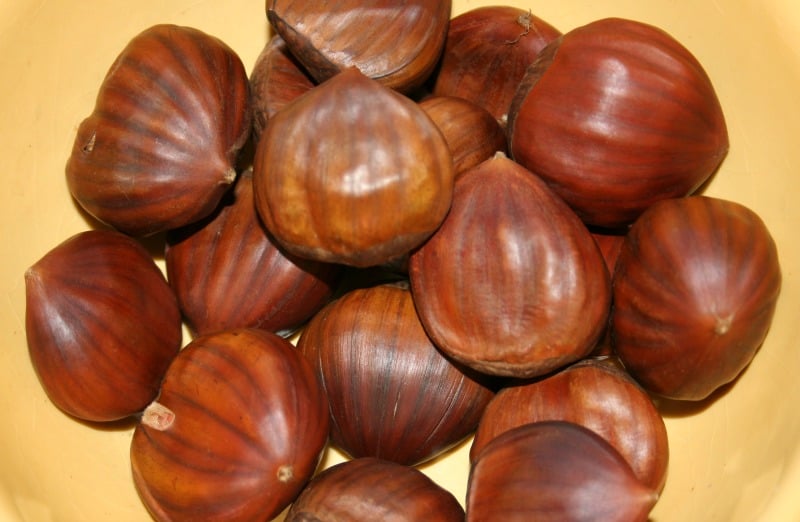 How to roast chestnuts in a modern oven:
Preheat the oven to 400 degrees F.
Choose the chestnuts to roast.
Make an incision in the shell. You MUST make an incision in the shell with a sharp knife before roasting your chestnuts. This allows steam to escape. You can make a traditional "X" shape or a single slice across the surface. The cuts can be done with a sharp knife. We prefer a serrated blade because it slips less on the hard, smooth chestnut shell. Carefully hold the chestnut between your thumb and forefinger on a cutting board and with the opposite hand, make the cut with the knife. Each chestnut must be cut until you can peek inside and see the meat. Make the cut on the flat side of the shell.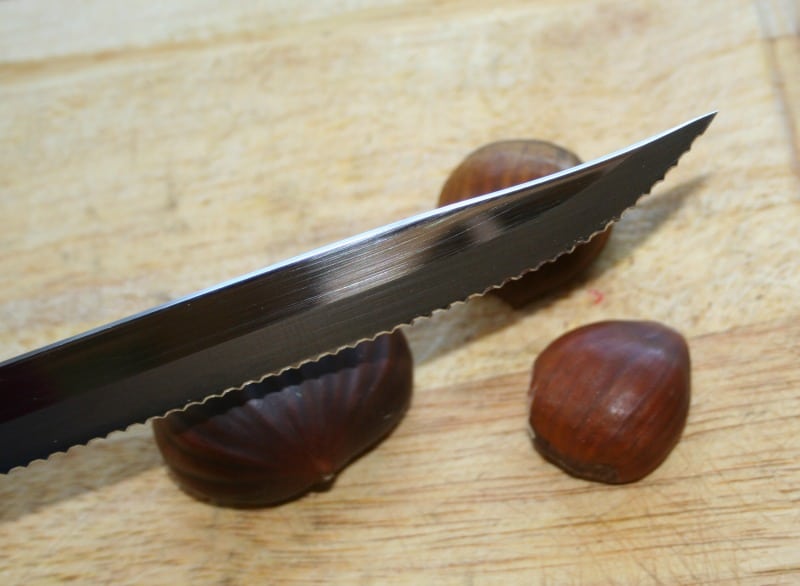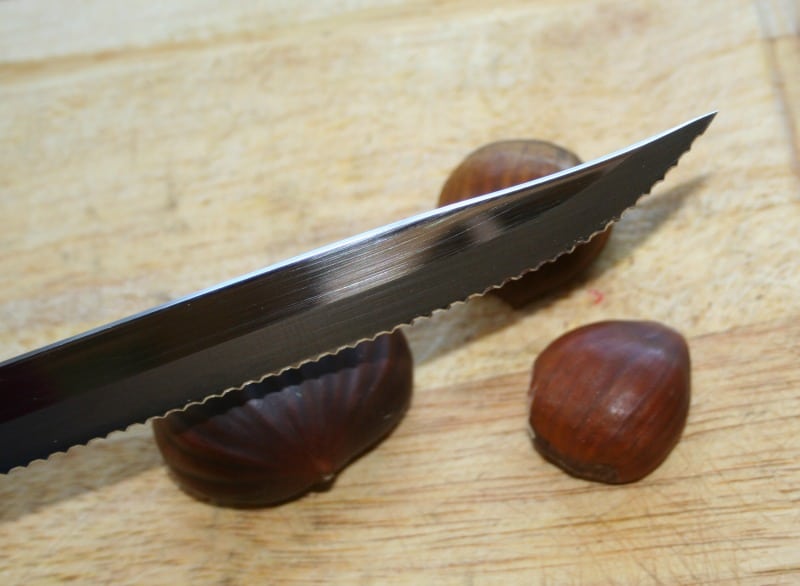 Place the chestnuts in a single layer on a metal roasting pan. The "X" or cut should face up.
Roast in the oven for 20-30 minutes. Check them after 20 minutes. They are done when the split widens and you can see the meat inside. Take one out, let it cool, and try to peel it. They peel easily when done.
Remove all the cooked chestnuts to a bowl and place a clean dish towel over them. Let them sit for 15 minutes.
Remove the towel, peel and enjoy! Some people add a sprinkle of salt to them.
Here's a great video to show you how to roast them if you're not sure how to do it.

If you can't eat them all, stored the peeled chestnuts in the refrigerator in a closed container for up to week.
What if the shells don't peel off easily? Some chestnuts just don't peel well. You can compost them or place them outside for wildlife to enjoy.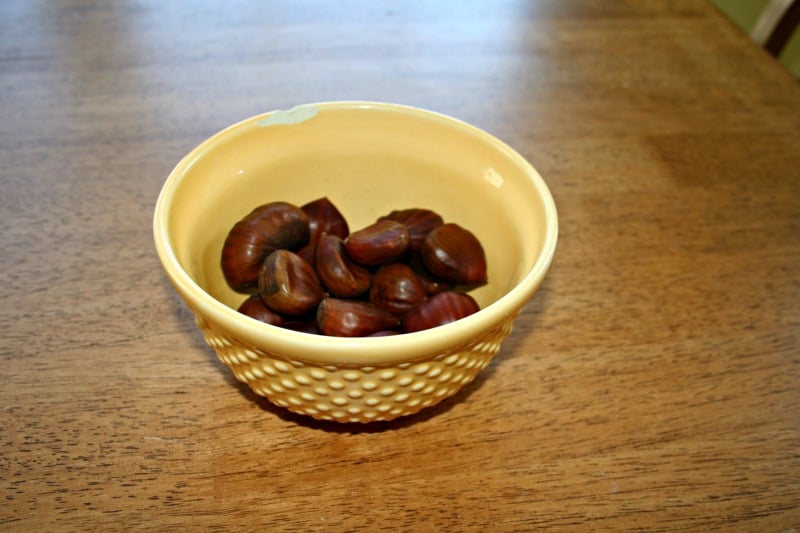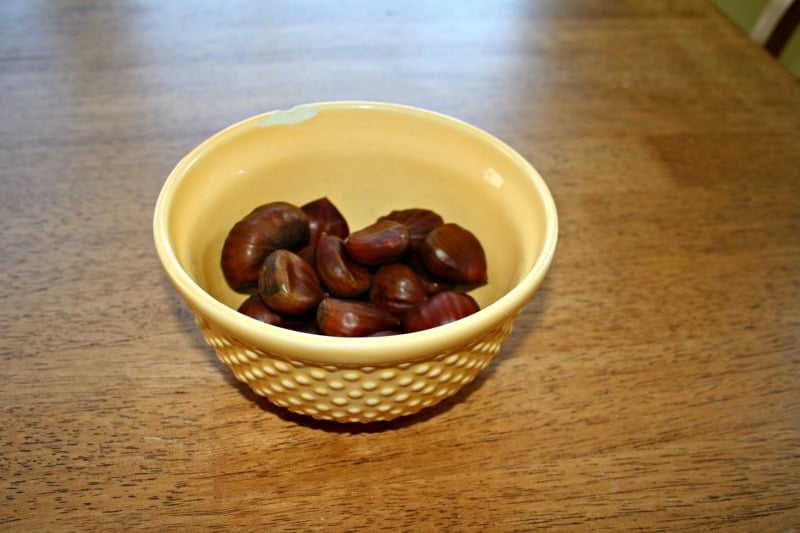 The next time you hear the Christmas song about chestnuts roasting by an open fire, you'll know exactly how it's done.
Happy gardening. Keep growing!
Jeanne Grunert is a certified Virginia Master Gardener and the author of several gardening books. Her garden articles, photographs, and interviews have been featured in The Herb Companion, Virginia Gardener, and Cultivate, the magazine of the National Farm Bureau. She is the founder of The Christian Herbalists group and a popular local lecturer on culinary herbs and herbs for health, raised bed gardening, and horticulture therapy.