A recipe for all natural simmering potpourri that's easy to make – yes, it's here!
Do you love the smell of Christmas? Who doesn't? This recipe for all natural simmering potpourri uses homemade ingredients and spices that are easy to find at the grocery store. Add a beautiful hand-crafted gift jar and you have the perfect inexpensive homemade Christmas gift or stocking stuffer!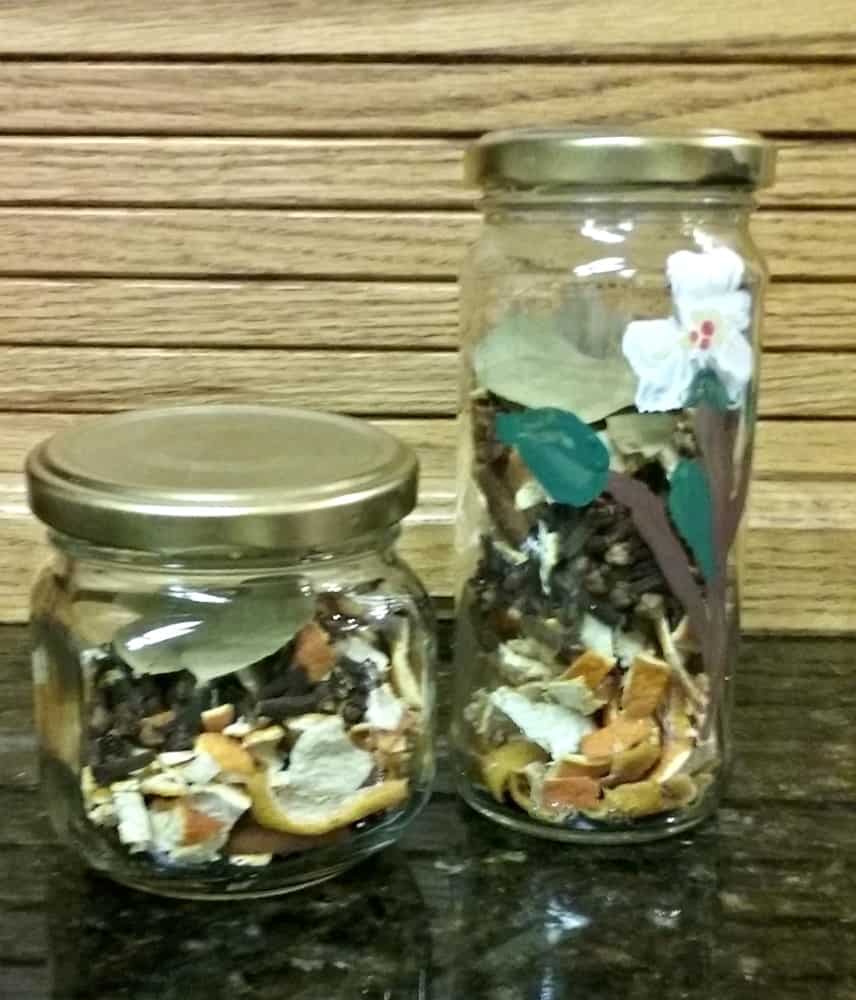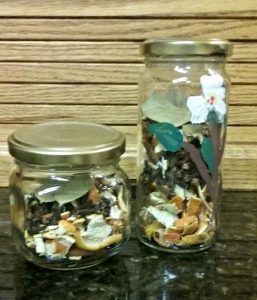 Recipe for All Natural Simmering Potpourri
Simmering Potpourri:  Holiday Simmer Fragrance
Simmering potpourri is easy to make. You can purchase all of the ingredients or make some of them yourself.
Dried lemon and orange peels: This recipe calls for dried lemon and orange peels. I save lemon, orange, clementine and tangerine peels. While the peels are fresh, I use a sharp paring knife and scrape off as much of the pith (white) material from inside the peel. Then, I cut the peels into small squares and place them on a paper towel spread out on a plate. Place the peels in a single layer and place the plate of peels in a dry, warm location for a few days. When they feel dry to the touch, add them to your herbal storage jars. Leave the top off to keep them dry. Conventionally grown fruit is fine to use for simmering potpourri. Use organic fruit if you plan to add the peels to tea mixes or use them in recipes. Dried lemon and orange peels are also available at some specialty grocery stores.
Cinnamon sticks: You will need approximately 6 to 8 cinnamon sticks. I buy mine at the grocery store. I can even find them at the dollar store on some lucky days!
Bay leaves: Grab them from the spice aisle at the grocery store.
Whole cloves: A can or bottle of whole cloves can also be found at the grocery store.
Make the Jar
First, you will need a clean, empty jar. You can use a mason (canning jar) or recycle a glass jar. The jars in this picture are from olives (the tall jar) and artichoke hearts (the small jar). Rinse empty jars with warm, soapy water. Soak them to get the labels off and use nail polish remover to remove any residual glue from the outside. Place the jars in the dishwasher (if you have a dishwasher) and run it through a regular cycle with your dishes.
I spray paint the jar lids using gold, green, or another festive Christmas color. Do this outside and put cardboard or newspaper on the ground to catch the excess spray. One coat covers most jar lids, although the artichoke heart jar lid was a dark blue and required two coats.
Next, you can paint the outside of the jar using acrylic paints. I left the small jar plain and painted dogwood blossoms on the tall jars. It's up to you how you want to decorate them!
Fill the Jar
Now it's time to fill the jar. Place layers of simmer potpourri ingredients in each jar:
Broken cinnamon sticks – add 3 broken sticks (6 halves) or more for a larger jar.
Lemon peel – add a layer
Orange, tangerine or clementine peel – add a layer
Cloves – add a layer
Bay leaves – place 2-3 bay leaves on top.
Place the lid on the jar. Tie with a decorative ribbon, piece of burlap or string.
I like to make tags to tie to the jars with the instructions on how to make the potpourri. You can download and print a tag, below. Print it onto regular printer paper and cut to size with scissors. Feel free to adjust the size as needed.
Enjoy!
Happy gardening, keep growing!
Download the tag, below, and resize as needed to give with your gift. Try it at home first to make sure you have the proportions of the spices to your liking and of course, don't use it if you are allergic to any of the ingredients (or the gift recipient is allergic).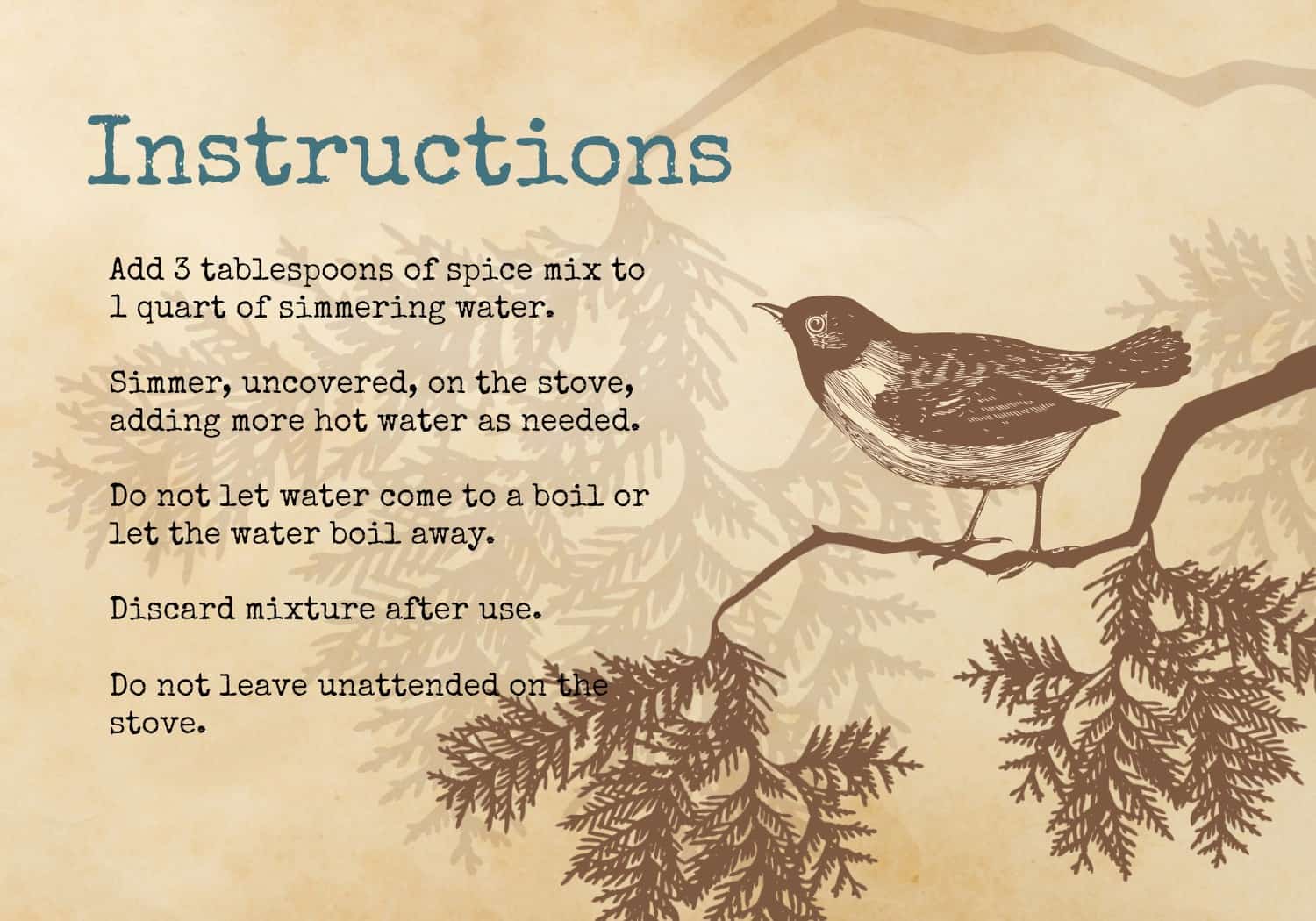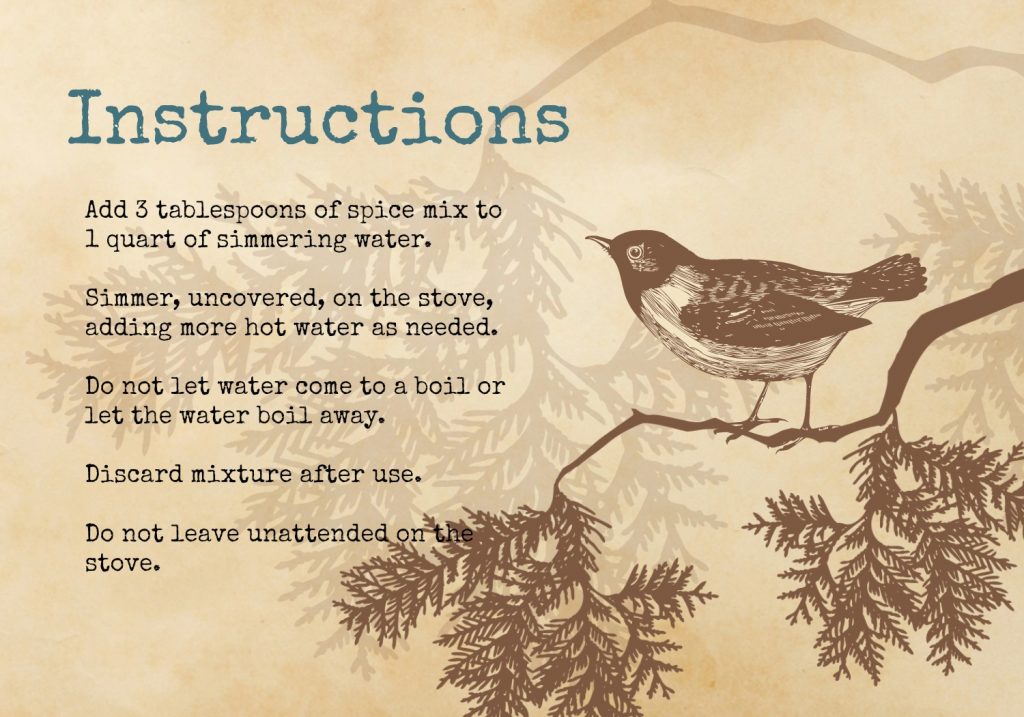 Jeanne Grunert is a certified Virginia Master Gardener and the author of several gardening books. Her garden articles, photographs, and interviews have been featured in The Herb Companion, Virginia Gardener, and Cultivate, the magazine of the National Farm Bureau. She is the founder of The Christian Herbalists group and a popular local lecturer on culinary herbs and herbs for health, raised bed gardening, and horticulture therapy.