You can make storage jars for your herbs that are beautiful as well as functional. If you're making my homemade mulling spice recipe, you can use a lovely decorative jar to give it as a gift.
Finding good storage jars for my dried herbs and flowers wasn't hard at first. I used old canning jars, handed down through my husband's family, that were not suitable for food preservation. As I ran out of jars, I needed an inexpensive solution.
Make Storage Jars for Your Herbs
This is my pantry and my herbal apothecary. I have a mix of jars right now, from left to right:
Modern mason jar
Old-fashioned canning jar with glass lid
Recycled glass jar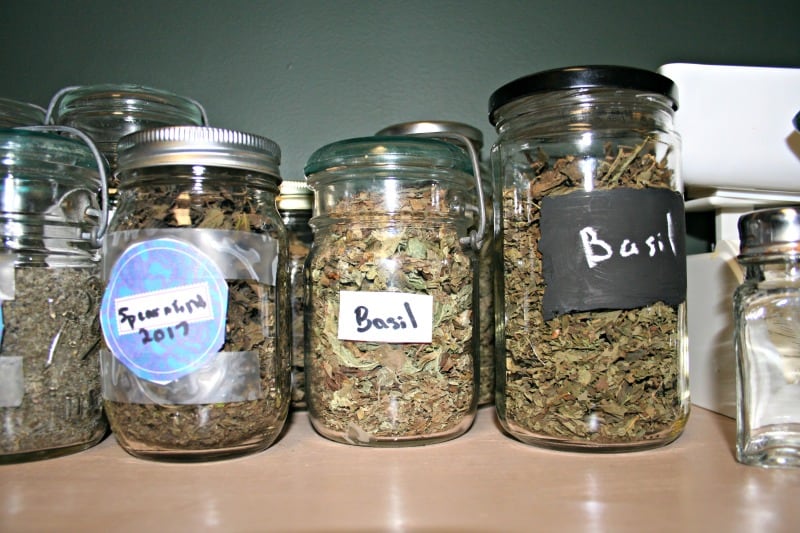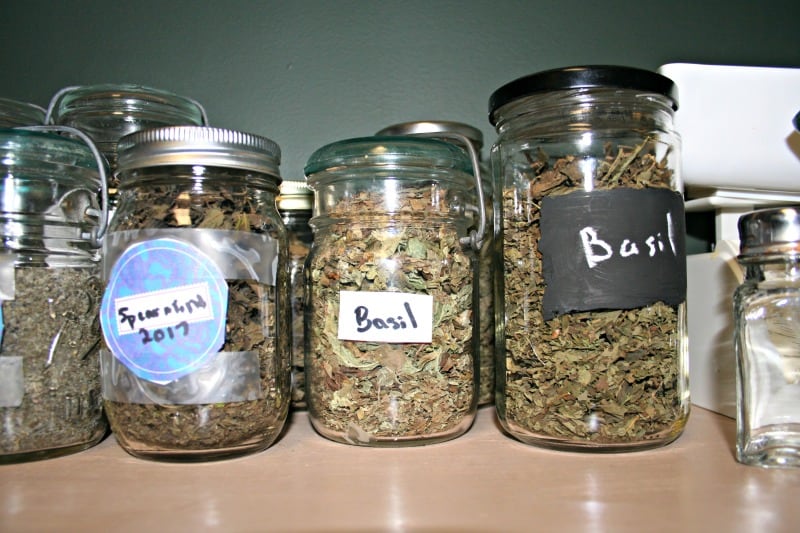 How to Make Storage Jars for Your Herbs
The recycled glass jar is now my favorite and my go-to for pantry storage. It's a spaghetti (pasta) sauce jar. I save old glass jars – spaghetti or pasta sauce, olives, jelly, you name it – and then transform them into pantry storage jars.
Clean thoroughly inside and out with liquid dishwashing soap and water.
Peel off as much of the label as you can. If it doesn't come off easily, soak the jar overnight in water. Remove with a paint scraper.
Remaining label or glue can be removed with nail polish remover (be careful if you have a manicure or you'll remove that, too!).
Place the jar in the dishwasher and run it through a cycle alongside your regular dishes to remove any lingering odors from the jar.
Place strips of masking tape on the clean, dried jar to outline a rectangle.
Use a sponge or firm tip paint brush and chalkboard (chalk) paint. Paint a square on the jar.
After the paint is dry, carefully peel off the masking tape.
Use a piece of chalk to mark the contents. You can re-use the jar by wiping off the chalked-on label after you have refilled it with different herbs.
My pantry is filling rapidly with these recycled jars. I paint them and use them for gifts, too! You can also decoupage them and glue trimming like ribbons or burlap onto the lid to make them extra festive. These jars are great for giving homemade natural simmering potpourri, for example, as Christmas gifts.
For the cost of a bit of paint and soap to clean the jar, you now have a simple storage system for dried herbs, flowers, beans, rice, and any dried product. Recycled jars are NOT suitable for long-term storage of perishable goods, steam or pressure canning.
More Garden Crafts
Jeanne Grunert is a certified Virginia Master Gardener and the author of several gardening books. Her garden articles, photographs, and interviews have been featured in The Herb Companion, Virginia Gardener, and Cultivate, the magazine of the National Farm Bureau. She is the founder of The Christian Herbalists group and a popular local lecturer on culinary herbs and herbs for health, raised bed gardening, and horticulture therapy.