I don't know about you, but I'm feeling cold and missing my garden. Here in south-central Virginia, snow blankets the ground and temperatures have remained below freezing during the day and in the single digits at night. And it's time to take down the Christmas decorations. Depressing? Yes, a little!
So how to chase away the winter blues? Roses. Roses are the answer. I don't care what the question is, roses are the answer. This press release from the David Austin company arrived in my inbox in the nick of time. Ready for some beauty and dreams of warmer days?
I present to you…the 2018 Handbook of Roses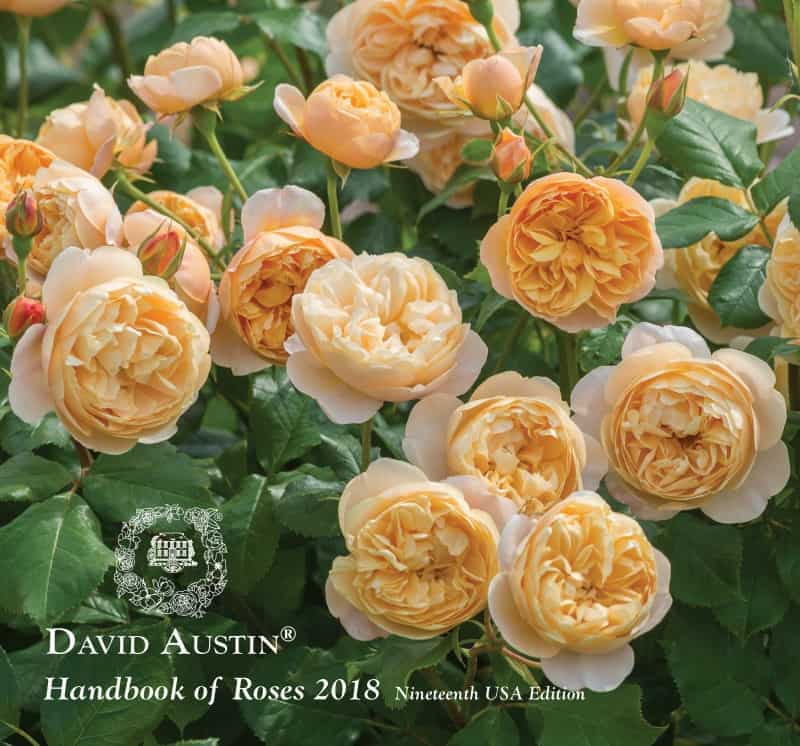 2018 David Austin Handbook of Roses
When gray clouds scud across a winter sky and the kettle is on the boil, it's obviously time to think – roses! So grab a "cuppa" as the Brits say, and curl up with David Austin's Handbook of Roses 2018. The meticulously-crafted,109-page catalog warms the heart with English Roses pictured in all their summer glory. Beautiful photography combines with evocative writing and delightful British turns of phrase to leave winter-weary gardeners gasping for more. The handbook is free upon request from 1-800-328-8893 or http://www.davidaustinroses.com/us/.
[Tweet "The David Austin Handbook of roses is available! A little spring dreaming in winter…."]
David Austin's world-class English Roses feature the perfume and exquisite flower forms of antique roses with the extended repeat-bloom, disease-resistance and color range of modern roses. With the addition of three 2018 introductions – peach-flowered 'Roald Dahl', lemon-meringue 'Imogen' and apricot-yellow 'Bathsheba' – there are now 116 English Rose varieties available in North America, all bred by award-winning British rose hybridizer David Austin. Different varieties can be grown, variously, as garden roses, climbers or tree roses.
The full North America assortment is available as bare root rose stock by mail order or online purchase from the Austin website or handbook. Once planted, bare root roses quickly root, leaf out and cover themselves in blooms.
Fans of Mr. Austin's garden roses will also appreciate the Handbook's photo gallery of his special luxury cut rose collection. Highly popular with brides, event planners, and gardeners, the cut rose collection now features 14 varieties of Austin's garden-style English Roses specifically bred for the vase. Available year-round by order through florists, the cut roses range in color from ivory, apricot, peach, yellow and old gold to magenta, red and all hues of pink.
Order Bare Root Roses Early, For Delivery at Planting Time
New and popular varieties tend to sell out quickly, so gardeners are encouraged to place their mail and internet orders early. While David Austin Roses accepts orders year-round, the bare root roses are shipped in early spring, timed to match the correct planting window in the recipient's area. In North America, bare root rose shipping season runs from January in warmer areas through mid-May in cooler areas. Bare root roses are live plants in a dormant state. All bare root English Roses shipped by David Austin are available as grafted (budded) stock. Thirty-four varieties are also available as own rootstock. The roses are shipped without soil, packed to keep their roots moist and healthy and ready for planting. When the weather warms up, fine garden centers coast-to-coast also sell a broad array of David Austin English Roses in 2-gallon nursery pots for planting during the growing season. All David Austin roses sold in North America are grown and shipped within North America.
David Austin's Handbook of Roses 2018 is free. To receive a copy by mail: visit http://www.davidaustinroses.com/us/; email US@davidaustinroses.com; call 800-328-8893; or write to David Austin Roses Ltd, 15059 State Highway 64 West, Tyler, Texas 75704.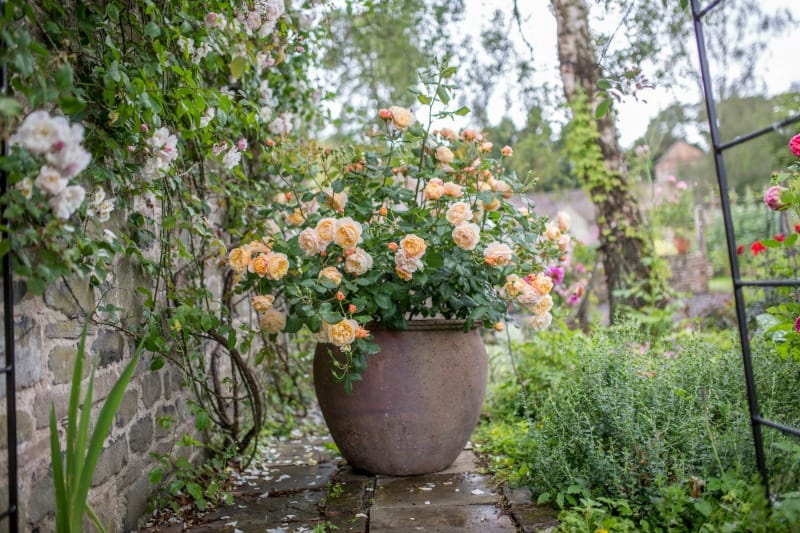 All images with this article provided by the David Austin Rose Company and are used under the following license:
Copyright: This image is provided copyright free for editorial purposes only. All other rights reserved. David Austin Roses Ltd.
Usage Restrictions: David Austin Roses
Jeanne Grunert is a certified Virginia Master Gardener and the author of several gardening books. Her garden articles, photographs, and interviews have been featured in The Herb Companion, Virginia Gardener, and Cultivate, the magazine of the National Farm Bureau. She is the founder of The Christian Herbalists group and a popular local lecturer on culinary herbs and herbs for health, raised bed gardening, and horticulture therapy.