My latest culinary adventure is making tomato sauce from scratch. I found the secret to using any type of garden tomato is to fire roast them before making them into sauce.
Fire roasting? Yes, fire roasting tomatoes.
Here's how to make tomato sauce from scratch!
Making Tomato Sauce from Scratch
I've always dreamed of making tomato sauce from scratch. It's not that I dislike store bought tomato sauce. I like it very much. But it's expensive and we always seem to run out.
This summer, the garden is overflowing with tomatoes. I haven't seen this many tomatoes in a long time.
All of the 'experts' say that you can't make tomato sauce from regular beefsteak tomatoes. Well, I experimented with several recipes and guess what? You CAN make tomato sauce with beefsteak tomatoes. In fact, any garden tomato works well when making tomato sauce from scratch!
Tomatoes to Use
The best tomatoes to use to make tomato sauce or spaghetti sauce are paste tomatoes, such as the Hungarian paste tomato, shown below.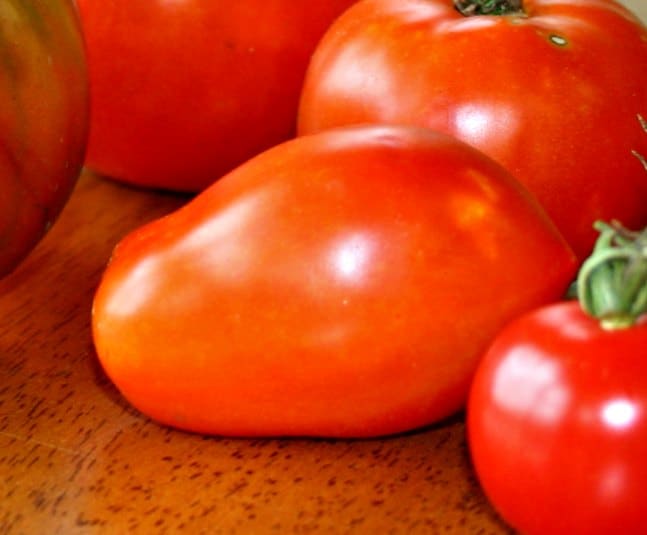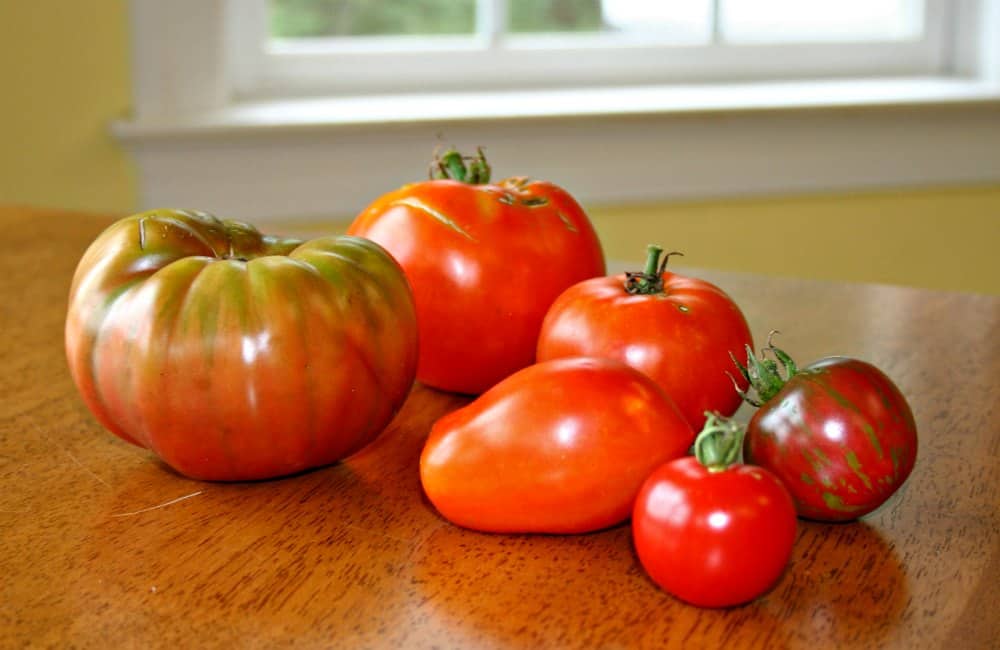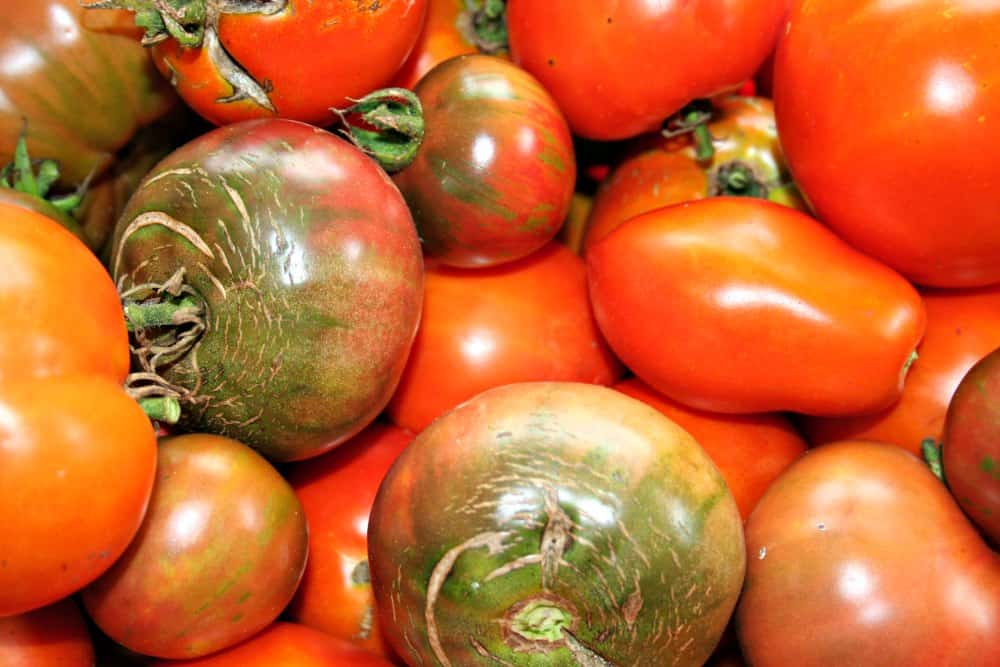 When choosing tomatoes for sauce, look for 'meaty' ones with little juice inside. The more juice in the tomato, the runnier the sauce. That's why cookbooks recommend paste tomatoes. These tomatoes have a higher flesh to water content and cook down into better sauce.
Fire Roasting Adds Flavor
Here's the secret: fire roasting.
Fire roasting means cooking tomatoes in the oven or roasting them at a very high temperature. They brown or blacken around the edges and sometimes crisp up, but when blended into sauce, they taste great. The oven roasting process also cooks out a lot of the extra moisture so that when you are making tomato sauce from scratch it doesn't come out too runny (although I did drain off some of the excess water).
Here's my recipe for making tomato sauce from scratch.
Enjoy more delicious ways to use tomatoes from your home garden with our tomato recipes!
Making Tomato Sauce from Scratch
Fire roasted tomatoes, blended with garlic and herbs, then cooked in a slow cooker make this sauce made from any kind of garden tomato the perfect consistency. To make a thicker sauce, use paste-type tomatoes.
Ingredients
10-20

pounds

fresh tomatoes

Core them and cut into halves

1

clove

garlic

Mashed or pressed

1

teaspoon

dried basil

1

teaspoon

dried oregano

1

tablespoon

Salt

1/4

cup

Sugar

(Optional)
Instructions
Preheat the oven to 425 degrees F.

Wash tomatoes. Slice tops off, then cut them in half. Place halves in an oven proof baking dish. Line them up so that they touch.

Roast in the oven at 425 degrees for one to two hours. When they begin to burn a little, take them out. Let them cool at room temperature.

Once cool, place tomatoes, herbs, sugar and garlic in a blender. Blend on puree setting until smooth, about 20-30 seconds.

Pour mixture into a Crock Pot or Slow Cooker.

Simmer on LOW for 4-8 hours with the lid off or slightly ajar to allow steam to escape.

Stir and enjoy! If you want to freeze the extra, allow it to cool, then pour it into a freezer-safe container.
Notes
Canning Tomato Sauce
You can also can tomato sauce that you made from scratch. Use a hot water bath canner. Clean jars and place 1 tablespoon of lemon juice and 1/2 teaspoon of salt into each jar. Ladle the sauce into the jar, leaving 1/2 inch of headspace. Place lid and screw band onto jars after cleaning the rims. Process in a hot water bath canner for 35 minutes (pints). I leave the seeds in my tomato sauce...if you really want to get fancy, a food mill will reduce the seeds.
Jeanne Grunert is a certified Virginia Master Gardener and the author of several gardening books. Her garden articles, photographs, and interviews have been featured in The Herb Companion, Virginia Gardener, and Cultivate, the magazine of the National Farm Bureau. She is the founder of The Christian Herbalists group and a popular local lecturer on culinary herbs and herbs for health, raised bed gardening, and horticulture therapy.