This butternut squash soup recipe came in handy when my garden overflowed with the vegetable this year. It makes a thick, hearty soup. If you have home canned chicken or turkey broth, so much the better.
Butternut Squash Soup Recipe
Jump to Recipe
I like to bake several butternut squash in the oven when I am cooking other food so that I have some on hand to make into other recipes or eat for lunch or dinner. While I baked chicken for dinner, I cooked the squash. Then, the cooled squash was ready to peel, dice, and add to the recipe.
Try this recipe for butternut squash soup in the fall when squash is plentiful and inexpensive. Adding a green apple such as a Granny Smith lends sweetness as well as tartness to the recipe. I used a Jonathan apple from one of our trees. The taste was sweet and flavorful.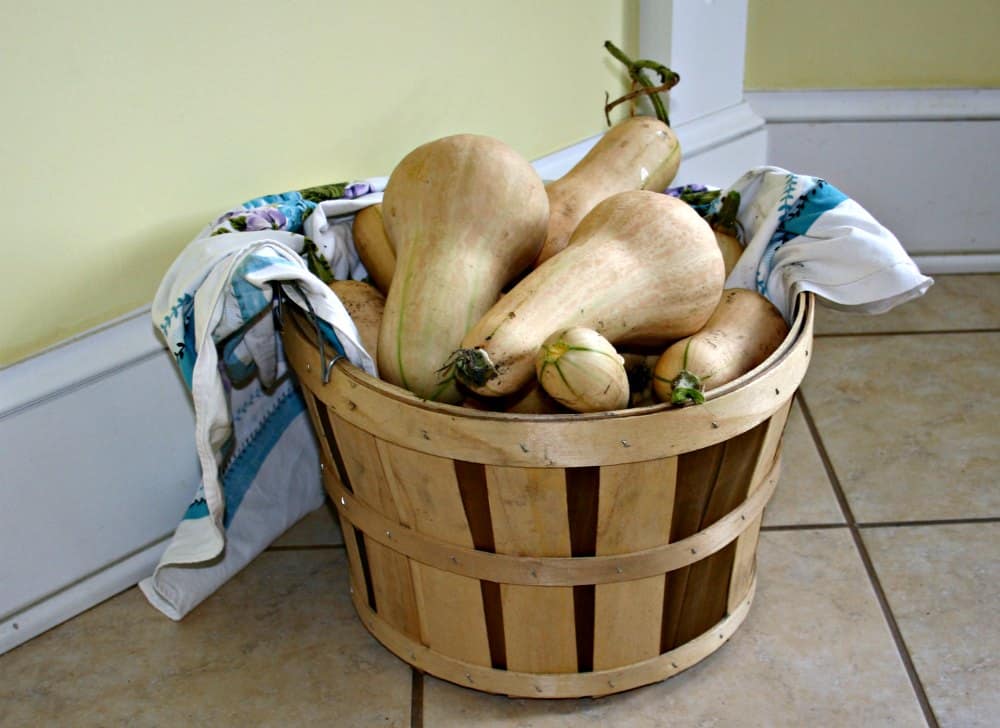 Homemade Chicken or Turkey Stock
Another plus with this recipe is that I could use some of the homemade chicken or turkey stock I had made and canned. My method of making homemade stock is quite simple. It's a great way to make bone broth, chicken broth, or turkey broth without spending hours in the kitchen.
Gardeners are a generous lot. When I was growing up, it wasn't uncommon for neighbors to share their produce with our large family. Fresh tomatoes, rhubarb, strawberries, asparagus…it was all a gift, shared freely, from neighbors who had extra.
I try to "pay it forward" whenever my garden obliges and this year afforded me a good opportunity to share of the bounty of vegetables from my organic garden. Too many tomatoes, cantaloupe, herbs, and butternut squash meant I had plenty to give away.
My friend Karel at church gladly accepted some of the butternut squash and cantaloupe and mentioned she had a soup recipe I might like. Would I care to try it? Yes, please!
She mailed me the recipe, and I tinkered with it, and the result is this butternut squash soup recipe. It is not exactly the same as Karel's recipe but close enough.
This recipe was originally posted August 2018. It was updated February 2022 with new images, links, and text.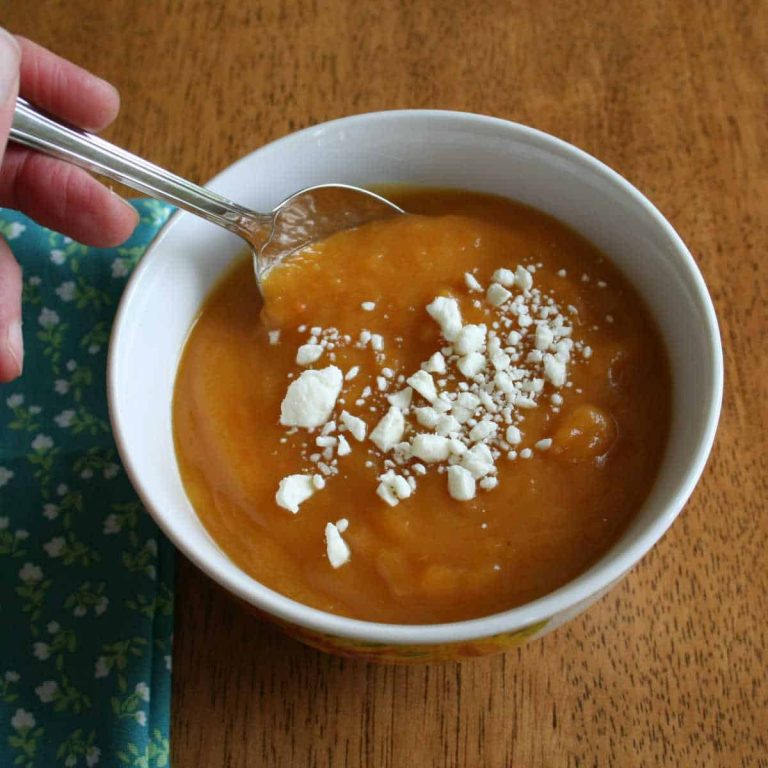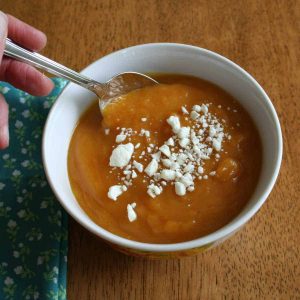 Butternut Squash Soup Recipe
A rich, flavorful soup filled with nutritious garden vegetables. For a vegan recipe, substitute vegetable broth for chicken or turkey stock.
Ingredients
2

butternut squashes, seeded

1

apple

Granny Smith is best; Jonathan is great too

1

carrot

peeled and diced

1

pint

chicken or turkey broth

1/4

cup

feta chunks

(optional garnish)

1/4

cup

pumpkin seeds

(vegetarian optional garnish)
Instructions
Cut the stem end off of the squash. Cut the squash in half. Remove seeds. Place cut-side down on a Pyrex baking dish and dish with an inch of water. Bake for 45 minutes at 350 degrees F or until squash is soft. Remove; let cool.

Peel and core an apple. Peel and dice carrot.

Place the chicken or turkey stock in a large saucepan. Add apple, squash, carrot. Bring to a boil, then simmer, uncovered or partially covered, for 30 minutes or until vegetables and fruit are tender.

Remove from heat and allow to cool.

Pour cooled soup and vegetable mix into blender and puree on low setting until smooth.

Return mix to saucepan and heat until desired temperature. Pour into bowls and garnish with feta chunks or pumpkin seeds as desired. Any remaining soup should be refrigerated until reheated and enjoyed.
Jeanne Grunert is a certified Virginia Master Gardener and the author of several gardening books. Her garden articles, photographs, and interviews have been featured in The Herb Companion, Virginia Gardener, and Cultivate, the magazine of the National Farm Bureau. She is the founder of The Christian Herbalists group and a popular local lecturer on culinary herbs and herbs for health, raised bed gardening, and horticulture therapy.