This zucchini pecan muffin recipe converts even a confirmed zucchini hater into a fan. It provides a heft serving of zucchini hidden inside a rich, moist  muffin.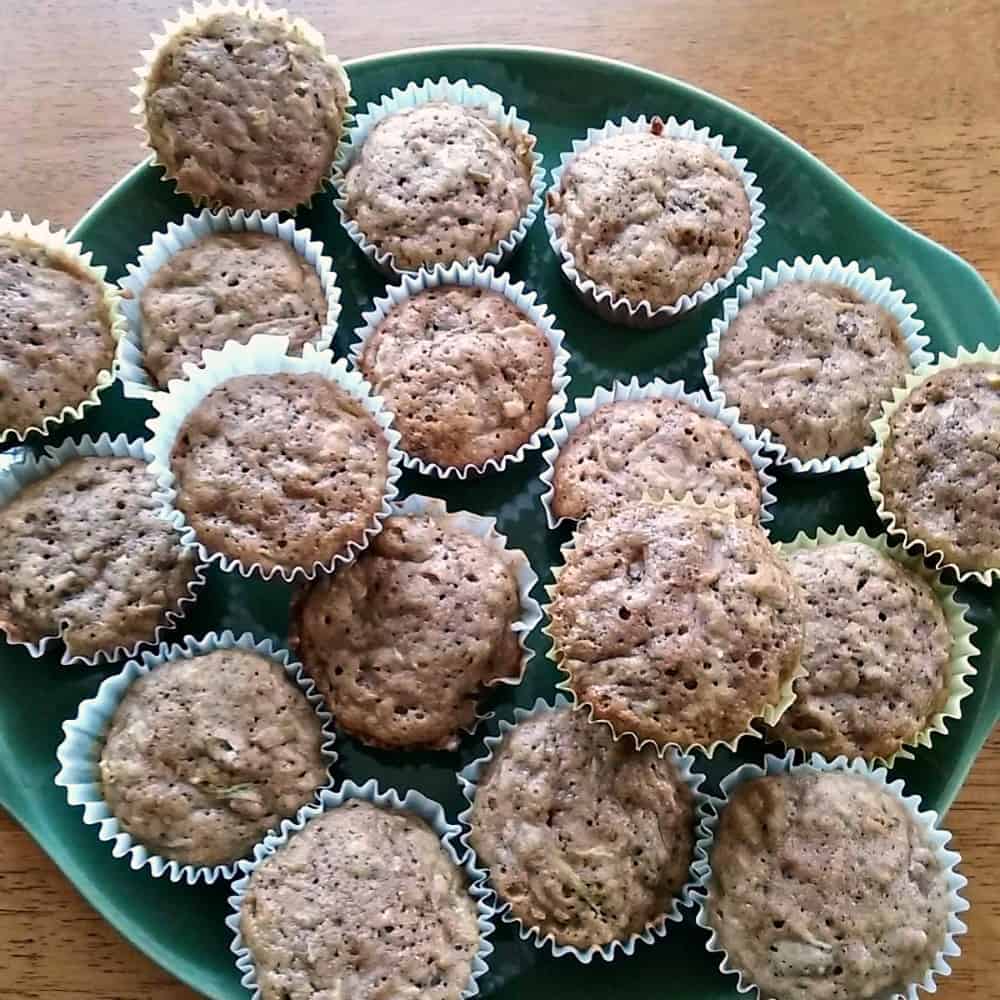 Zucchini Pecan Muffin Recipe
We're at that point mid-summer when gardeners joke about leaving zucchini on their neighbors' porches, like the old game of ring and run except with vegetables as the gift instead of a bag of you-know-what.
Poor, much-maligned zucchini. It's one of my favorite vegetables, probably because it grew so abundantly in my childhood garden.  Zucchini must be picked promptly or it can grow so quickly it becomes inedible within days.
Any variety of zucchini will do for this recipe.  If you do not have zucchini, fresh summer squash may be substituted.
My mother sautéed zucchini with chopped onions in butter – still my favorite way of enjoying zucchini.
My husband's mother did the same but smothered the results in tomato sauce. She tended to smother everything in tomato sauce, probably because my father in law, thanks to his time spent serving in the Army during the Korean War, learned to kill the taste of food he didn't like with ketchup.
Alas, poor zucchini. Some people love you, some hate you, but I don't want to smother you in ketchup. Instead, I prefer to cook you into delectable baked foods that freeze well, like this zucchini pecan muffin recipe.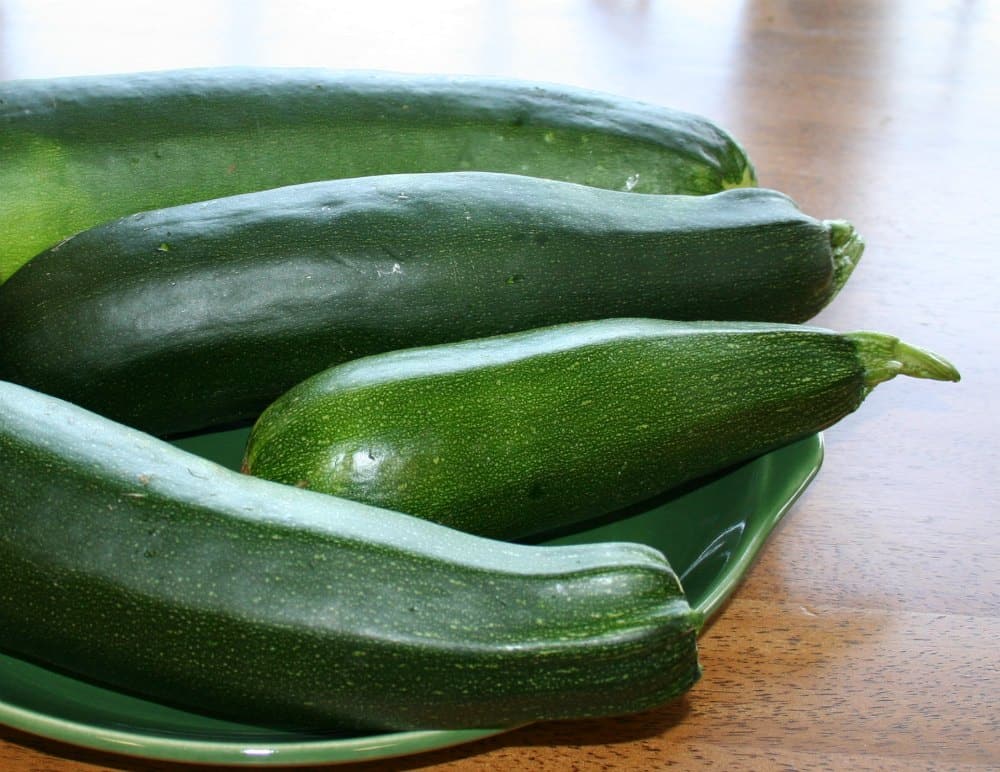 How Much Zucchini Do You Need for This Recipe?
Five pounds of zucchini, peeled and shredded, made 84 muffins and two loaves of chocolate pecan zucchini bread. Any variety of zucchini will do for this recipe.  If you do not have zucchini, fresh summer squash may be substituted.
Use muffin paper liners to make it easy to bake several batches. Otherwise, if you grease the pans, you'll end up doing a lot of scrubbing between batches.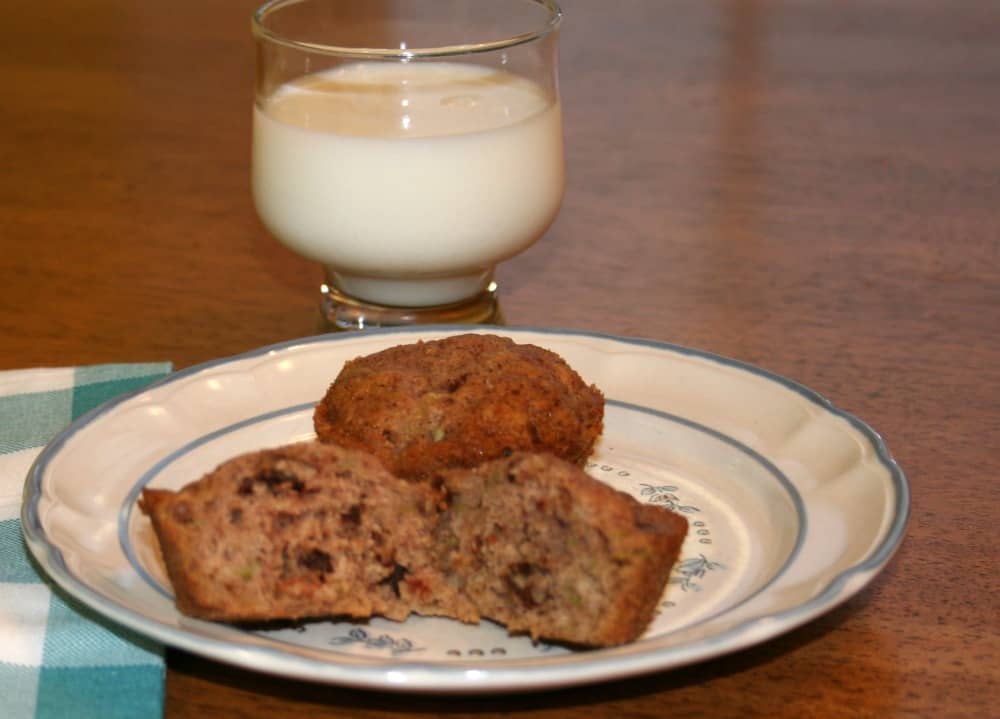 Zucchini Pecan Muffin Recipe
A moist, cinnamon-flavored muffin filled with shredded zucchini. Freeze extra muffins in zippered freezer bags for up to 6 months. Use paper muffin paper liners to make clean up a breeze.
Ingredients
2

eggs

Eggs

1

cup

Sugar

1/2

cup

Vegetable Oil

1

tablespoon

Vanilla Extract

2

cups

Peeled, Shredded Zucchini

1/2

cup

Raisins

1/2

cup

Chopped Pecans

2

cups

All-Purpose Flour

1

teaspoon

Baking Soda

1

teaspoon

Baking Powder

1/2

teaspoon

Salt

1 1/2

teaspoons

Ground Cinnamon
Instructions
Preheat the oven to 350 degrees F.

Slice the ends off the zucchini. Peel. Using a food processor with a shredding blade or a box grater's shred side, shred the zucchini to obtain two cups of shredded vegetable. Set aside.

In a mixing bowl, stir together by hand the dry ingredients: flour, baking powder, baking soda, salt, cinnamon, pecans and raisins. Make a well in the center and set aside.

In a separate bowl, mix by hand the eggs, sugar, oil, vanilla and drained zucchini.

Pour the wet ingredients into the well in the center of the dried ingredients. Mix by hand until thoroughly blended.

Use an ice-cream scoop to scoop the batter into lined muffin tins. If you don't have paper liners, grease the bottom and sides well.

Place filled muffins tins into the oven. If any compartments aren't filled with batter, add water to fill the empty compartments in the muffin tin halfway with water. This ensures the muffins cook evenly.

Bake for 20 minutes or until toothpick inserted into center comes out clean. Cool at room temperatures before storing in freezer bags. Enjoy within two days for unfrozen, fresh muffins
Jeanne Grunert is a certified Virginia Master Gardener and the author of several gardening books. Her garden articles, photographs, and interviews have been featured in The Herb Companion, Virginia Gardener, and Cultivate, the magazine of the National Farm Bureau. She is the founder of The Christian Herbalists group and a popular local lecturer on culinary herbs and herbs for health, raised bed gardening, and horticulture therapy.