This fall apple cabbage salad recipe adds a delicious, healthy, nutrient-dense offering to your collection of salad recipes. It's sort of a cross between a slaw, a fruit salad, and a regular salad, and it's absolutely scrumptious. Homemade buttermilk dressing enhances the flavors.
Salad Recipes: Fall Apple Cabbage Slaw
I was looking for more salad recipes this week and came across some ideas, which I mashed together to create this nutrient-dense, delicious Fall Apple Cabbage Slaw recipe.
Our family doctor sent us home with a reading list of books and recommendations to embrace a more plant-based diet. I thought I was eating a plant-rich diet but after reviewing her dietary recommendations and those in the books she put on our list – Forks Over Knives, The End of Dieting – I decided to take it another step further.
The diet itself is easy to follow and frankly, delicious. The worst part for me is giving up almost all refined sugar and flour. I've always had trouble with sugar; it's my Achilles heel. Well, with this salad for lunch, I don't miss sugar at all!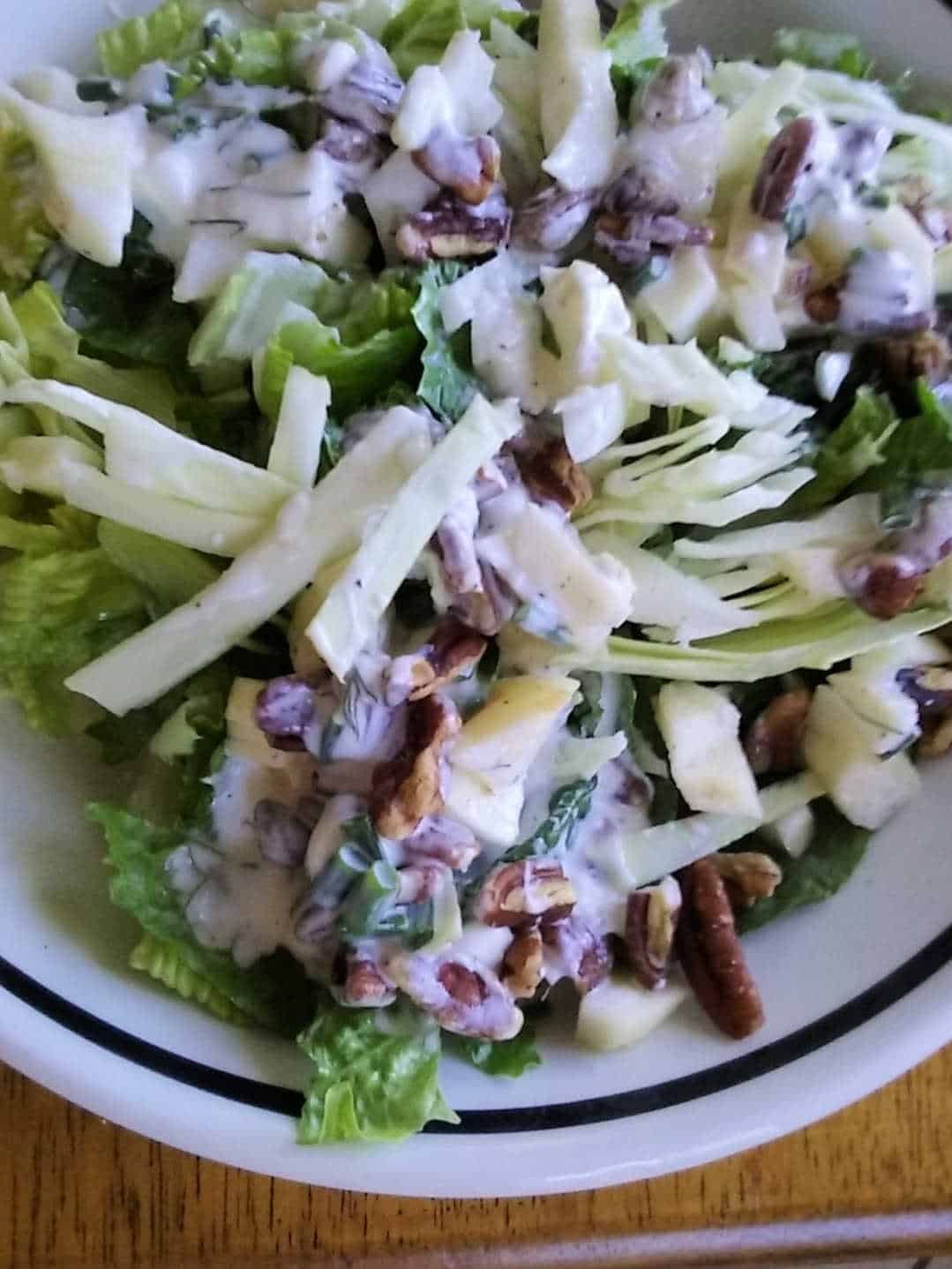 Fall Salad Recipes: Nuts Add Health Benefits and Crunch
Fall flavors enhance the bright flavor of the Romaine, cabbage, and homemade buttermilk dressing on this salad. Recipes for salad dressing always intimidate me, but this one is easy, and I had the buttermilk on hand from making the Pumpkin-Buttermilk Biscuits over the weekend.
As part of this new "nutritarian" diet that the doctor recommended to my family, I am adding nuts to many meals. Everyone complains that nuts are fattening but in moderation, they are very good for you. This recipe includes pecans but walnuts work just as well.
Lastly, the homemade buttermilk dressing adds herbs fresh from the garden to zest things up. I used dried dill from my garden as well as fresh chives and garlic. Health benefits galore plus incredible flavor!
Are you ready to add more green vegetables, fresh herbs, and healthy, nutrient-packed foods to your diet? This recipe is a great start!
Fall Apple Cabbage Slaw Salad Recipre
Make this salad-as-a meal or serve portions for dinner. It's packed with vitamins, minerals, fiber, and taste. Plus, you get to use garden herbs in the dressing.
Ingredients
Apple Cabbage Slaw Salad
1

head

Romaine lettuce hearts

Use 1 head of bagged Romaine hearts or take outer leaves off a head of Romaine.

1/4

cup

Cabbage

1

small

Apple

1/4

cup

Pecans
Buttermilk Herb Salad Dressing
3/4

cup

Buttermilk

1/2

cup

Sour Cream

1/4

cup

Mayonnaise

2

cloves

Garlic, peeled and minced

1/4

teaspoon

Dried dill

1

tablespoon

Diced fresh chives

1

tablespoon

Juice of a fresh lemon

dash

Salt and Pepper
Instructions
To make the salad, wash the lettuce and cabbage. Dice into thin matchstick-sized pieces and arrange on a plate.

Peel and dice an apple. Any apple will do (I used an Empire). Place on top of the lettuce and cabbage.

Sprinkle pecans on top.
Buttermilk Dressing
I mixed the dressing in a large Mason jar. Add buttermilk, mayo, sour cream, and juice of lemon.

Dice garlic and chives, add along with the dill, salt and pepper.

Cover and shake to mix the dressing.

Pour dressing (about half) over the salad. Refrigerate the remaining dressing for up to 3 days, covered.
Notes
I'm really getting into this "nutritarian" diet and can't wait to try more recipes. I made a promise that I would try it for six months. It will be even more fun in the spring and summer when the fresh garden vegetables are available.
Jeanne Grunert is a certified Virginia Master Gardener and the author of several gardening books. Her garden articles, photographs, and interviews have been featured in The Herb Companion, Virginia Gardener, and Cultivate, the magazine of the National Farm Bureau. She is the founder of The Christian Herbalists group and a popular local lecturer on culinary herbs and herbs for health, raised bed gardening, and horticulture therapy.