Pumpkin recipes offer a taste of the season with added benefits: they tend to be slightly higher in fiber and nutrients than other recipes. These buttermilk biscuits are light, flavorful, and perfect for a fall meal.
Pumpkin Recipes – Buttermilk Biscuits
Last night, after a busy day of church, food shopping, gardening chores and visits with neighbors, a simple fall supper was in order. If I open a can of soup for dinner, I try to add to the meal with some homemade bread, biscuits, or side dishes.
This pumpkin recipe came originally from the Cooking Light 2004 cookbook, but I had amended it slightly to add a bit more flavor and tone down the side butter which we found too sweet.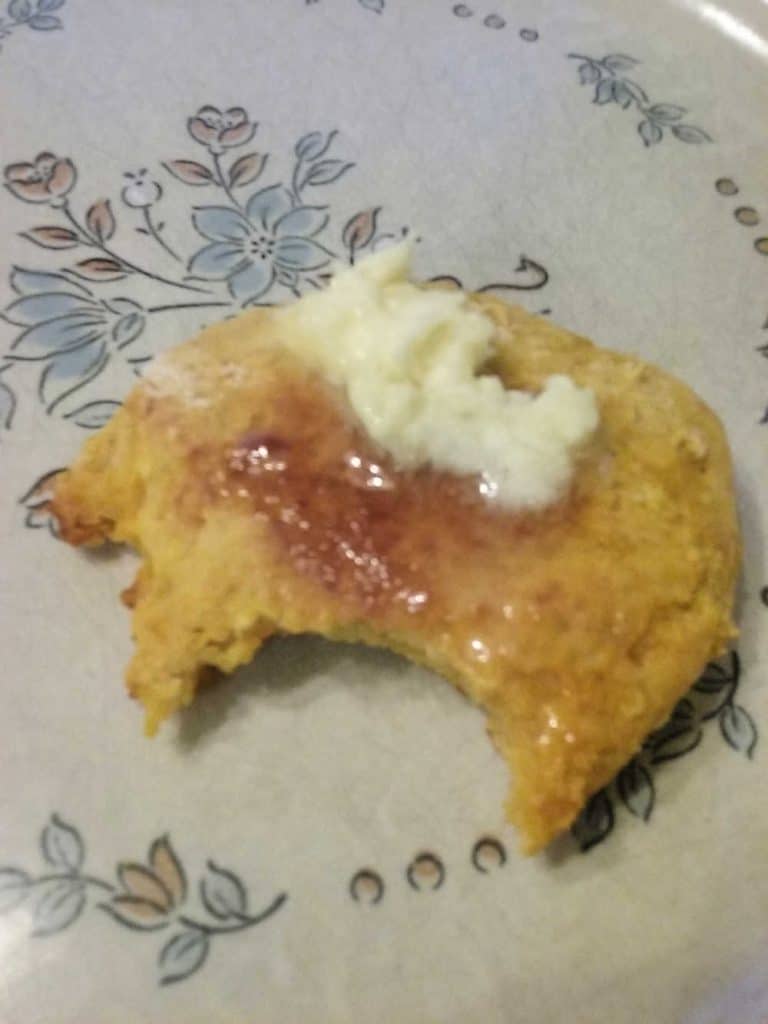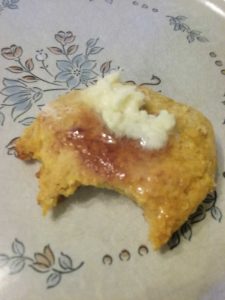 The Biscuits: Pumpkin and Buttermilk for Flavor
The main biscuit recipe calls for pumpkin. I use canned pumpkin, but you can cut up and use a Halloween pumpkin as long as you have not treated it to prevent rotting. Treated pumpkins should not be cooked.
To cook a pumpkin, preheat the oven to 300 degrees. Cut the pumpkin into pieces. I save the seeds to roast later. Discard what we call the pumpkin guts – the sticky stuff near the seeds.
Add the cut pieces of pumpkin to a roasting pan with water up to about 1/4 of an inch or slightly higher in the bottom and roast for an hour. That should bake the pumpkin flesh to a tender consistency. Cut away the rind, and puree, mash or enjoy rest in pumpkin recipes like this one.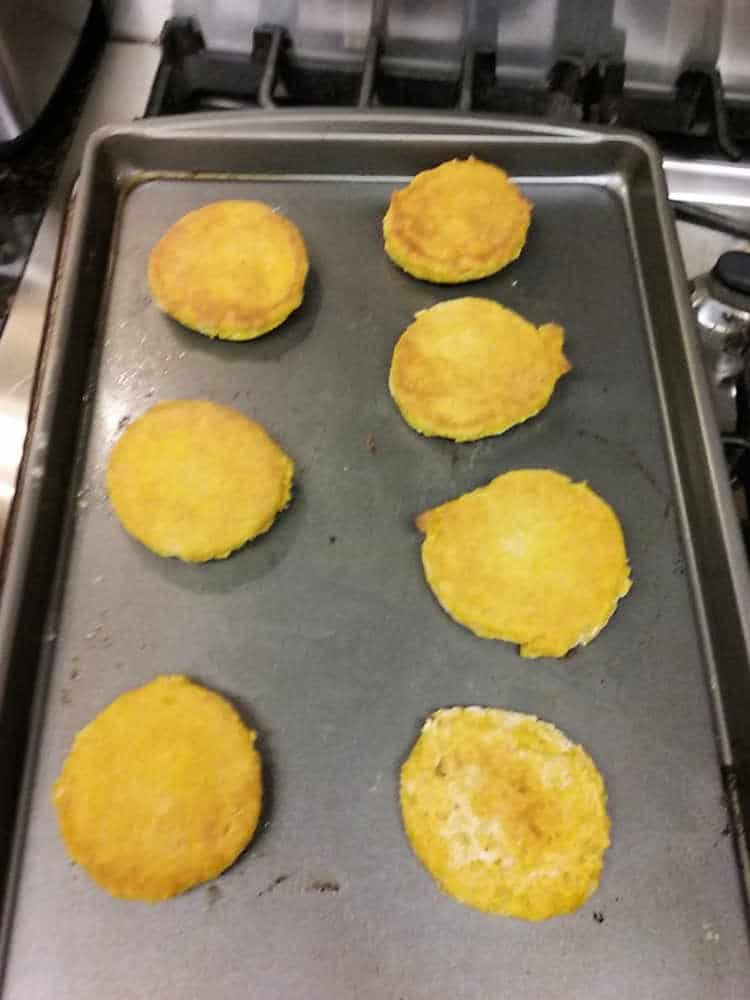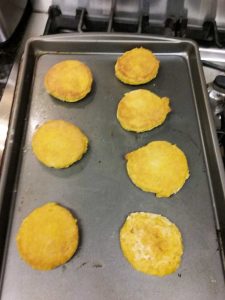 Don't Have a Biscuit Cutter? Use a Glass
If you don't have a biscuit cutter, you have two options. One option is to find a drinking glass with a diameter approximately the size of the biscuits. Dip the rim in flour, then use it as a cutter to shape your biscuits.
I actually prefer scooping up a bit of flour, rubbing my palms with it, and making a ball of biscuit dough. Next, I put the ball of dough on the coated pan and gently pat it into a circle with my palms. I used both methods to form the biscuits and my husband preferred the slightly lumpier hand-molded ones to the ones I cut into circles. They also rose higher and seemed fluffier.
Our fall supper last night consisted of lentil soup with these pumpkin buttermilk biscuits on the side. It was a great ending to a wonderful fall weekend.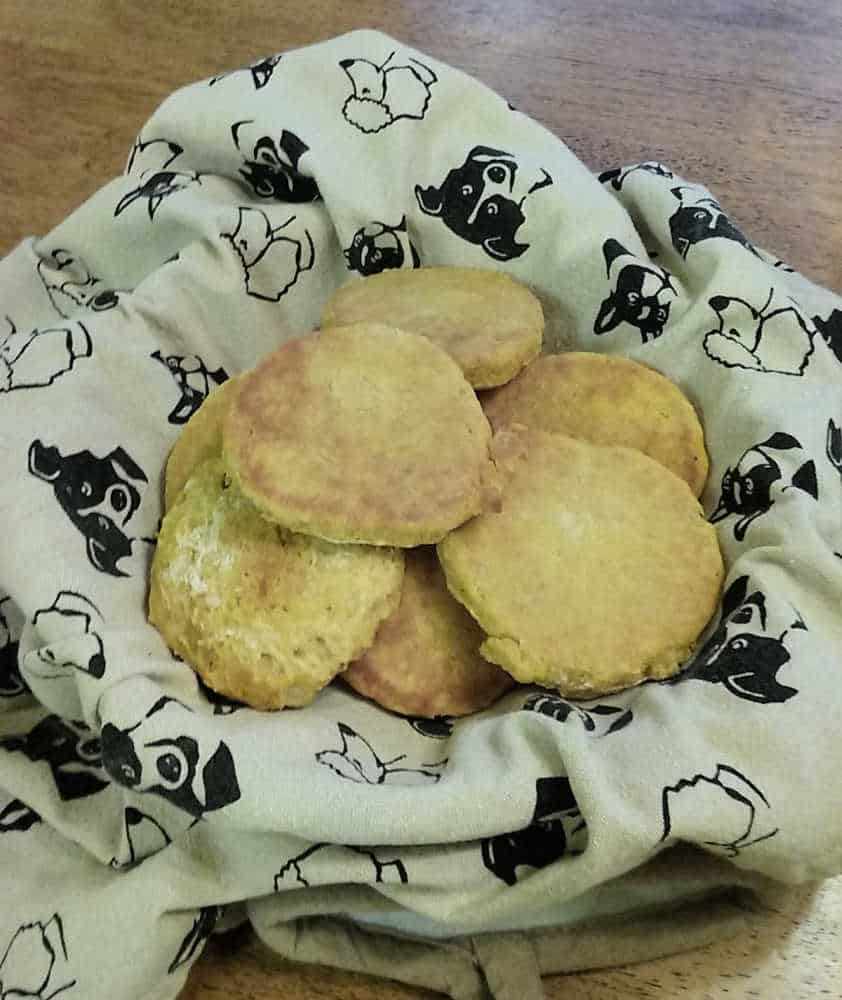 Pumpkin Buttermilk Biscuit Recipe
A buttermilk and pumpkin recipe that infuses flavors of fall into an easy biscuit dough.
Ingredients
2

cups

white flour

3

tablespoons

white sugar

2

teaspoon

Baking Powder

1/2

teaspoon

Salt

1/4

teaspoon

cinnamon

1/8

teaspoon

nutmeg

3/4

cup

buttermillk

use real buttermilk for best results

1/2

cup

pumpkin puree

use canned or fresh pumpkin (not pumpkin pie filling)

spray

cooking spray

1/2

teaspoon

Baking Soda

1

stick

cold butter

Use 1/2 stick for the batter and reserve the rest for the side spread.

1

teaspoon

honey
Instructions
Preheat the oven to 450 degrees. Lightly flour a breadboard.

In a large bowl, mix the dry ingredients – flour, sugar, baking powder, salt, cinnamon, nutmeg, baking soda, baking powder.

Using a pastry blender or two knives, cut 1/2 stick (quarter of a cup) of butter into the dry ingredients until it resembles coarse meal.

Mix pumpkin puree and buttermilk, then add it to batter mix. Stir it by hand until well mixed.

Spray cooking spray lightly onto baking sheets.

Flour your bread board and hands. Turn the dough onto floured surface and knead for a minute, then pat into a layer about 1/4 to 1/2 inch thick.

Using a biscuit cutter, glass or your hands, shape it into 12 biscuits. Place each biscuit slightly apart onto a cookie sheet sprayed with cooking spray.

Bake for 10-12 minutes until golden. Cool at room temperature and serve warm with honey butter.

To make the honey butter, soften the remaining butter and mash in the honey. Serve on the side.
Jeanne Grunert is a certified Virginia Master Gardener and the author of several gardening books. Her garden articles, photographs, and interviews have been featured in The Herb Companion, Virginia Gardener, and Cultivate, the magazine of the National Farm Bureau. She is the founder of The Christian Herbalists group and a popular local lecturer on culinary herbs and herbs for health, raised bed gardening, and horticulture therapy.