Broccoli rabe recipes tend to use tons of salt, oil, and fat to add flavor. Fats such as olive oil and the drippings from bacon, pancetta, and ham do increase the body's ability to absorb the wide array of important vitamins and minerals found in broccoli rabe, but I needed to cut back on the salt for my family's diet. This recipe for classic Rustic Broccoli Rabe with Potatoes eliminates all added salt and uses just a pinch of ham for flavor.
What Is Broccoli Rabe?
Broccoli rabe – also called rabe, rapini, broccolini, and a bunch of other names – is a cruciferous vegetable related to turnips. That may be a turnoff for some. Heck, I like turnips – and I love rabe! It's super easy to grow and hard to find in the grocery store. I'm not sure why that is unless farmers just don't have a big call for the bitter leafy greens.
They should, because if you knew how tasty and nutritious they are…you'd start demanding them from your local grocery store. It has only about 9 calories per cup, 20% of your vitamin A, and no cholesterol. Plus, it tastes good and contains a lot of phytochemicals, antioxidants, and all the goodness associated with cabbage. You really can't go wrong growing and eating this stuff.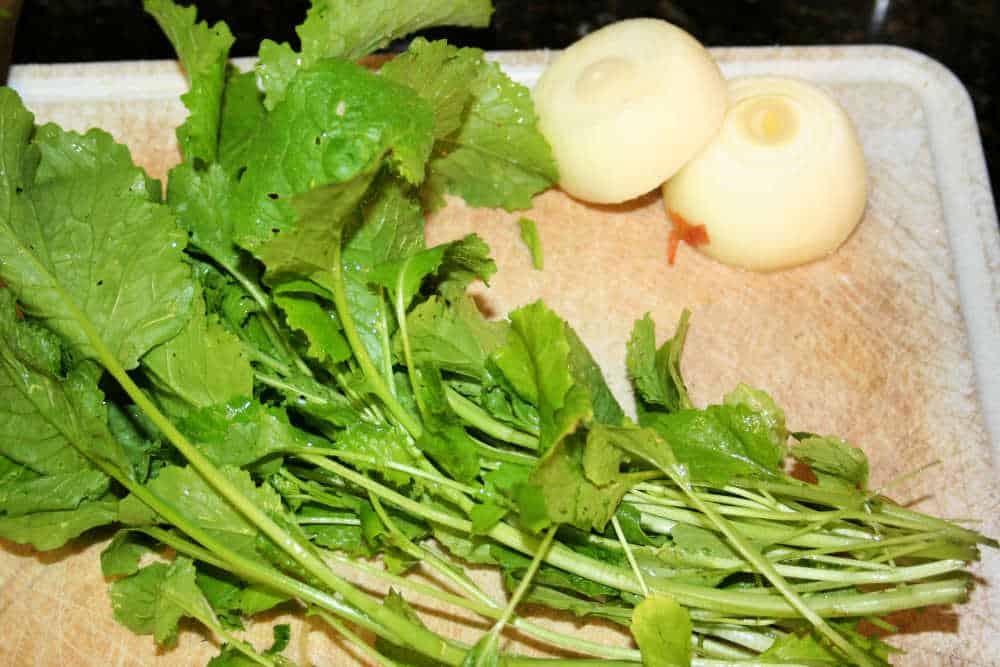 Broccoli Rabe Recipes
Here on Home Garden Joy, I've sung the praises of broccoli rabe for so long that readers are probably familiar with the vegetable. I'm testing new broccoli rabe recipes this year so that I've got a whole bunch built up for a cookbook I'd like to share with my readers. Each recipe gets adapted and adjusted so that it's healthier (less salt, less cholesterol) and packed with taste.
This recipe is no different. I found the base recipe online but can't find the link now (if I can find it, I will add it). I changed it, adapted it, and fussed with it until I halved the fat, eliminated all the extra sodium, and made it my own.
Ready to get cooking? Let's go!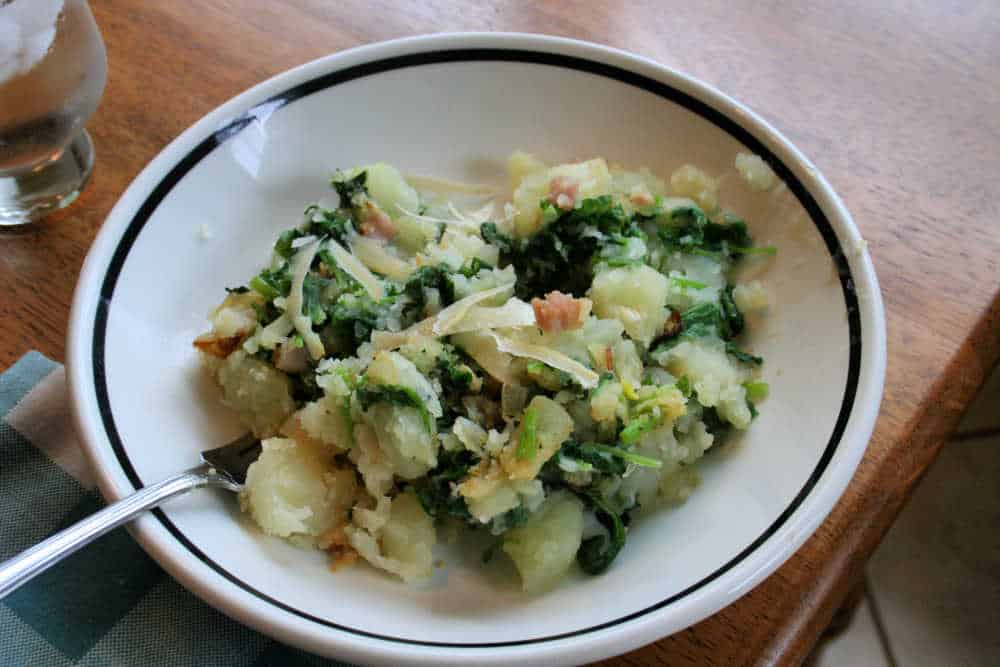 Broccoli Rabe Recipes - Rustic Rabe with Potatoes
A rustic dish that can be served on its own or accompany sausage.
Ingredients
1

large bunch

broccoli rabe

take leaves off, discard stems, dice

2

large

potatoes

peeled and quartered

4

tablespoons

olive oil

4

cloves

diced garlic

1/4

cup

diced onion

1/4

cup

diced cooked ham

2

tablespoons

diced fresh sage
Instructions
Peel and cut potatoes into cubes. Place in a pot of cold water. Bring to boil. Boil for 12 minutes.

While potatoes boil, prepare the rabe. Wash it well. Discard stems. Dice leaves and tender stems into small pieces.

When potatoes are done, add rabe to the boiling water and boil with potatoes for 3 minutes. Drain and set aside.

Clean and dry the pot used to cook the potatoes. Dice the onion, ham, garlic and sage. Pour olive oil into pot. Heat. When oil is hot, sautee onions until brown.

Add ham and continue sautee 1-2 minutes more. Add garlic and sage. Sautee for another minute.

Return potatoes and rabe to the pot with the ham, sage, onion and garlic. Mix together,mashing the potatoes a little with the spoon.

Serve warm and add grated parmesan or romano cheese if desired.