Edible flowers are both beautiful and delicious! This year, I grew both borage and nasturtiums just for their edible flowers.

A Fancy Feast with Edible Flowers
If you want to look absolutely fancy…try edible flowers. Not just any flower (please be careful and get a good list of edible flowers!) is edible, but those that are can really add beauty and a unique taste to foods at special events.
I remember the caterers at my wedding. They asked me what my favorite flower was and I said, "Pansy." Sure enough, my wedding cake and the cake table was festooned with pretty purple pansies. It made it very memorable!
Below are two easy ways to enjoy borage, an edible herb and flower, and nasturtium, an edible flower. Remember, please be sure to check the variety and type of plant carefully before eating any flowers. Some aren't just nasty tasting but poisonous.
The following includes affiliate links. We participate in the Amazon Services LLC Associates Program, an affiliate advertising program designed to provide a means for us to earn fees by linking to Amazon and affiliate sites. Thanks so much for being a part of Home Garden Joy!
Two Easy Edible Flower Recipes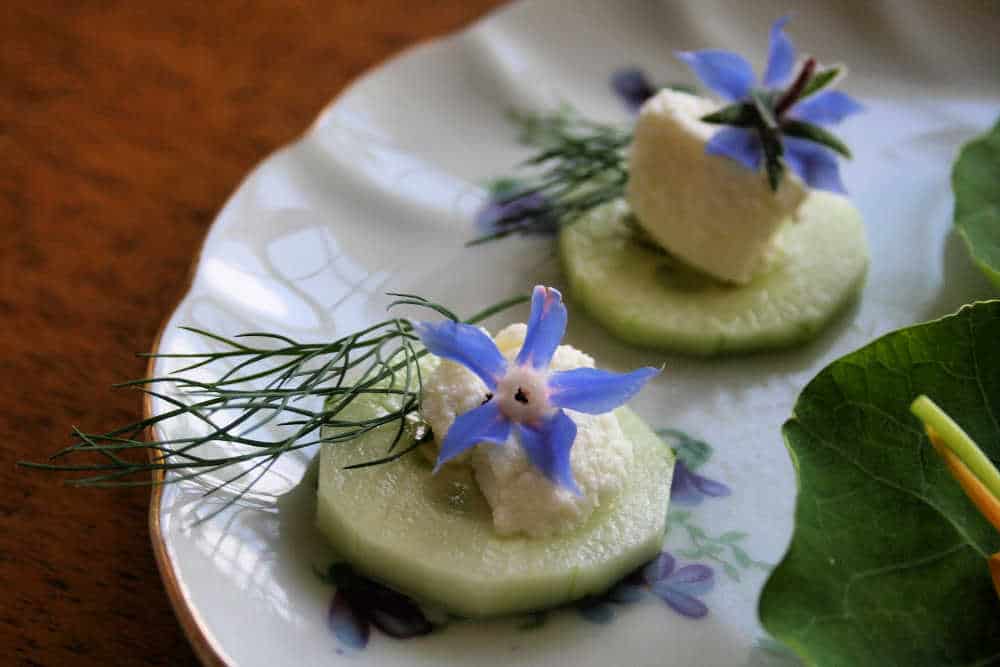 Borage Flower and Cucumber Canapes
These borage flower, dill, and cucumber canapes are super easy to make.
Peel and slice the cucumber into rounds. Arrange them on a plate.
Add a small dollop of ricotta cheese to the cucumber slices.
Place a borage flower on top of each portion of ricotta.
Arrange dill next to the cucumber slice.
Sprinkle with salt and pepper to taste.
Serve immediately.
Some people say that borage tastes like cucumber, but I find it has a taste all its own. I love it – and so do the ants. I didn't realize this when I harvested my borage flowers today and ended up shaking off the ants on my way back to the house with my bowl full of flowers and herbs for lunch. A word to the wise…check the flowers for ants.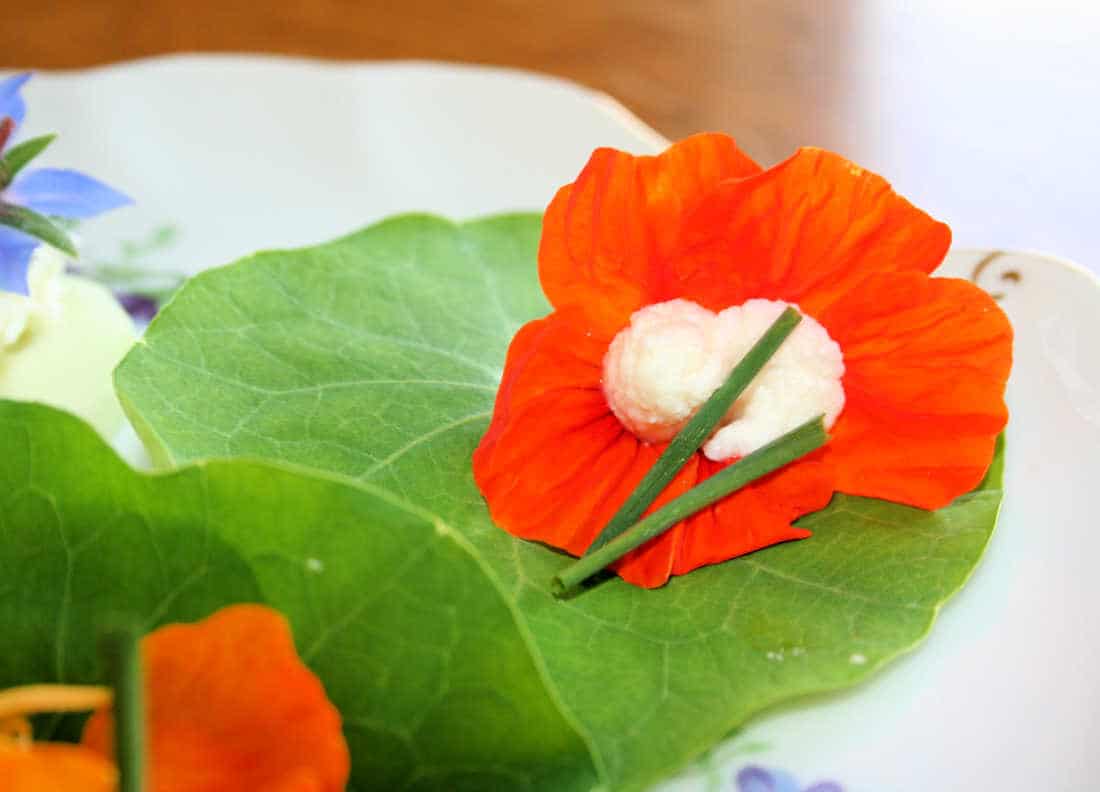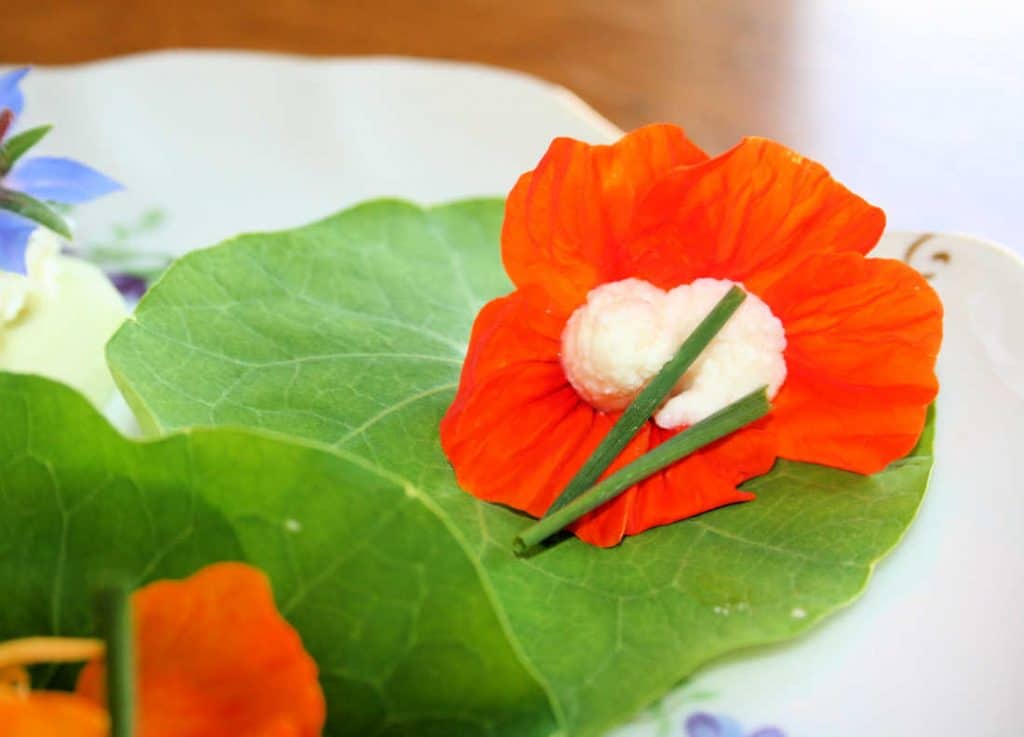 Nasturtium Leaf and Flower Treats
Both the leaves and flowers of nasturtium are edible. This recipe uses both. I find that nasturtium leaves a very bitter aftertaste in my mouth. The initial bite is sweet but the after taste is very sharp like pepper.
Select large nasturtium leaves and flowers that are completely open.
Rinse leaves and arrange on a plate.
Stuff each flower blossom with ricotta.
Place blossom on the leaf.
Arrange chives near flowers.
Both the nasturtium and borage flower treats would look wonderful on a platter for a bridal shower or baby shower, wouldn't they?
For my lunch today, I made a large salad of red and green garden lettuce and added borage, cucumber, nasturtium, chives, and dill to the top. It was delicious and pretty and I got a nice kick from the variety of tastes.
Sustainable Sprout offers a great assortment and set of edible flower seeds to grow your own.
More Edible Flowers
Other edible flowers include:
Daylily flowers
Pansies
Squash blossoms
You can also check this list on Southern Living.
Here's to a flavorful and beautiful summer salad!
Jeanne Grunert is a certified Virginia Master Gardener and the author of several gardening books. Her garden articles, photographs, and interviews have been featured in The Herb Companion, Virginia Gardener, and Cultivate, the magazine of the National Farm Bureau. She is the founder of The Christian Herbalists group and a popular local lecturer on culinary herbs and herbs for health, raised bed gardening, and horticulture therapy.