This is the best popover recipe ever! It was easy to make and turned out delicious popovers. This was my first time making popovers, and I can't remember the last time I had one, so I wasn't sure what to expect. As usual, I turned to my trusty Fannie Farmer 13th Edition Cookbook and found the perfect recipe. The results are below. Try it!
The Best Popover Recipe Is the Fannie Farmer Recipe
Longtime readers will know that I am partial – okay, highly partial – the Fannie Farmer Cookbook. The original Boston Cooking School cookbook, which became the Fannie Farmer Cookbook, was published in 1894. You know, when people actually knew how to cook without a zillion gadgets…
This old-fashioned recipe uses the same simple ingredients as many other popover recipes online: eggs, whole milk, butter, flour and salt. That's it.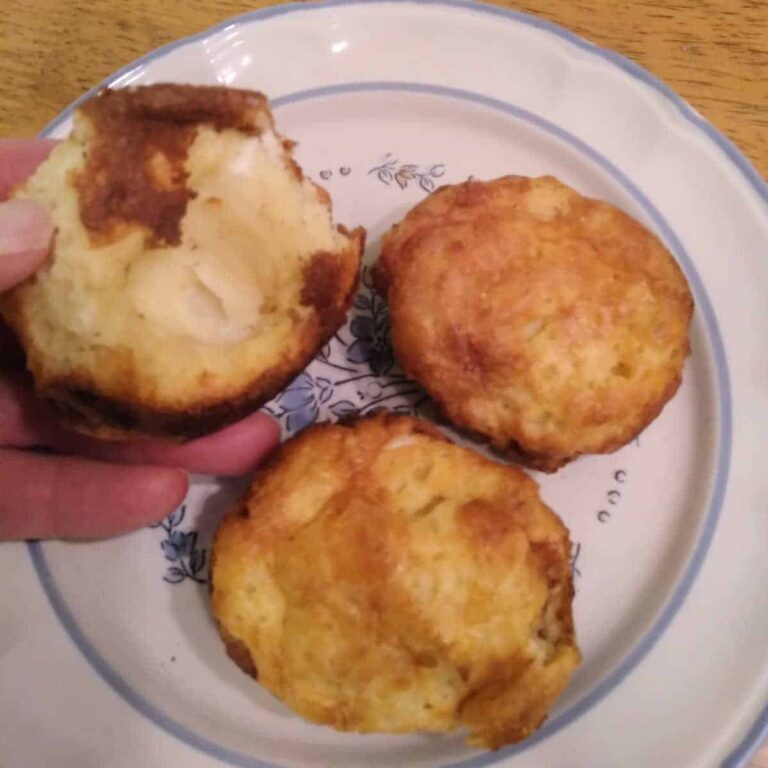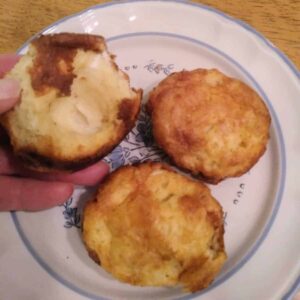 Best Popover Recipe
This easy recipe is surely the best popover recipe available. Not only is it simple to make, but it results in old-fashioned popovers, the kind with a crusty outside and rich, creamy interior. The secret: start with a cold oven. That's it.
Ingredients
2

large

eggs

1

cup

milk

1

tablespoon

melted butter

1

cup

all purpose flour

1/4

teaspoon

salt
Instructions
To make these popovers, start with a cold oven. Butter a muffin tin and then spray it with baking spray (trust me, you need both).

Melt the butter. Whisk in the eggs, then the milk, flour and salt. Mix thoroughly.

Pour the batter into the buttered and sprayed muffin tins, filling them halfway.

Slide the pan into the cold oven. Turn the temperature to 450 and bake for 15 minutes (the oven will heat very gradually; that's exactly what you want).

After 15 minutes, turn the temperature of the oven to 350 and bake for another 15-20 minutes.

Remove from the oven and allow to cool, then remove from the pan/
Tips for Making Great Popovers
The secret to old-fashioned popovers? Start with a cold oven! It helps with the slow, gentle rise, and creates a light, creamy interior. That's what makes this the best popover recipe; the crunchy, butter sweet exterior and the creamy insides.
Use a popover pan OR butter and oil-spray a muffin tin. The first time I made this easy popover recipe, I didn't spray the pan. The popovers stuck to the pan and then deflated when I removed them. They still tasted great, but they looked like deflated balloons. A chef friend recommended either a popover pan or spray oil (baking spray) to prevent sticking. Try it!
Most recipes say you should use whole milk, but I used 1% milk and the popovers didn't seem to suffer any from the lack of fat. If that's all you have on hand, I say go for it!
What to Serve with Popovers
Popovers make a great side dish for soups and simple roast chicken or beef. Serve it with:
Updated 12/27/22 with image added.
Jeanne Grunert is a certified Virginia Master Gardener and the author of several gardening books. Her garden articles, photographs, and interviews have been featured in The Herb Companion, Virginia Gardener, and Cultivate, the magazine of the National Farm Bureau. She is the founder of The Christian Herbalists group and a popular local lecturer on culinary herbs and herbs for health, raised bed gardening, and horticulture therapy.