Split pea soup, or split pea soup with ham, was a childhood staple for many of us. Particularly, Campbell's split pea soup with ham, that ubiquitous red and white label in the cupboard promising a quick, easy and filling meal.
But the salt. Oh my goodness.
Like most canned soups, the canned version of split pea with ham comes in at a whopping 790 milligrams of sodium per half cup serving…and who the heck eats just a half cup of soup?! I mean, come on. If you're an adult, you eat the whole can. It's just a given. Or at least, half a can, when you split it with your soup-loving spouse!
Fannie Farmer Split Pea Soup Recipe: Cooking with Fannie & Me
So I turned to my trusty Fannie Farmer Cookbook (13th edition) and found a from-scratch recipe for split pea soup on page 97.
Having made this soup now several times and adjusted it to ensure it is low-sodium and vegetarian so that it fits with our family's nutritarian diet and lifestyle, I can assure you that no matter how you make this recipe, it is YUM.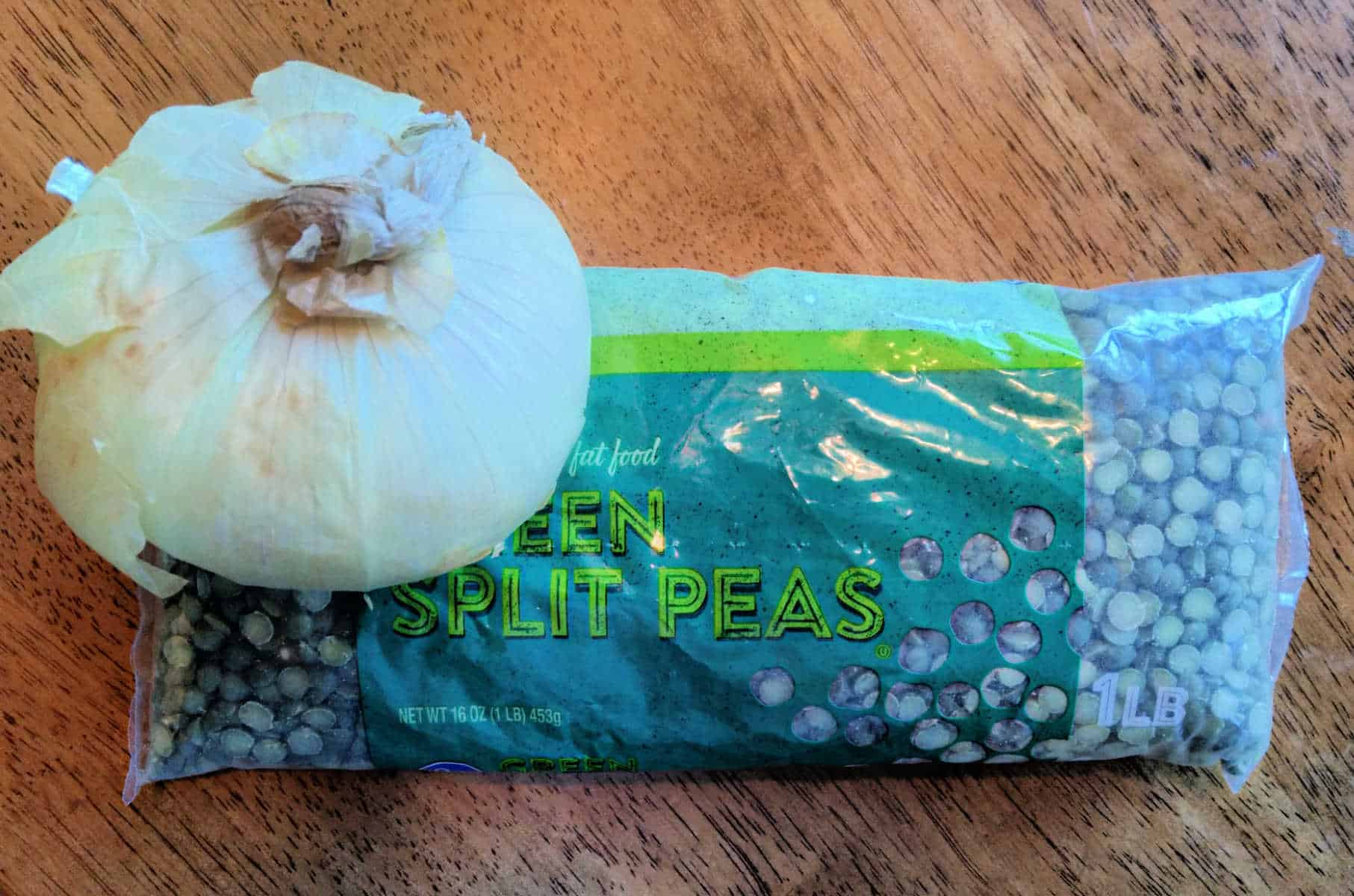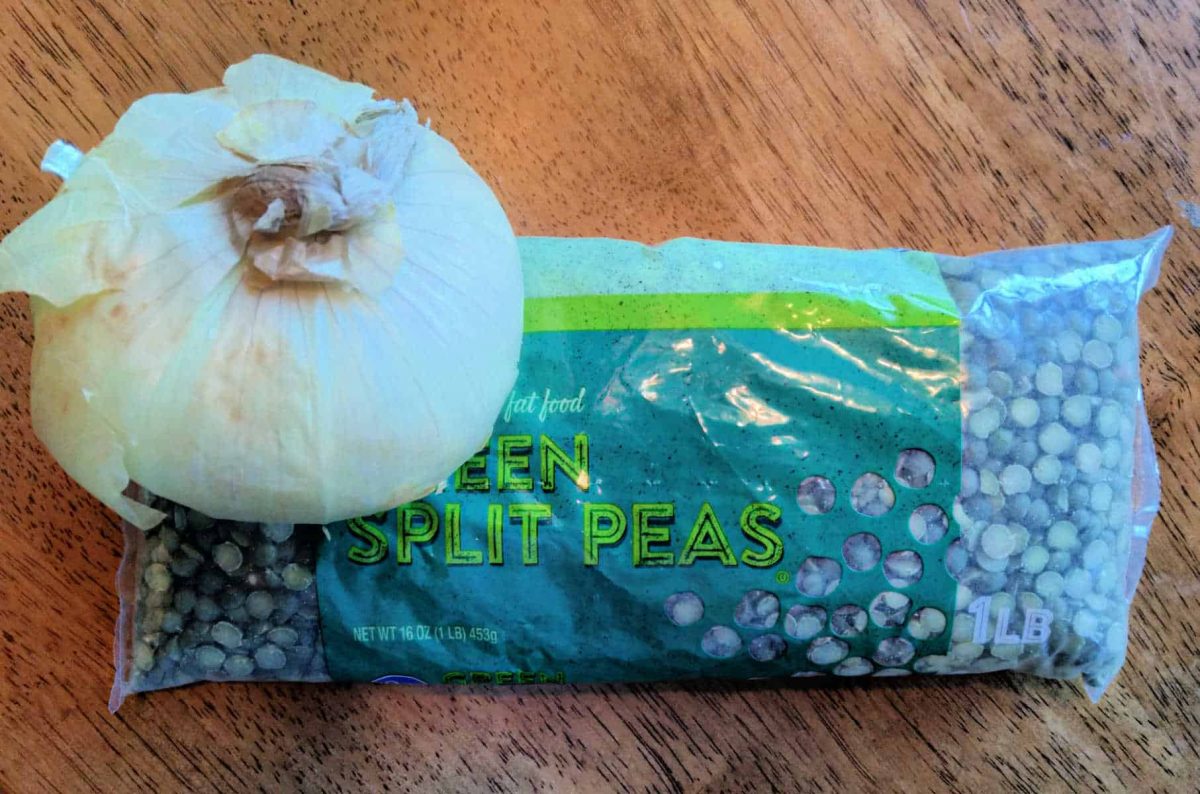 Four Ingredients
First, the good news: this soup uses just four ingredients if you make it vegetarian-style.
You'll need:
A 16-ounce bag of dried split peas
1 onion
1 tablespoon of margarine, butter or oil (for vegan versions)
7-8 cups of water
And that's it. Really. Pinky swear. It's that simple.
Recipe Preparation
There's no need to soak split peas to make this soup no matter what the bag says to do. Trust me on this. The first few times I made this recipe, I soaked the peas overnight. Then, as it happened, I completely forgot to soak the peas and just threw them into the pot one Saturday afternoon, figuring I had a little extra time so why not?
And why not indeed…the split pea soup turned out just fine.
Instructions to Make Healthy, Easy Split Pea Soup
All you need is a large stock or soup pot with a lid, a measuring cup, knife and cutting board.
Peel and dice the onion into small pieces.
Melt the butter, margarine or oil into the stock pot.
Stir in the onion and cook slowly, over low heat, stirring frequently, for at least 5-10 minutes or until translucent.
Add peas and 7-8 cups of water. Add 7 cups if you want thicker soup, 8 cups for thinner soup. You can always add more water later.
Bring to a boil.
Lower to simmer and cover pot with lid slightly ajar to release steam.
Stir frequently (every 10-15 minutes) to prevent sticking.
Cook for one hour, then test to see if peas are done.
For a smooth soup, use an immersion blender to blend soup into a silky puree. I just serve it straight from the pot as a thick soup. We love it that way!
What to Serve with Pea Soup
Water bread. What the heck is water bread? It's another Fannie Farmer recipe that makes a light, airy, slightly crusty loaf and rolls of white bread that is to die for. It is melt in your mouth goodness, a bread with a dough so silky smooth you'll want to keep kneading it just for the pleasure of plying the silk-yeast-dough in your own two hands.
I'll share that baking experience soon. In the meantime, purchase a copy of the Fannie Farmer Cookbook, turn to page 97, and make the soup recipe. You'll thank me later!
The following are affiliate links. We are a participant in the Amazon Services LLC Program, an affiliate program designed to provide a means for us to earn fees by linking to Amazon.com and affiliated sites. Thanks so much for being a part of Home Garden Joy!
The original soup recipe, by the way, calls for a ham bone or ham. I've made this recipe both ways – with ham, as it is described in the cookbook, and vegetarian style, as I've adapted it above. The vegetarian recipe tastes wonderful, but it can be a bit bland if you are used to a higher salt diet. You can either add a bit of diced ham, make it as the recipe indicates, or add salt and pepper to taste.
Recipe Makeover – Almost no sodium, no cholesterol, plenty of fiber!
Canned Soup
Per Serving (1/2 cup)
Calories: 170
Fiber: 3 grams
Cholesterol: 5 mg
Sodium: 790 milligrams
From-Scratch Soup Recipe
Per Serving (1/2 cup)
Calories: 106
Fiber: 7.4
Cholesterol: 0
Sodium: 14 milligrams
You May Also Enjoy…
Jeanne Grunert is a certified Virginia Master Gardener and the author of several gardening books. Her garden articles, photographs, and interviews have been featured in The Herb Companion, Virginia Gardener, and Cultivate, the magazine of the National Farm Bureau. She is the founder of The Christian Herbalists group and a popular local lecturer on culinary herbs and herbs for health, raised bed gardening, and horticulture therapy.