Growing lettuce in containers is easy! This year, to maximize the food we grow at home, my husband and I planted our front window boxes with lettuce – a veritable salad garden. Here's what you need to know about growing lettuce in containers.
Our Window Box Salad Garden
Our window box salad garden began after yet another trip to the grocery store…and the realization that food prices were continuing to go up. The latest reports indicate that inflation is up 5-10% with groceries up almost 20%. And, even though fresh food prices have risen the most slowly, the price increase has hit us hard, especially since lettuce forms and important part of our nutritarian diet.
So, what to do?
Maximize space by growing lettuce in containers – in this case, the window boxes. We decided not to plant pansies in the window boxes this year even though they are my favorite flowers. Instead, we sowed lettuce seeds and successfully grew lettuce in containers.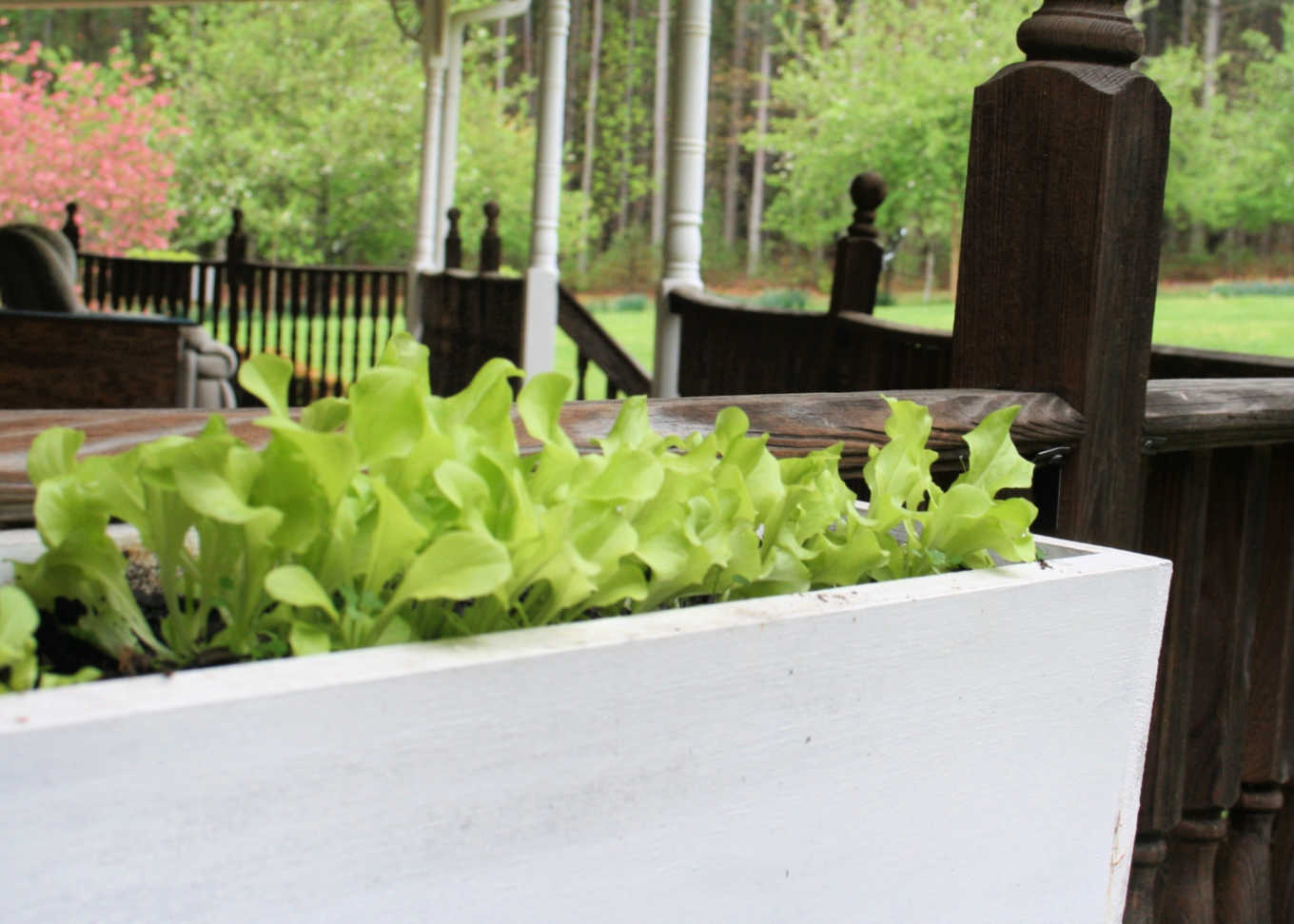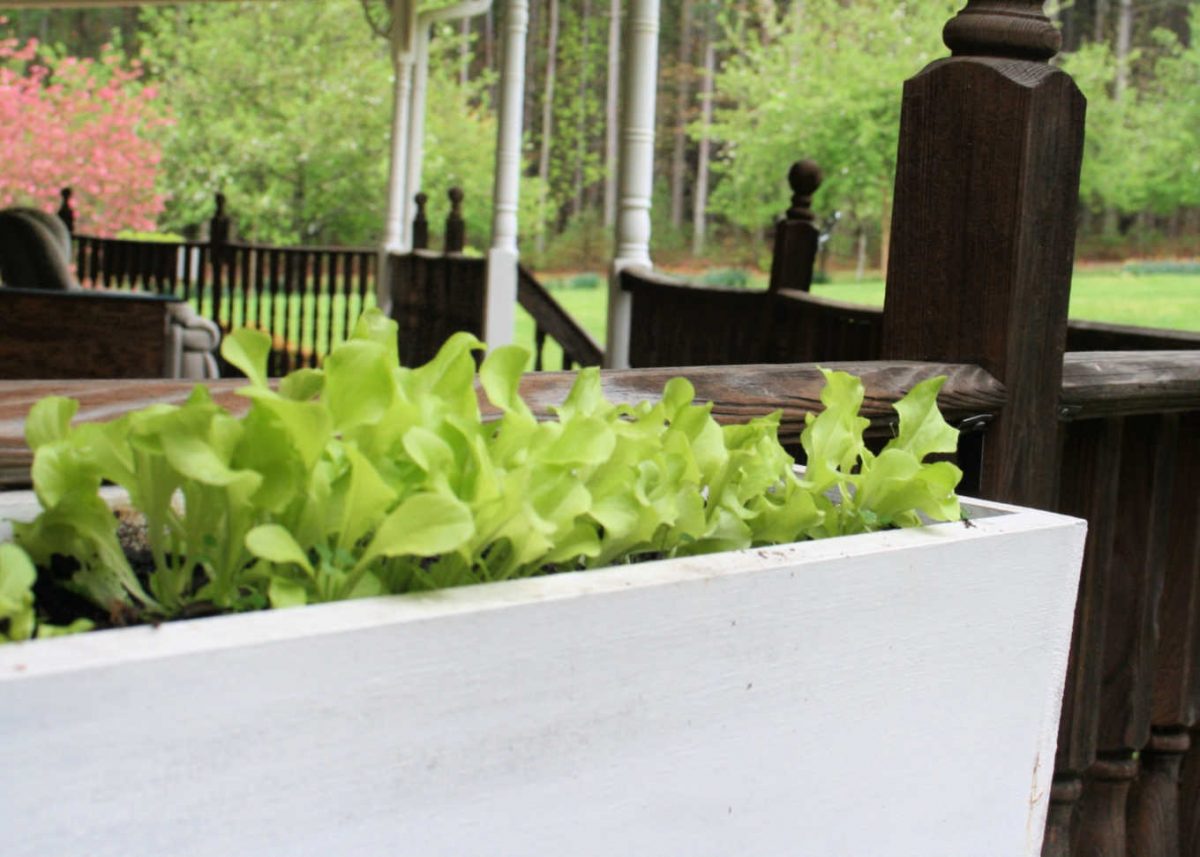 How to Grow Lettuce in Window Boxes and Containers
First, you must grow lettuce during cool weather. It cannot tolerate hot conditions, so plant it in the early spring or fall when temperatures in your USDA hardiness zone range between 35 and 75 degrees F.
Make sure that your container is at least 6 to 8 inches deep. Drill or make holes in the bottom of the container to allow excess water to flow out or you will drown your lettuce.
Soil
Fill the container with good-quality garden soil and compost. We used a combination of bagged potting soil and compost and filled the window boxes to about one-quarter of an inch from the top.
Fertilizer
Growing lettuce in containers is easy and should not require fertilizer. A little compost is all you need.
Lettuce Varieties
The lettuce varieties to plant in window boxes or containers are the same as the varieties you can plant in the garden. For our Virginia, Zone 7B garden, I chose "Black Seeded Simpson" lettuce. This is a loose-leaf variety that is slow to bolt, or go to seed, in the hot weather. It lasts the longest in our unpredictable Virginia climate.
Lettuce varieties include loose-leaf and heading types. Loose-leaf varieties do not form a tight head, and seem to withstand warmer temperatures better. Heading varieties, like Iceberg and Romaine, do better in cooler climates.
Planting Lettuce Seeds
Once you've filled your window box or container with soil, plant the lettuce seeds by sprinkling them gently on top of the soil. Space them a few inches apart. If you accidentally plant more than one or two seeds per inch, you can pull up the young plants and eat them in a salad to give the remaining plants room to grow.
Sprinkle a little bit of potting soil over the seeds, but do not bury them deeply. Lettuce, like grass seed, needs light to germinate.
Water, and keep the soil moist, until the seeds germinate. Then water once or twice daily. Make sure the container soil does not dry out or it can weaken or even kill your young lettuce plants.
Harvesting Container-Grown Lettuce
You can start harvesting lettuce at any time the plants are a few inches tall. Use a pair of sharp scissors and snip the leaves off the plant. When you do this, the plant continues to grow, and you can extend the lettuce harvest.
Alternatively, if you want to grow something else in the container when the hot weather arrives, pull out the entire plant, roots and all. Rinse the leaves, snip off the lettuce leaves for your salad, and discard the roots.
Lettuce Pests and Problems
Growing lettuce in containers also avoids many pests and problems. Occasionally, you might find a slug or snail dining on your lettuce. Both eat holes in the leaves; slugs leave a slimy trail behind. Beer traps can take care of slugs quickly without adding pesticides to the garden. Diatomaceous earth, another organic method of slug and snail control, is also fine to use around edible plants like lettuce.
Growing Lettuce: Plant Profile
Light: Full sunlight to partial shade
Temperature: Prefers cool temperatures between 35 – 75 degrees F
Plant: Sow seeds directly into the soil very near the surface. Lettuce seeds need light to germinate.
Jeanne Grunert is a certified Virginia Master Gardener and the author of several gardening books. Her garden articles, photographs, and interviews have been featured in The Herb Companion, Virginia Gardener, and Cultivate, the magazine of the National Farm Bureau. She is the founder of The Christian Herbalists group and a popular local lecturer on culinary herbs and herbs for health, raised bed gardening, and horticulture therapy.