What's a garden volunteer? It's a plant that seeds voluntarily throughout the garden. In the past, I've written about the volunteers in the flower garden. This morning Shadow and I tromped through the soaking wet flower garden taking stock of all the volunteers this year.
First, the coreopsis tincturia is back…with a vengeance. Why is it that it's growing in the flower garden in spots I don't want it, but the verge along the driveway where I DO want it naturalize it refuses to grow? I gave some to my neighbors this year. I hope they're still talking to me next spring after it takes over their flower beds.
The Buddleia (butterfly bush) has been a wonderful surprise. We purchased two white ones from Lowe's, and a purple one came with the Spring Hill Gardens Butterfly Gardening Kit that I bought. The purple one has gleefully spread seeds everywhere. I have baby butterfly bushes growing up through pure sand on the pathway in spots we are working on, in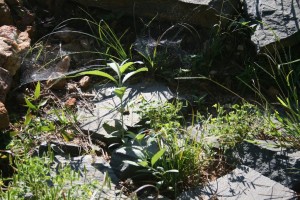 ground like cement in other spots on the pathways, and throughout the flower beds. I've kept a bunch, given some away, and have more for the taking (if you live close by! come with pails and shovels). We transplanted several along the edge of the forest. They don't look very happy, but the one I transplanted towards the front of the flower beds, near the trellis, also looked dead after I moved it. Butterfly bushes seem to have a very long tap root, and I'm assuming that they go into shock when you dig them up…but they do recover. The transplanted on is thriving now.
The marigolds self-seeded all along the pathway, and I scattered the rest. I have thickets of marigolds. I love them. They are so wonderful and will bloom here until November or a very hard frost, and I rarely see insect damage on them. Plus they act like natural bug repellents!
I had cosmos self-seed last year too. I grew a patch from a seed packet I bought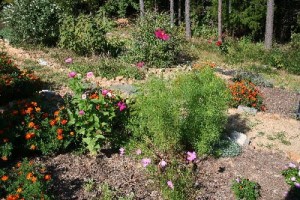 at the dime store; it tipped over in a heavy rain, ripped up by the roots. I simply pulled it out and tossed the spent stalks into the woods. To my surprise, a little patch rose up in the area where the stalks had tipped over. I left it alone, and what do you know? Giant patch of cosmos now…and yesterday, it tipped over in the rainstorm. I wonder if this is how cosmos self seeds? Just kidding. It doesn't need to wait for a rain storm!
Zinnias self seeded a bit, but the nicest surprise was Vince major…Hubby bought me a six pack of Vinca major from Lowe's last year, thinking it was the purple Vinca I wanted for a little shady spot. I planted it in the flower garden and thought nothing more about it. Now it's scattered itself all about the flower garden. And while the bright pinks clash horribly with the orange and yellow marigolds, I can't help but marvel at its tenacity.
What's growing in your garden these days? Other than weeds, of course, which I have…in abundance.
May your Sunday be filled with joy!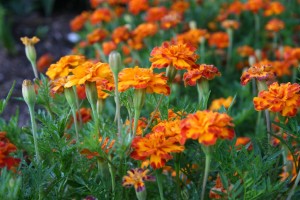 Jeanne Grunert is a certified Virginia Master Gardener and the author of several gardening books. Her garden articles, photographs, and interviews have been featured in The Herb Companion, Virginia Gardener, and Cultivate, the magazine of the National Farm Bureau. She is the founder of The Christian Herbalists group and a popular local lecturer on culinary herbs and herbs for health, raised bed gardening, and horticulture therapy.